FIPRESCI Critsics' Perspective on Iranian Independent Cinema (Part- Two)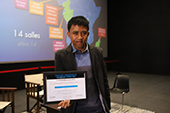 Aina Randrianatoandro
Film critic, Programmer for cultural and film festivals, Animator/Madagascar

How much do you know about Iranian culture? Do you know any Iranian artists out of the field of cinema?
Iran has a rich and ancient history of art, music, philosophy, tradition, and ideology. Having this profound and historical culture has secured Iranian civilization from the chaos of its surrounding world. Searching for justice and equality is one of the most important aspects of Iranian culture, along with some other attributes such as respecting the parents and showing kindness and love toward any foreign guests.
I know a lot of Iranian Artists apart from the field of cinema, especially some of the most well-known contemporary writers and poets such as Sadegh Hedayat, Ahmad Shamloo, Ali Shariati, Fereydoon Moshiri, Foroogh Farokhzad, etc
Since I read a lot, I know about Iran and Iranian culture through the many books I've read.

How did you become acquainted with Iranian Cinema? And when was the first time you watched an Iranian film?
I first came to know about Iranian cinema from the media library of Madagascar French Institute (IFM). As a member, I could rent the films of different Iranian directors on DVD. The very first Iranian movie that I watched was Offside by Jafar Panahi. This film, which is the story of a girl impersonating a boy in order to get into a football stadium, impressed me deeply. In fact, Panahi uses cinema as a powerful tool for condemning injustice and social inequality.

What do you think are the most important subject matters that Iranian independent filmmakers are working on?
I believe that these subjects can be categorized as this: ۱) deliberation through cinema such as Abbas Kiarostami's Through the Olive Trees and Mohsen Makhmalbaf's Hello Cinema. ۲) Reflection of truth through the film story such as Jafar Panahi's The Mirror and Abbas Kiarostami's Certified Copy. ۳) Women's situation in Iran such as Marziyeh Meshkini's The Day I Became a Woman and Jafar Panahi's Offside.

What are the main factors for the success of Iranian cinema at a variety of film festivals in the world?
I believe that during the past few decades, Iranian cinema has achieved considerable success at several of the world's top film festivals, including Cannes, Berlin, and Venice, due to its unique style, remarkable subjectivity, script, and directing quality.

Which of the Iranian filmmakers do you like the most?
I dare say Abbas Kiarostami because he was the one who introduced Iran Cinema to the world for the first time. I really love his Taste of Cherry which won the Palm d'Or in Cannes.

Are you familiar with the new generation of Iranian filmmakers?
Yes. I have almost watched all of Asghar Farhadi's films. His movies, such as About Elly, A Separation, The Past, The Salesman, Everybody Knows and The Hero, mostly reflect the situation of contemporary humans in this world. They all have strong and challenging stories. Also, family plays an important role in his movies, and he is extremely skilled in portraying the struggles inside of normal families.
Recently, I watched Arvand Dashtaray's The Absent Director, which I believe is brilliant as his debut feature film.

What do you think about the situation of women in Iran cinema?
I believe that Iranian women filmmakers have successfully conveyed their social actions through their films and works. I can name a few: Marziyeh Meshkini with The Day I Became a Woman and Stray Dogs, Samira Makhmalbaf with The Apple, The Blackboard and At Five in the Afternoon, Hana Makhmalbaf with Joy of Madness, Buddha Collapsed Out of Shame and Green Days, and Rakhshan Banietemad with Off-Limits, Canary Yellow, Foreign Currency, Narges, The Blue-Veiled, The May Lady, Under the Skin of the City, Mainline, and Tales..

What do you think is the future for independent filmmakers in Iran?
Despite all the restrictions imposed on Iranian filmmakers, I think Iranian cinema will be brighter than ever in the coming years, and it still has and will have a great chance of achieving and winning awards from many of the top film festivals, especially Cannes.



[FIlm Magazine no.605]