FIPRESCI Critsics' Perspective on Iranian Independent Cinema (Part- Twelve)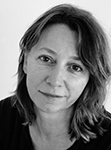 Valerie Ganne
Journalist and Film Critic/France

How much do you know about Iranian culture? Do you know any Iranian artists out of the field of cinema?
- I don't know much about Iranian art and culture except its cinema. I'm quite familiar with the Iranian director of Persepolis, Marjan Satrapi. I first discovered her with her comic book with the same name before her film. I also know Gurshad Shaheman, an Iranian-French theater director. I quite enjoy his work.

How did you become acquainted with Iranian Cinema? And when was the first time you watched an Iranian film?
- I discovered Iranian cinema when I was 25 and with Abbas Kiarostami's films. He paved the path for the other Iranian directors. Iranian cinema has become an important one for me for almost 30 years, and I've been following it for years.

What do you think are the most important matters that Iranian independent filmmakers should work on?
- Naturally, the themes vary over the years and according to the directors' tastes. Throughout his career, Kiarostami was concerned with the world of childhood, the fusion of feature and documentary cinema, and the beauties of Iran. Jafar Panahi is more into political matters. Asghar Farhadi is recognized for his universal dramas about couples, unknown heroes, etc.
I have recently discovered Ali Abbasi and Saeed Roustayi's works. Both of them clearly address the problems of Iranian society such as poverty, violence, drugs, and the status of women.

What are the main factors for the success of Iranian cinema at a variety of film festivals in the world?
- First: directing quality, second: the tradition of storytelling, third: good performances and universal subject matters, and, fourth: the determination to preserve cinema at all costs.

Which of the Iranian filmmakers do you like the most?
- Abbas Kiarostami for all the years of his career and for all the films he made and didn't make. Jafar Panahi for his outstanding energy and effort to convey his message to the world even when he was banned from work.
I miss Iranian female filmmakers. I know Samira Makhmalbaf, and I'm sure there are many female filmmakers in Iran whose point of view is extremely respectable.

Which cinematic movements in the world, whether before or after the Islamic Revolution, have influenced Iranian cinema?
- I really don't know. Perhaps Kiarostami was affected by the French New Wave?! I think Ali Abbasi and Saeed Roustayi are mostly influenced by European cinema, rather than American one.

Are you familiar with the new generation of Iranian filmmakers?
- I know Saeed Roustayi. I watched his Just 6.5 three years ago when it was screened in France. His style of filmmaking is fresh and novel in Iran, and even many countries in the world. Also, some sequences in Leila's Brothers are astonishing. Ali Abbasi's story isn't the same since he can't make his films in Iran, and follows a different aesthetic.

What is your opinion regarding the status of women in Iranian cinema?
- I believe that the number of female filmmakers in Iran isn't enough, or we don't hear about them a lot. I'm positive that women can present more issues and challenges of society in their films. Surely, the situation is also difficult for actresses. I can name Zar Amir Ebrahimi who had to leave the country. I've recently watched The Holy Spider with her acting.

What do you think is the future for independent filmmakers in Iran?
- I am pessimistic about the future of independent Iranian cinema because of the limitations. I believe that cinema and directors are an important part of Iranian culture.


[FIlm Magazine NO. 605]