Without Farewell…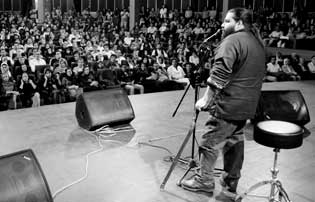 Ahmad Amini is a graduate of film directing from Tehran's Art University who started his career in films by writing critiques. He made his first feature, Shadows of Invasion, in 1992 which was a Western-style movie about the war between Iran and Iraq. His credit was established after making four features. Without Farewell…is his fifth feature which he has directed after an eight-year interregnum. It is about personal life of a famous Iranian pop star, Reza Sadeqi. Sadeqi, who is paraplegic due to an oversight by his doctor in childhood has now chosen black shirt as his trademark and has many fans. Many Iranian producers have been planning to make a film on his personal life since many years ago. Mohammad Neshat was one of them who has been trying to get Sadeqi's consent since two years ago. The film was first to be made by Kioumars Pourahmad (who had indicated his willingness to make a film about Iranian singers), but he was later replaced with Amini.
Without Farewell…starts where Reza Sadeqi decides to quit the stage at the peak of his popularity. A female journalist decides to find out why and in doing so, she explores his past life. She goes back to the time when he left the southern Iranian port city of Bandar Abbas for Tehran to start his art career. The film's title is based on a famous song by Reza Sadeqi. Sadeqi has appeared as himself under the guidance of Payam Dehkordi, a stage and film actor. There was a call on his fans to come together at a hall with 400 seats where a sequence of the film was to be made. Interestingly enough, more than 3,000 fans came to that place and took the crew by surprise. The film is expected to be among the bestselling movies of Iran's cinema in the coming year.
Crewmembers include Saeed Shahsavari (screenwriter and editor [based on a plot by Peiman Abbasi]), Mehdi Ja'fari (director of photography), Iman Omidvari (makeup), Parviz Abnar (sound recordist), and Meshkin Mehregan (production designer). The cast comprises Reza Sadeqi, Mohammad Reza Foroutan, Pegah Ahangarani, and Payam Dehkordi.