Iranian Cinema in the 28th Fajr Film Festival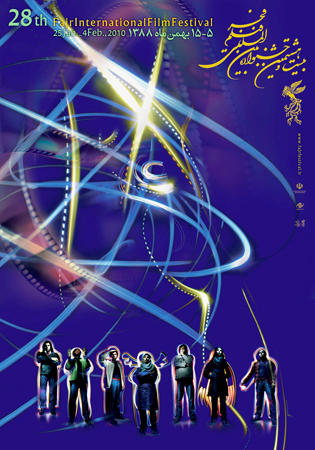 This year the Fajr Film Festival will be held from 25 January to 4 February as the Iranian society has been witness to some political debates and social unrest. This is the first major cultural event following June 2009 presidential election, although government managers have been planning it since a long time ago. For the fist time this year, film critics and reporters are going to watch the films at a public venue along with film directors and foreign visitors.
The most important highlight in this year's festival is the promise made by government managers to lift the ban on a number of films. Movies such as Colored in Purple (Ebrahim Hatami-Kia), Journey to Hidalou (Mojtaba Raee), The Fireman (mohsen Amiryousefi), Bonus (Kamal Tabrizi) and So Many Good Years (Saman Moqaddam) have not found an opportunity for screening and competing with other films at the festival after several years of limbo. Some observers have seen this development in President Mahmoud Ahmadinejad's cultural policy as a positive development while some others believe this is a propaganda campaign. For the first time this year, the secretary of the festival is someone other than the usual government managers, i.e., the deputy culture minister for cinema or the chairman of Farabi Cinema Foundation. Several months before the festival, Mehdi Massoudshahi was named as its secretary. He announced that the event is going to be held in a more disciplined way, although until the last days before the opening no one knew about the festival's sections and entries.
Apart from the screening of some of the previously banned films, we are going to see the first films of a number of young filmmakers. The efforts by Documentary and Experimental Film Center are bearing fruit as there are more than ten first films at the festival. This comes while seasoned filmmakers such as Dariush Mehrjui, Azizollah Hamidnejad and Mojtaba Raee have also entered their latest productions in the festival. Their films could add to the glamour of the festival.
Like the previous years, there are other sections in the festival including international competition section, Asian competition, documentary film competition, short film competition, animated film competition and spiritualist film competition.
Among the highlights of the festival are forreign films including Looking for Eric (Ken Loach) and The Dust of Time (Teo Angelopolos). Nevertheless, the most eventful section at this year's Fajr Film Festival will be the Iranian cinema competition section, where some 20 new Iranian films compete and provide an opportunity for university students and festival fans to discuss their merits after their premiere.
There are, of course, films that go on public screens without being shown at the festival. This year, Fajr Film Festival will be held while its rival, the House of Cinema Celebration was not held as a result of post-election events. This adds to the already existing expectations from the Fajr Film Festival.