1st National Animation Conference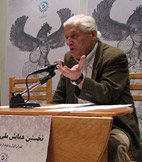 Last year and on the occasion of the 50th anniversary of animation film production in Iran, Iranian animators noted that many countries have no track record in the field of animation while all needed infrastructures and facilities for producing animation films were provided in Iran. They added that Iran could even have its own animation style because all it takes to make a good animation is creative mind and artistic management, which exist in Iran. Akbar A'lami, secretary of the first national animation conference of Iran said that the measure was aimed to organize past ideas and announced that assessment of the status quo as well as art planning and management by private, semi-private, and state-run sectors will promote standing of Iranian animations in the world.
At present, there are animation classes in nearly all provinces and big cities of Iran and the Institute for the Intellectual Development of Children and Young Adults holds Tehran International Animation Festival every two years in February. Also, an Iranian animator, Noureddin Zarrinkelk, has been heading International Animation Film Association (ASIFA) for seven years from 2000 to 2007.
The first National Animation Conference of Iran was held at the Islamic Republic of Iran Broadcasting College on April 20-22. The event was sponsored by Documentary and Experimental Film Center, Channel 4 of the Iranian state television, Islamic Republic of Iran Broadcasting College, Academy of Arts, Art University, Iran's branch of ASIFA, Tarbiat Modarres University, as well as Pilban magazine.