Society of Directors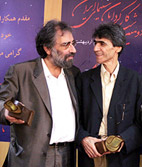 "House of Cinema" is the most important cinema organization in Iran which covers 29 professions such as producers, directors of photography, actors, editors … and even film critics. Society of Directors is the oldest and the most active of cinema organizations in Iran. Its foremost mission is to protect the interests of its membership which consists of almost all Iranian directors. The articles of association of House of Cinema have noted that it aims to "protect and safeguard the basic rights of directors through ensuring their job security." The society has taken effective steps during past years and has been consequential in developments of the Iranian cinema during those years. For example, when differences between Bahram Baizai and producer of Killing Rabids (Behrouz Hashemiyan) heightened, the society intervened and defended the rights of the seasoned Iranian director. As a result, his film was screened under the best conditions. Last year, after a lot of debates over the ban on Dariush Mehrjui's The Dulcimer Player, Society of Directors did its best to help the film, though its efforts have not been fruitful thus far.
A reason for continued and effective activities of the Society is solidarity among its members. Apart from few directors (like Abolfazl Jalili) who are not members of the Society, the rest of them are members of the Society regardless of their intellectual or generational orientations. That solidarity has enabled Society of Directors to emerge as the most powerful guild among other guilds affiliated to House of Cinema. The current managing director of House of Cinema (Reza Mirkarimi) is a prominent member of the Society while Homayoun As'adian is head of guild association of performing arts; Mohammad Reza Honarmand is head of the council which hands out production permits (the council issues permits after reading screenplays); and Kamal Tabrizi is head of Arbitration Council of House of Cinema, which is the supreme decision-making body on cinema affairs for settlement of disputes. This shows the important role of the Society in making decisions and determining relations in the Iranian cinema. Moreover, the Society has always accounted for the highest number of members in the directorate of House of Cinema although each cinema guild can have a representative in the board of directors. However, the Society has been always represented in that board.
The central council of Society of Directors comprises nine members including Alireza Raeisian (who heads the Society and has been there for four consecutive two-year terms); Reza Mirkarimi, Homayoun As'adian, Ahmad Amini, Mohammad Mehdi Asgarpour, Mohammad Ali Sajjadi, Maziyar Miri, Hassan Barzideh, and Saman Moqaddam. There are also two substitute members: Mohammed Reza Honarmand and Kamran Qadakchian as well as a main inspector, Mohammad Hossein Latifi, and a substitute inspector, Mehdi Karampour. Since the Society of Directors has been established, it has been chaired by Yadollah Samadi, Mohammad Bozorgnia, Rakhshan Bani-Etemad, Mohammad Motevasselani, and Alireza Raeisian. At present, Society meets every two weeks and all members take part in annual meetings of the general assembly of the Society to keep abreast of the activities of the central council. Another important step taken by the Society during the past years has been to oppose monopolies sought by film producers union. Due to efforts made by the Society and support lent to it by state-run bodies, another organization called Assembly of Filmmakers has been established which encompasses directors who produce their own films. Therefore, such independent directors do not have to tackle old problems when making their films.
The Society has thus far organized two editions of Iranian film directors celebration. The second edition of the event was held on May 6 and like past years; three generations of directors were lauded. Massoud Kimiaei, represented the first generation, Ebrahim Hatami-Kia, represented the second generation, and Parviz Shahbazi, represented the third generation of directors who were appreciated and prizes were also given to Nasser Taqvai (a seasoned Iranian auteur) and Abbas Shabaviz (producer of Qaysar; a major Iranian film of 1960s). The last step taken by the Society is to get the legal status of authors' rights approved by the Islamic Consultative Assembly. The plan has been already forwarded to the Iranian parliament by the central council of the Society. Based on that plan, any change in film format (conversion to CD or DVD or televised airing) should be done after agreement of its director, screenwriter, and composer. In addition to salaries that they get for production of a feature film, they should be also paid for the change in film format. The Iranian cinema and literature has, thus far, been subject to "Authors and Writers Rights Act" which has been approved in 1968 and in view of current diversity of film professions that law seems to be inefficacious now.