Situation of Film Screening in Iran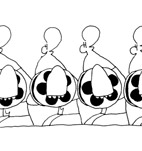 The cinema year in Iran starts after the end of Fajr International Film Festival (usually February 12). The new Iranian year starts about one month later (March 20) and in the meantime, applicant films are screened. This trend continues until the next Fajr Festival. About one decade ago, public screening of Iranian films was made conditional on their screening at Fajr International Film Festival. However, since many commercial films are now not accepted to the festival and it has become more specialistic, many such films are publicly screened without being screened at the Festival. Also, producers can decide whether to send their films to the Festival or not. That is, all films that do not take part at Fajr International Film Festival are not necessarily commercial ones.
Those movies, which are not expected to sell properly, are usually screened from the middle of February to the middle of March. At that time, Iranian people are getting ready for new Iranian year holidays. On the other hand, when the festival ends (during which ordinary people can also watch new films because they are screened at more than 20 theaters), few people are eager to watch films which have not been screened in that year and have been set aside for the last month of the year. However, in the middle of March and few days before the beginning of new Iranian year, most directors are willing for their films to be screened in public. Since half a century ago up to now, most bestselling films have been screened at the beginning of spring. The two-week new year holidays allow families to attend theaters more frequently. Also, as the temperate climate of spring settles in, people become more interested in watching films at theaters. Those films which are successful at box office in April are usually screened longer. Films whose sales are limited give way to other ones. Maximum time for screening of a film in Iranian theaters is six weeks. Besides the spring screening, summertime is also a good occasion for moviegoers.
The group which selects films for screening includes directors, producers, and theater owners and is called "Screening Guild Council". Films are screened in one out of five groups of theaters. This means that five modern theaters (Asr-e Jadid, Azadi, Farhang, Africa, and Qods) are leaders which screen films and other copies are concurrently screened at other theaters. No single film can be screened by two groups of theaters.
Ticket price is not the same for all theaters. Modern theaters are usually more expensive. Experiences gained over the past few years show that Iranian people are usually willing to watch films at modern theaters and high ticket price is not considered a barrier. Therefore, owners of many old theaters in Tehran and other cities have decided to renovate their facilities.