Construction and Reconstruction of Theaters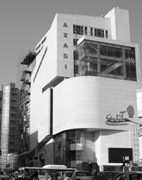 Theaters have been a chronic problem of the Iranian cinema for many years. Before the revolution, there were more theaters in the country. After the revolution, doubts about continuation of cinema activities led to relative standstill of the industry. However, 30 years have passed from the time that Imam Khomeini gave the go-ahead for Iranian filmmakers to continue their work and the number of theaters has increased. The reason behind low number of existing theaters compared to pre-revolution years is that many of them have been shut down on different grounds. Even some theaters which were run by capitalists affiliated with the former Shah, have been confiscated and turned into malls. Others have gone bankrupt due to inability to pay tax and other reasons and have been mothballed during the past years. Yet another number of theaters have been closed because they were too old and unusable. The last example of such theaters was Roudaki Theater on Lalehzar Avenue; one of the oldest avenues of Tehran where more than 10 big theaters were located about three decades ago.
At present many films cannot be publicly screened due to low number of theaters. Theater owners prefer to screen commercial films which would entail lower risk at box office and this is alarming for artistic films which are made for special audience. A few years ago, the government, which still owns half of theaters decided to screen such films, but the result was disappointing. Those films were screened at five theaters accompanied with minimum publicity. Also, distribution of theaters (concentration of over 50 percent of them in downtown without even one theater in western parts of the city) prevented true audience of such films from watching them. Their screening usually lasted only two weeks and their fans knew about it only when the screening was over. Apart from special films, issues related to screening of commercial films of the Iranian cinema (like the season when they are screened, duration of screening, and the number of theaters allocated to them) have given rise to a lot of tension among theater owners, producers and directors over the past two years, so that, even the highest ranking state officials were sometimes involved. To overcome the crisis, they usually proposed short-term solutions and a few months later, similar differences break out again.
Cinema authorities have started to pay attention to the need for theaters since two years ago. Reconstruction of Azadi and Shahr-e Qesseh theaters, which consist of five screening halls, has been a major step taken in this regard. Two years ago, Tehran Mayor Mohammad Baqer Qalibaf announced that the complex will be reconstructed and the huge building was inaugurated according to initial schedule. Such complexes are so important that in last April, box office returns for five theaters of Azadi Theater accounted for 15 percent of total sales at Tehran theaters! Many citizens are interested in both watching new films and touring the reconstructed theater and this was a reason for high sales of movies in this spring.
After inauguration of Azadi complex as well as Tamasha complex with three theaters in south Tehran (it has been built at a neighborhood where there were no theaters) construction of cinema theaters entered a new phase. The Center for Development of Cultural Spaces is run by Tehran Municipality and has made great efforts during past few years to build new theaters. Construction of the two complexes was the first step taken by the center. Another big cinema complex, called Mellat, is to be inaugurated in summer comprising five big theaters equipped with modern audio and visual equipment.
In addition to construction of new theaters, some old theaters were reconstructed last year to the joy of movie buffs. Cinema Shahr Institute, which is run by Cinema Department of Ministry of Culture and Islamic Guidance, has renovated and reconstructed a lot of old theaters of Tehran last year. Their owners have opined that since the reconstruction, box office returns have greatly increased and the audience has been more enthusiastic to go to theaters. The reconstruction is not limited to the building alone, but also includes the waiting hall, façade, as well as cafeteria and internal decorations of theaters. The trend is still going on. Cinema Shahr Institute and the Center for Development of Cultural Spaces are continuing with their developmental activities.