26th International Fajr Film Festival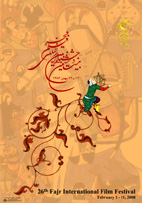 The 26th Fajr International Film Festival contains several different sections with Iranian and non-Iranian films. In the section dedicated to Iranian Cinema Competition, many new Iranian films, including the latest works by Bahman Farmanara, Majid Majidi, Kamal Tabrizi, Reza Mirkarimi, Ebrahim Forouzesh, Mohammad-Reza Aslani and many others will be screened and judged by the jury.
The festival contains some other competitive sections as well: International Competition, including some well-known names and titles such as Tony Gilroy's Michael Clayton, Nikita Mikhalkov's 12, Aleksandr Sokurov's Alexandra, Brian De Palma's Redacted, etc.; Asian Cinema Competition and Spiritual Cinema Competition (with a few Iranian films in each section); The Eye of Reality which is focused on Iranian documentaries and a competitive section of Iranian short films
There are several non-competitive sections mostly consisting of new non-Iranian films, including Festival of Festivals with films such as Bille August's Goodbye Bafana, Paul Haggis' In the Valley of Elah, Robert De Niro's The Good Shepherd, etc.; Special Screenings with films such as Brian De Palma's The Black Dahlia, Alfonso Cuaron's Children of Men, Chris Noonan's Miss Potter, Chris Weitz's The Golden Compass, Michael Winterbottom's The Road to Guantanamo, etc.; and other sections dedicated to documentaries and more
In addition to the sections above, Fajr Film Festival as always pays respect to several great filmmakers. This year Ingmar Bergman and Nikita Mikhalkov will be tributed by screening some of their films. Several Iranian filmmakers such as Ali Hatami, Rasoul Mollaqolipour and Massoud Jafari Jozani and a veteran Iranian actress named Parvaneh Massoumi will be appreciated as well by screening some of their works.