3 Woman (2008)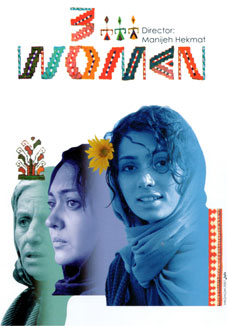 Director: Manijeh Hekmat
Script Writer: Naghmeh Samini
Director of Photography: Dariush Ayari
Editor: Mostafa Khergheh Poush
Production Manager: Mohammad Reza Najafi
Sound Engineer: Parviz Abnar
Costume Designer: Zhila Mehrjui
Music: Heydar Sajedi
Set Designer: Mohsen Ahangarani
Cast: Niki Karimi, Pegah Ahangarani, Maryam Bubani, Nazanin Ahmadi, Reza Kianian, Atila Oesiani, Babak Hamidian, Shahrokh Forutanian
Producer: Bamdad Film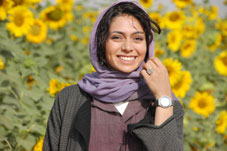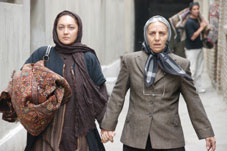 Synopsis
Three women of three generations, grandmother, mother and daughter, who have been lost in the past, present and future.
Minoo, a forty year old woman, a carpet expert and darner, lost in her obsessions and doubts, tries to save an precious ancient rug. Her daughter's left and Minoo's looking for some traces to find her. Minoo's mother suffers forgetfulness and carrying the same precious ancient rug, she's lost in search of her memoirs in a route toward her past. Minoo, wandering among her lost ones, she seeks her own truth, while looking for her mother and daughter.
Pegah, Minoo's daughter, has left her mother, lonely and aimlessly, passes the roads in remote regions of her country, Iran. She confronts a young man, who wanders around and is lost in the roads too.
These three women, through their searches, find out their common identities. Do these all would relate them again?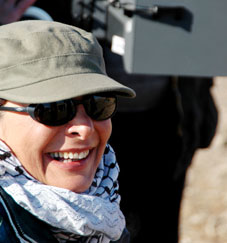 BIO-FILMOGRAPHY
Born in 1962 in Arak (Iran), Manijeh Hekmat is a prolific figure in Iranian cinema. She was firstly involved in film business as a experimental filmmaker and then as a script-girl. Since 1980, Ms Hekmat acted as an assistant director and production designer in 25 feature films. She's started producing films since 1995 that the mention can be made of the award winning The Girl in the Sneakers and Bunch of Grass a German production in Iranian Kurdistan. Women's Prison (2002) was Ms Hekmat's debut feature film that is based on her long studies and field-works on Iranian women prisoners, has been shown in 80 international film festivals and received 7 prizes. Three Women (2007) is Manijeh Hekmat's second film.
Fi I mog raphy: Women's Prison (feature, 2002), NGOs in Iran (documentary, 2003), Me, My Room and My Friends (documentary, 2004), Hundred Years Parliament in Iran (documentary, 2005), Women Come Out of the House (documentary, 2006), Three Women (feature, 2008)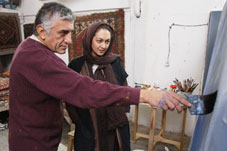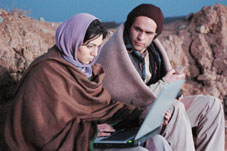 World Sales:
Iranian Independents P.O.Box: 15875-4769 Tehran, Iran
Tel: (+98-912) 3198693 Fax: (+98-21) 22271157