Tale of a City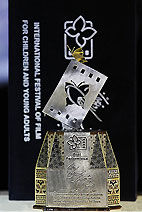 After being held in Isfahan for many years, this year, the second edition of Festival of Films for Children and Young Adults was held in Hamedan. Festival officials did their best to be hospitable to domestic and foreign guests. Opening and closing ceremonies were held according to necessary standards. The festival was received so warmly by local authorities in Hamedan that a "permanent secretariat" was launched there to make sure that the festival will not move to another city in the foreseeable future. A great idea by festival authorities in the current year was to take some programs to nearby cities like Razan, Asadabad, Malayer, Nahavand, Lalehjin, Toiserkan, and Kaboudarahang. Citizens of Hamedan also received the festival enthusiastically and theaters were full when screening both Iranian and foreign films. Owners of theaters, therefore, had to arrange extra showtimes every day.
Like Isfahan, Hamedan is an ancient city of Iran. Although major buildings of Isfahan like Sio-se-pol Bridge and Naghsh-e Jahan Square belong to Safavid period (about four centuries ago) Hamedan was the first city where Median people settled about 3,000 years ago and it is closer to Tehran than Isfahan. Two years ago, when the city was chosen as host to Festival of Films for Children and Young Adults, all theaters of the city were rehabilitated and different places were established for formal and closing ceremonies. At the same time, willingness of Iranian filmmakers to make films for children has relatively decreased compared to 1980s and famous directors of children's films have changed course to make films in other genres.
A number of participating films were screened in this festival for the first time, while others had been already screened in Fajr International Film Festival. New films included, inter alia, Mana, Buddha Whispering, ABCD (Mohammad Dormanesh) and Mahboobeh (Vahid Nikkhah-Azad). The latter is one of few filmmakers, who has still remained loyal to making fantastic films for children and young adults. Other films, which had been already screened in Fajr Festival, included The Locksmith (Gholamreza Ramezani), The Music Box (Farzad Mo'tamen), Song of the Sparrows (Majid Majidi), and The White Sneakers (Mohammad Ebrahim Moayyeri). Mahboobeh stood out among those films. Its story and tone, which is devoid of pretention, was so pleasing that it can both appeal to children and young adults and satisfy critics. The leading actor has been guided by an old and stylist director who has great experience in working with amateur actors and the performance is quite believable and sometimes, impressive. This does not mean that Mahboobeh is a masterpiece, but it is a film, which easily stands out among clichéd movies. The White Sneakers seems rather out-of-date despite good performance of two leading actors (Hossein Yari and Baran Kowsari). We have seen examples of such moralistic and educational movies in 1980s and it has nothing new to present.
In addition to Iranian movies, remarkable foreign productions like Horton, Garfield Gets Real, Meet the Robinsons, and Spy Kids were also screened in Hamedan. Horton was an amazing work, which showed what brilliant ideas are there to manipulate the audience. It is a joke to think that Horton only addresses children. It has been inspired by Gulliver's Travels, but has taken that idea to new heights and makes viewers believe that there is a world on pollen which is full of life with human-like sentiments which match our own. Children watching such brilliant works will expect more from domestic productions and they cannot be brought to theaters to just watch any simple movie.