12th Iranian Cinema Celebration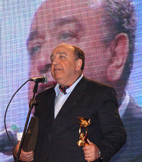 Iranian cinema celebration is the most important event of the Iranian cinema after Fajr International Film Festival. Although the celebration is much younger than Fajr Festival, its authorities insist that the event should stay away from politics. Perhaps, for that reason, awards given out during the celebration have been much different from those given in Fajr Film Festival. For example, a film which has been awarded in Fajr Festival because it has been in line with government's policies is usually snubbed in cinema celebration while another film which has been made according to standards of commercial cinema and has been turned down due to the intellectual air governing Fajr Festival, may be appreciated in cinema celebration. There are many other differences between Fajr International Film Festival and cinema celebration. One of those differences is that films are usually screened in Fajr Festival for the first time while the cinema celebration is a review of annual productions of the Iranian cinema, whether they have been already screened or not. Also, Fajr Festival, like other major festivals of the world, is held over several days before films are judged in closing ceremony, but cinema celebration is a one-night event like the Academy Award ceremony. However, both occasions have come under fire for different reasons. In Iranian cinema celebration, in which films are judged by different guild associations affiliated to House of Cinema, you can see reactions to policies followed by Fajr Festival and this approach has frequently overshadowed independence nature of the event. On the other hand, high number of jury members has caused their choices to be more close to the public taste and when names of winners are announced, nobody is there to answer criticism as to why, for example, a not-so-important film has won a prize in competition with other valuable films. However, jury members of Fajr Festival are introduced to everybody and they will be held accountable before critics. Another problem with cinema celebration is lack of possibility for all films to take part in the competition. Iranian films can be publicly screened if a relevant permit has been issued by Ministry of Culture and Islamic Guidance and some of them are banned from public screening due to changes that have been made to a scene or a dialogue. Of course, during the current year, Know Your Country (Bahman Farmanara) and So Many good Years (Saman Moqaddam) were screened in cinema celebration without having a screening permit. Farmanara's film also won many prizes. Officials in charge of the celebration argued that since both films were going through formalities for screening permit, they had been screened through written permit issued by Ministry of Culture and Islamic Guidance.
A fortunate change in this year's celebration, however, was that prizes for the best documentary, short, and animation films were handed out on three separate nights before the main ceremony. The division had given a more specialized air to other programs and there was also enough time to appreciate prizewinners of the above genres. At the same time, their prizes were not overshadowed by prizes given to narrative films. Short films screened during this year's celebration included Cockscomb (Aida Panahandeh), Andussi (Shahram Mokri), and Boomerang (Dariush Gharibzadeh). In documentary films section, Tinar (Mehdi Moniri), Fenceless Square (Mehrdad Zahediyan), and Stranger than Paradise (Ruhollah Mowlavi) won prizes while prizes for animation films were given to Ashoorayian, Shekarestan, and Mooli. Tribute was also paid to four stylist Iranian filmmakers; that is, Bahram Baizai, Jamshid Mashayekhi, Seifollah Dad, and Kazem Fariborzi. Another feature of this year's cinema celebration was that it was held beside the newly-opened Milad Tower, which is among the highest buildings in the world and a symbol of Tehran. The Iranian cinema celebration was the first formal gathering to be held at the site of the tower.
Winners of Iranian Cinema Celebration
Best film: Child of the Earth (Mohammad Ali Ahangar)
Best director: Bahman Farmanara (Know Your Country)
Best photography: Alireza Zarrindast (Child of the Earth)
Best actor: Khosrow Shakibai (Becomes a Star)
Best actress: Gowhar Kheirandish (Invitation)
Best supporting actor: Babak Hamidiyan (Untied Cord)
Best supporting actress: Mahtab Nassirpour (Green Fire)
Best makeup artist: Mahin Navidi (Invitation)
Best score: Karen Homayounfar (Know Your Country)
Best sound recordist: Abbas Rastegarpour (Child of the Earth)
Best sound mixing: Mohammad Reza Delpak and Reza Karimizadeh (Know Your Country)