2nd Middle East International Film Festival, Abu Dhabi (October 10-19, 2008)
Backed by Petrodollars
by Ali Noor Moosavi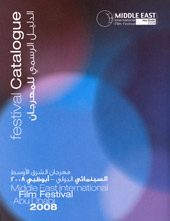 Abu Dhabi, the capital city of the United Arab Emirates and believed by some print media as the wealthiest city in the world, hosted the 2nd Middle East International Film Festival. An interesting point about the festival was considering cash prizes which totaled one million dollars! During this year's festival about 150 films were screened in 10 different sections. The festival opened at the seven-star Emirates Palace Hotel with The Brothers Bloom. Director, Ian Johnson, as well as Adrien Brody, one of the film's actors, in addition to Antonio Banderas, Melanie Griffith, and Meg Ryan and a group of Middle Eastern actors and filmmakers attended the inaugural ceremony. The ceremony was so long that as soon as the film started, guests left the theater and flocked to hotel's garden where a luxurious buffet was arranged.
Ben Kingsley was another guest of the festival, who was there along with Arabic version of his famous movies, Gandhi, and his new movie, The Wackness. Kingsley also received an award for a lifetime of artistic achievements. When on the stage, he noted that the main premiere of Gandhi was when it was screened in Palestine.
Many films from Arab countries like Egypt, Morocco, Syria, Tunisia as well as the first film made in the Emirates, Hena, were screened in the festival. Undoubtedly, Laila's Birthday by Rashid Masharawi from Palestine was one of the best films of the festival. In this relatively short film (71 minutes) we see one day of Abu Laila's life. He is a former Palestinian judge who is currently driving a taxi. This is the birthday of his daughter, Laila, and in addition to taxi driving he has to buy a birthday cake for his daughter. On that day, every new passenger he takes in introduces him to a new adventure to get viewers' familiar with problems with which Palestinian people are grappling on a daily basis. Laila's Birthday is an impressive, shocking, and at the same time, a very entertaining film.
From Iran, Samira Makhmalbaf was present with Two-Legged Horse. Before her film was screened, she announced that her film depicted scenes which people preferred not to see and pretended that such things never happened. Two-Legged Horse is successful in this regard. Certain scenes were so shocking that some viewers left the theater. It told the story of an Afghan old man who hired a young boy for one dollar a day to carry his disabled son to school. Mohsen Makhmalbaf (screenwriter) showed that lord and servant relationship and "riding the weak" exists even among the lowest social classes.
[Page: 138]
President & Publisher
Massoud Mehrabi

Editors:
Sohrab Soori
Massoud Mehrabi
Abbas Yari

Translators:
Sohrab Soori
Behrouz Tourani
Zohreh Khatibi

Contributors
Shahzad Rahmati
Saeed Ghotbizadeh

Advertisements
Mohammad Mohammadian

Art Director
Babak Kassiri

Ad Designers
Amir Kheirandish
Hossein Kheirandish

Cover Design
Alireza Amakchi

Correspondents
E.Emrani & M. Behraznia (Germany)
Mohammad Haghighat (France)
A. Movahed & M. Amini (Italy)
Robert Richter (Switzerland)
F. Shafaghi (Canada)
B. Pakzad (UAE)
H. Rasti (Japan)

Print Supervisors
Shad-Rang
Noghreh-Abi
Gol-Naghsh

Subscription & Advertising Sales
P.O.Box: 11365-875,
Phone: +98 21 66709374
Fax: +98 21 66719971
[email protected]

Copyright: Film International
© All rights reserved,
2009, Film International
Quarterly Magazine (ISSN 1021-6510)
Editorial Office: 5th Floor, No. 12
Sam St., Hafez Ave., Tehran 11389, Iran

*

All articles represent views of their
authors and not necessarily
those of the editors