27th Pordenone silent film festival (4-11 October 2008)
Marvels of Lost Time Regained
by Ramin S. Khanjani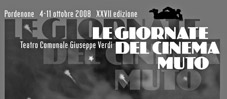 Nowadays, an average festivalgoer imagines festivals as a place for screening the most recent movies and the most joyful part of those events for him would be screening of his favorite director's long-awaited latest movie, which sometimes turns out to be a total disappointment and a bitter experience. However for such a guy it may be hard to imagine how a festival could be of anybody's interest while majority of its movies date back to a long time ago. Hearing of such a yearly event, he may throw up his shoulders in indifference and simply call it an oddity. He will be surprised to know how much a well-known critic like Jay Weissberg is passionate about this event calling it his most favorite festival in the world (though he attends most major film events) and trying not to miss any screening. Of course, he is not alone in his enthusiasm. Here, I will try to share my experience with peculiar charms of Le Giornate del Cinema Muto with those who are not able to digest the whole idea to help them find out about delights of this event. Just like previous years, the 27th edition of Giornate consisted of a variety of programs including: Tribute to Vittorio Martinelli, Alexander Shiryaev's movies, The French Touch, Hollywood on the Hudson, Silent W. C. Fields, the final part of Griffith Project, Early Cinema, Films and History, as well as Rediscoveries and Restorations. All screenings took place in Teatro Verdi – and its small rear theater – which was this time equipped with an electronic device to project English and Italian subtitles for movies which had intertitles in other languages.
Devotees of silent cinema are not simply scholars and students of cinema history. A celebrity like the Academy Award winner, Michael Nyman, can share this fascination to the extent as to offer a performance for the festival. Nyman, who couldn't attend the festival last year because of his illness, kept his promise and accompanied screening of A propos de Nice and Kinopravda 21 (Dziga vertov) by playing piano and his performance for the former movie was preferred by viewers. Prior to his performance, Nyman attended a popular meeting and answered to questions. He told about his predilection for improvisation instead of being loyal to a written note and added that he likes composing scores for silents because it offers him more liberty and there's no obligation to follow director's taste. He added that he preferred composing music of non-fiction movies because in those movies music shouldn't necessarily be in a specific relationship with certain dramatic scenes.
An attractive aspect of this festival is the discovery of movies that had been ignored when they were produced, and now, when presented to a new generation of viewers, we notice insufficiency of past judgments and an urge for reevaluation. A good case in point – which surprised the audience – was Griffith's last silent, Lady of the Pavements. Though discarded by most writers, maybe due to its few similarities with other Griffith's movies – which made it different from other works of Griffith's – I strongly believe that it was one of the prominent features Griffith made during his career and I am sure that most viewers agreed with me. Using an affair between a Prussian aristocrat and a French low-class cabaret singer as its main plot, the film is reminder of similar love affairs in Strohiem's masterpieces while replacing that rebel director's ironic approach with a vivid and light romantic touch central to the musicals. Its graceful camerawork served to build the general mood of the movie, which was somewhere between reality and fantasy, and also testified to Griffith's ability to perfectly embrace the stylistic innovations of the late 1920s.
[Page: 124]
President & Publisher
Massoud Mehrabi

Editors:
Sohrab Soori
Massoud MehrabiZohreh Khatibi

Contributors
Shahzad Rahmati
Saeed Ghotbizadeh

Advertisements
Mohammad Mohammadian

Art Director
Babak Kassiri

Ad Designers
Amir Kheirandish
Hossein Kheirandish

Cover Design
Alireza Amakchi

Correspondents
E.Emrani & M. Behraznia (Germany)
Mohammad Haghighat (France)
A. Movahed & M. Amini (Italy)
Robert Richter (Switzerland)
F. Shafaghi (Canada)
B. Pakzad (UAE)
H. Rasti (Japan)

Print Supervisors
Shad-Rang
Noghreh-Abi
Gol-Naghsh

Subscription & Advertising Sales
Address: 10, Sam St., Hafez Ave., TEHRAN, IRAN
Phone: +98 21 66722444
Fax: +98 21 66718871
info@film-magazine.com

Copyright: Film International
© All rights reserved,
2023, Film International
Quarterly Magazine (ISSN 1021-6510)
Editorial Office: 5th Floor, No. 12
Sam St., Hafez Ave., Tehran 11389, Iran

*

All articles represent views of their
authors and not necessarily
those of the editors