BFI 52nd London Film Festival (15 – 30 October 2008)
The Year of Political Living
by Hamid Reza Sadr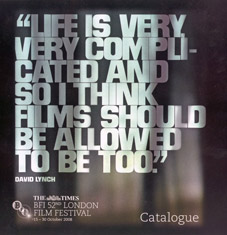 Loose Rope directed by Mehrshad Karkhani, was the only Iranian film screened in the 52nd London Film Festival. I read Karkhani's message in ICA for the audience as follows: "The film is the story of the life and efforts of lonely people who work under difficult conditions which they don't deserve; people who are holding on to a Loose Rope in their lives." The catalogue of the festival introduced Loose Rope as "Encompassing some luminous shots of Iran's countryside, which catches the wide-eyed wonder of the two men as they enter the big city and encounter smiling girls, overly officious traffic wardens and bemused crowds of spectators. Karkhani leaves the politics in the background - although the opportunity for allegorical interpretation remains clear for all to see - in favor of a wonderfully human tale of two wandering souls."
Sandra Hebron, art director of London Film Festival, introduced the festival as such: "Thinking about some of the films in this year's program, three words kept floating to the fore: history, memory, and politics." What we found in London was by and large politics and memories and why not? We live in one of the most political periods of our time. The inevitable truth is the politics has greatly overshadowed our lives now.

Verbal Boxing Match
David Frost: "Are you really saying the President can do something illegal?"
Richard Nixon: "I'm saying that when the President does it that means it's not illegal!
David Frost: "... I'm sorry?"
The festival opened with Frost/Nixon directed by Ron Howard. The historic interview of a disgraced post-Watergate ex-President, Nixon, by the apparently lightweight British talk show host David Frost turned out to be one of the most volatile confrontations in history of the American TV. Based on talk show host David Frost's television interviews with Richard Nixon, the game pits an ambitious celebrity against a fallen former president out to restore his reputation. Ron Howard directs Peter Morgan's jagged script as a verbal boxing match. Nixon is clever and shrewd, but has profound emotional needs. Frost is the distinctive gutsy man, an unpretentious underdog and a determined dreamer who refuses to back down once he's on. About half the film is about machinations that led up to the face-off: Frost's attempts to get independent financing (his previous U.S. talk show had been cancelled) and the battles of the research team that surrounded him against Nixon's associates.
Michael Sheen has been cast as Frost while Frank Langella delivers an excellent performance as Nixon, a man who finally realized it was time to come clean. It is his performance which carries the film. His Nixon is a brilliant and broken husk, desperate to return to power and unwilling to admit that it's no longer possible. We never forget his growling at his subordinates or yelling uncontrollably over the phone as Frost sits in bewildered silence. It's as if Frost can't come to life until Nixon finally starts to fade away. Kevin Bacon plays Nixon's chief of staff, Jack Brennan, delivering an almost frightening performance as a man so completely devoted to the ex-president that his loyalty at times borders on sexual appeal.
[Page: 100]
President & Publisher
Massoud Mehrabi

Editors:
Sohrab Soori
Massoud Mehrabi
Abbas Yari

Translators:
Sohrab Soori
Behrouz Tourani
Zohreh Khatibi

Contributors
Shahzad Rahmati
Saeed Ghotbizadeh

Advertisements
Mohammad Mohammadian

Art Director
Babak Kassiri

Ad Designers
Amir Kheirandish
Hossein Kheirandish

Cover Design
Alireza Amakchi

Correspondents
E.Emrani & M. Behraznia (Germany)
Mohammad Haghighat (France)
A. Movahed & M. Amini (Italy)
Robert Richter (Switzerland)
F. Shafaghi (Canada)
B. Pakzad (UAE)
H. Rasti (Japan)

Print Supervisors
Shad-Rang
Noghreh-Abi
Gol-Naghsh

Subscription & Advertising Sales
P.O.Box: 11365-875,
Phone: +98 21 66709374
Fax: +98 21 66719971
[email protected]

Copyright: Film International
© All rights reserved,
2009, Film International
Quarterly Magazine (ISSN 1021-6510)
Editorial Office: 5th Floor, No. 12
Sam St., Hafez Ave., Tehran 11389, Iran

*

All articles represent views of their
authors and not necessarily
those of the editors