An interview with Afghan director, Siddiq Barmak:
We Are Citizens of Cinema!
by Marziyeh Riahi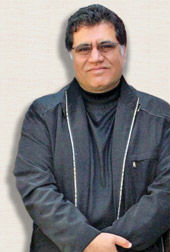 Talking about Afghan cinema will remind us of one famous name: Siddiq Barmak. He drew world's attention to Afghanistan by his Osama. He has noted that Osama was a turning point for the Afghan cinema. Mohsen Makhmalbaf supported its production and Barmak owes his film's success to Makhmalbaf's support. I saw Siddiq Barmak in the 3rd Didor International Film Festival in Tajikistan. The following interview was conducted on his films and Afghan cinema after his second film, Opium War, was screened in out-of-competition section.
Film International: Did you start filmmaking from shorts?
Siddiq Barmak: Yes, I started my career by making short films. The first film I wanted to make and which I couldn't was an 8-mm in 1980. I later made three short films which were fruits of my cinema studies in Moscow. We had to make a film during out studies. We had to make a 5-minute, 35-mm film as a sophomore; a 10-20 minute film as a junior, and a 30-minute film as a senior. Those films were big lessons for me. I think beginning a film career by making shorts enables you to express your mind in a short time. Therefore, you will have to find those scenes which are more expressive of your ideas.
FI: Have you ever made a documentary?
SB: I have made two documentaries. One of them was about a man who has lost his limbs in war and the other one was about impact of war on social life of the Afghan people.
FI: Why did you go to study in Moscow?
SB: Afghan Filmmakers Union was established in Kabul in 1981. When Russian forces invaded Afghanistan, many things were impressed by their culture. For example, Afghan Artists Union was established and all private film entities, whose number did not exceed the number of fingers in one hand, joined it. At that time, I was working with my friends in Aryana Film which produced good films and I was its youngest member. I had not turned 18 yet. Before long, the union granted scholarships in Russia. They were willing to admit young Afghans and I was one of them. I went to Russia in 1983 and after studying the Russian for a year, I was admitted to a film directing course at Moscow International Film School.
FI: Did you return to Afghanistan after graduation?
SB: I went back to Kabul. The Soviet Union's proxy regime was still in power and there was no way to reach a compromise with them. Therefore, I joined Mujahedeen and fought against Russian forces along with Ahmad Shah Massoud for many years.
[Page: 74]
President & Publisher
Massoud Mehrabi

Editors:
Sohrab Soori
Massoud MehrabiZohreh Khatibi

Contributors
Shahzad Rahmati
Saeed Ghotbizadeh

Advertisements
Mohammad Mohammadian

Art Director
Babak Kassiri

Ad Designers
Amir Kheirandish
Hossein Kheirandish

Cover Design
Alireza Amakchi

Correspondents
E.Emrani & M. Behraznia (Germany)
Mohammad Haghighat (France)
A. Movahed & M. Amini (Italy)
Robert Richter (Switzerland)
F. Shafaghi (Canada)
B. Pakzad (UAE)
H. Rasti (Japan)

Print Supervisors
Shad-Rang
Noghreh-Abi
Gol-Naghsh

Subscription & Advertising Sales
Address: 10, Sam St., Hafez Ave., TEHRAN, IRAN
Phone: +98 21 66722444
Fax: +98 21 66718871
info@film-magazine.com

Copyright: Film International
© All rights reserved,
2023, Film International
Quarterly Magazine (ISSN 1021-6510)
Editorial Office: 5th Floor, No. 12
Sam St., Hafez Ave., Tehran 11389, Iran

*

All articles represent views of their
authors and not necessarily
those of the editors