An interview with Richard Leacock, documentary cinema giant
I Hate Negatives!
by Reza Bahraminejad – Mohammad Baghebani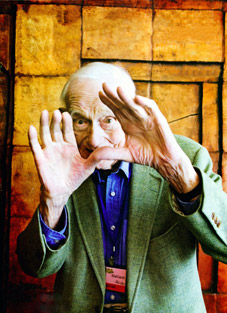 They said Richard Leacock would be in Tehran for the second edition of Cinema Verite Festival (October 14-18)…. No! He has canceled his trip … He has traveled a lot and is tired and old…. No! Leacock will come…. He has accepted the invitation…. Then we saw him on the second day of the festival when he was going up the theater steps quite deliberately like a rock covered with moss. His French wife, Valerie Lalonde watched his every step…. Please make way! This old man and old woman are embodiment of cinema history. Hand in hand, they had a very enthusiastic session and were admired a lot. Now we want more…. We want to talk to him…. To this legendary giant…. His wife tells us that we only have a quarter of an hour. He is easily tired. What could we ask in 15 minutes? Mr. Leacock, how did you make those big films? Where are your cinema wave friends? Mr. Leacock, please tell us the secret of your films….
It was a cloudy morning and he was sipping his tea at a hotel table having forgotten about our appointment. Of course, when interview started, he looked more energetic and talked for an hour. His 88-year-old mind was not as sharp as his prime years and his wife frequently helped him. In the final text, we had no choice, but to omit his sweet, but unrelated, memories. The interview, nonetheless, reveals a man in love who has never given up his obstinacy and opposition.
Film International: Every artistic field has its own heroes: painters take pride in Picasso and photographers admire Cartier-Bresson. We documentarians are happy to have somebody like you.
Richard Leacock (with a smile and proud tone): It's a very good idea!
FI: And we feel honored to be here with you.
Leacock's wife: He is delighted too.
FI: About half a century has passed since you and your friends founded this filmmaking style. Now looking back, do you believe that all those ideas were correct? If you restarted with the same colleagues, would you go the same way again?
RL: I am constantly changing and I am still changing. In every new film, I breach the rules of my previous film and each film is a different work for me. Digital technology has changed everything…. I hate negatives…. I spent many years as a young man at damned editing tables and we spent a lot of money on that. I love digital technology and we see how it has reduced production time. I don't like wide screen. You cannot show close-up of a beautiful face on it.... But now…. (He points at our photographer's camera).
[Page: 70]
President & Publisher
Massoud Mehrabi

Editors:
Sohrab Soori
Massoud MehrabiZohreh Khatibi

Contributors
Shahzad Rahmati
Saeed Ghotbizadeh

Advertisements
Mohammad Mohammadian

Art Director
Babak Kassiri

Ad Designers
Amir Kheirandish
Hossein Kheirandish

Cover Design
Alireza Amakchi

Correspondents
E.Emrani & M. Behraznia (Germany)
Mohammad Haghighat (France)
A. Movahed & M. Amini (Italy)
Robert Richter (Switzerland)
F. Shafaghi (Canada)
B. Pakzad (UAE)
H. Rasti (Japan)

Print Supervisors
Shad-Rang
Noghreh-Abi
Gol-Naghsh

Subscription & Advertising Sales
Address: 10, Sam St., Hafez Ave., TEHRAN, IRAN
Phone: +98 21 66722444
Fax: +98 21 66718871
info@film-magazine.com

Copyright: Film International
© All rights reserved,
2023, Film International
Quarterly Magazine (ISSN 1021-6510)
Editorial Office: 5th Floor, No. 12
Sam St., Hafez Ave., Tehran 11389, Iran

*

All articles represent views of their
authors and not necessarily
those of the editors