Casting in Iranian Cinema
The Mask
by Habib Hekmat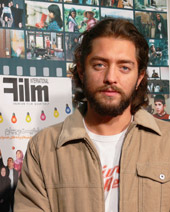 In recent years, a new title has appeared in credits of many Iranian films: casting. This shows that unlike a few years ago, when this issue was not taken seriously in the Iranian cinema, it has become as an important film profession. In other countries, however, this is now a totally professional field and is one of the most important phases of pre-production stage of feature films. This article casts a cursory look at evolution of this profession in the Iranian cinema.
In its standard form, actors are chosen by a casting board whose members usually include producer, director, and/or actors before whom the would-be actors perform pieces that they are given in order to demonstrate their talents and prove their coordination with other actors. Sometimes, they advertise through mass media or in public and sometimes they only contact professional or semi-professional actors. In another approach, a person is assigned as casting director (or casting assistant). This has become a widespread approach and many people in the American cinema and television have contributed to success of many films by making a career of this profession. The organized form of this method is seen in the American Casting Association which has been established since 1982 to define clear criteria for professional casting and to support its members in advancement of their common interests.
The question is: are common professional methods of casting used in the Iranian cinema or is there an organization in Iran similar to casting associations in countries with creditable film industries? In reality, selection of actors in Iran does not conform to international standards and most of them are chosen according to personal tastes. Iranian cinema does not move along the lines of an established industry and due to heavy reliance on government budget and subsidies, is not a truly private entity to establish such associations through appropriate mechanisms. Therefore, there is no association with casting professionals as its members among guild associations of the Iranian cinema (which collectively form the House of Cinema). Even actors association lacks an efficient method to show what principles are followed in their selection process. Actors in Iran form a wide continuum from professional actors to amateurs, highly educated to uneducated, theatrical and television performers and even relatives of directors and there is no single and even officially recognized basis for their selection. Each filmmaker has his/her own way. Some of them like beautiful faces while others attach more significance to academic or experimental experience, innovativeness in surprising viewers, and even unique features of actors.
[Page: 64]
President & Publisher
Massoud Mehrabi

Editors:
Sohrab Soori
Massoud MehrabiZohreh Khatibi

Contributors
Shahzad Rahmati
Saeed Ghotbizadeh

Advertisements
Mohammad Mohammadian

Art Director
Babak Kassiri

Ad Designers
Amir Kheirandish
Hossein Kheirandish

Cover Design
Alireza Amakchi

Correspondents
E.Emrani & M. Behraznia (Germany)
Mohammad Haghighat (France)
A. Movahed & M. Amini (Italy)
Robert Richter (Switzerland)
F. Shafaghi (Canada)
B. Pakzad (UAE)
H. Rasti (Japan)

Print Supervisors
Shad-Rang
Noghreh-Abi
Gol-Naghsh

Subscription & Advertising Sales
Address: 10, Sam St., Hafez Ave., TEHRAN, IRAN
Phone: +98 21 66722444
Fax: +98 21 66718871
info@film-magazine.com

Copyright: Film International
© All rights reserved,
2023, Film International
Quarterly Magazine (ISSN 1021-6510)
Editorial Office: 5th Floor, No. 12
Sam St., Hafez Ave., Tehran 11389, Iran

*

All articles represent views of their
authors and not necessarily
those of the editors