Alienation of Intellectuals and Iranian Cinema
Against the Wind
by Hamid Reza Sadr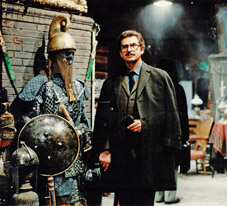 Anti-intellectual tendencies have a long history in Iran, particularly in its cinema. This is a kind of xenophobia since intellectuals are considered to represent the West. Every generation has habitually looked contemptuously at those who pretend to be intellectuals, thus creating an absolute and value-laden division between ordinary people and the intellectual, who is the negative against which traditions are measured. While ordinary men are characterized by masculinity, outdoor life, activity, adventure, emotional restraint and public power, intellectuals usually represent passivity, introspection and femininity. This approach is a basic part of Iranian films' stories symbolizing confrontation between tradition and modernism.
Anti-intellectualism in Iran means hostility, opposition, unfriendliness, and mistrust towards intellectuals and intellectual pursuits. This may be expressed in various ways, such as attacking the virtues of science, education, or literature and it is often perceived as victory of ordinary people over the elite. It argues that educated, western-minded people form an isolated social group that tends to change traditional values. Intellectualism in Iran can be often expressed within communities through declarations of otherness; that is, intellectuals are said to be 'not one of us'. They are portrayed as a danger to normality and as outsiders with little sympathy for the common people. Intellectuals are introduced as snobbish members of a different social group. For rural communities in films, intellectuals are often viewed as "city slickers" who know little of the country and its ways. Communities where religious faith is strong usually link intellectuals to spread of atheism, while sexual mores of intellectuals can be also placed in doubt in some cultures where they can be suspected of high promiscuity, bisexual or homosexual tendencies, or lack of interest in sex at all. Notably, those who disapprove of intellectuals often view them as exhibiting not one, but a combination of these traits.
Anti-intellectual tendencies were, and are still, the dominant attitude in Iran. The former Shah was against intellectuals and referred to them as enemies of the country in many of his interviews while revolutionary regime of the newly established Islamic Republic of Iran also displayed a streak of anti-intellectualism in its policies. Besides emigration of many well-educated, western-trained intellectuals in the wake of the revolution, the government decreed in 1980 that all universities are to be closed until the curricula were "purified" from corrupt Pahlavi legacy.
[Page: 46]
President & Publisher
Massoud Mehrabi

Editors:
Sohrab Soori
Massoud MehrabiZohreh Khatibi

Contributors
Shahzad Rahmati
Saeed Ghotbizadeh

Advertisements
Mohammad Mohammadian

Art Director
Babak Kassiri

Ad Designers
Amir Kheirandish
Hossein Kheirandish

Cover Design
Alireza Amakchi

Correspondents
E.Emrani & M. Behraznia (Germany)
Mohammad Haghighat (France)
A. Movahed & M. Amini (Italy)
Robert Richter (Switzerland)
F. Shafaghi (Canada)
B. Pakzad (UAE)
H. Rasti (Japan)

Print Supervisors
Shad-Rang
Noghreh-Abi
Gol-Naghsh

Subscription & Advertising Sales
Address: 10, Sam St., Hafez Ave., TEHRAN, IRAN
Phone: +98 21 66722444
Fax: +98 21 66718871
info@film-magazine.com

Copyright: Film International
© All rights reserved,
2023, Film International
Quarterly Magazine (ISSN 1021-6510)
Editorial Office: 5th Floor, No. 12
Sam St., Hafez Ave., Tehran 11389, Iran

*

All articles represent views of their
authors and not necessarily
those of the editors