27th Fajr International Film Festival (30 Jan - 10 Feb, 2009)
Expansion and Diversity
by Saeed Ghotbizadeh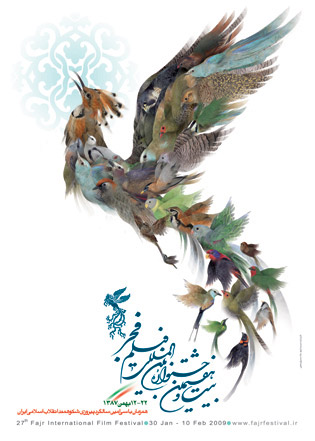 The 27th edition of Fajr International Film Festival has coincided with the 30th anniversary of the Islamic Revolution and, therefore, it includes more sections compared to previous editions. A number of films that have been ordered by Farabi Cinema Foundation and other state-run institutions focus on this issue and review 30-year history of Iran following the revolution. In view of annual changes in Festival's polices, a new section has been added this year. In addition to competition sections for international films, Asian films, Iranian cinema, documentaries and shorts, spiritual films, as well as first and second films, a new competition section for videos has been added where such films will be independently judged. The section has been added due to high number of video productions and telefilms in recent years. International section consists of diverse subsections. Out of old filmmakers, four English films made by Alfred Hitchcock and four Oscar winners made by John Ford will be screened. Also, four films made by Francis Ford Coppola in 1970s will be shown in addition to a retrospective on films and viewpoints of Mike Leigh. Tribute will be also paid to Paul Newman and one film made by every director who has died in the preceding year will be shown. "South Korean and German Cinema after 2000" is the name of another section which focuses on developments in both countries' film industries.
Each year, a nine-member board comprising Iranian filmmakers selects films for the Iranian cinema competition section. Since final results are announced a few days before the festival, some of the films which have been explained below may be crossed out from the competition section or are not made ready on time and have to wait for next year's festival. However, the following 20 films are among the most prominent productions of the Iranian cinema during the preceding year. Some of them, including the works of Asghar Farhadi, Parviz Shahbazi, Hamid Ne'matollah, Hassan Fathi, Varouzh Karim-Masihi and Abdolreza Kahani are the most likely candidates for prizes. There are also films by experienced directors such as Bahram Baizai as well as Shahriyar Bahrani's historical and religious film which is about the life of Solomon. The number of films demanding presence in the festival and the names of their directors prove that this year's festival will be among the most sensational editions of this cultural event.
[Page: 20]
President & Publisher
Massoud Mehrabi

Editors:
Sohrab Soori
Massoud MehrabiZohreh Khatibi

Contributors
Shahzad Rahmati
Saeed Ghotbizadeh

Advertisements
Mohammad Mohammadian

Art Director
Babak Kassiri

Ad Designers
Amir Kheirandish
Hossein Kheirandish

Cover Design
Alireza Amakchi

Correspondents
E.Emrani & M. Behraznia (Germany)
Mohammad Haghighat (France)
A. Movahed & M. Amini (Italy)
Robert Richter (Switzerland)
F. Shafaghi (Canada)
B. Pakzad (UAE)
H. Rasti (Japan)

Print Supervisors
Shad-Rang
Noghreh-Abi
Gol-Naghsh

Subscription & Advertising Sales
Address: 10, Sam St., Hafez Ave., TEHRAN, IRAN
Phone: +98 21 66722444
Fax: +98 21 66718871
info@film-magazine.com

Copyright: Film International
© All rights reserved,
2023, Film International
Quarterly Magazine (ISSN 1021-6510)
Editorial Office: 5th Floor, No. 12
Sam St., Hafez Ave., Tehran 11389, Iran

*

All articles represent views of their
authors and not necessarily
those of the editors