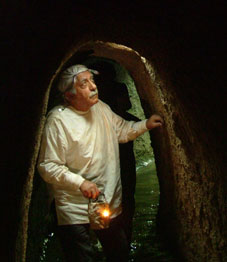 The German wife of Dr. Bahman Parsa, an Iranian physician living in Hamburg, leaves him and the doctor is invited by Qanati, an old friend of his father, to return to Iran and treat his nephew Yazdgerdi, who was shot on the very last day of the Iran- Iraq war and now many years later his life is being threatened as the bullet is making an slow and inexorable advance on his heart. Parsa performs a life-saving operation on the nephew and this further strengthens the relationship between the doctor and Qanati.
Qanati then proposes that Parsa be accompanied by Bahrami (his young driver) on a visit to his hometown, the quake-stricken Bam. Parsa first turns down the request, but accepts after seeing his father's photos and remembering his childhood. When in Bam, he makes the acquaintance of Jebelli, an old friend from his schooldays and who is now planning to take possession of a palm orchard which belonged to Parsa's father. Parsa, who is willing to sell the land and return to Hamburg as soon as possible, remembers his old childhood love, Mina, and looks for her in secret but without result. Qanati constantly returns Parsa to situations which remind him of his childhood and create a growing fascination with his hometown.
Mina of Silent Town is a straight plot road movie revolving around what is revealed while travelling and conforms to the conventional rules of story telling. It starts from Hamburg and ends in the ruins of Bam city in Iran. The flight from Germany to Iran is purposely shortened by the director who fades out the screen in order to prevent anything extraneous being read into the development of his story literally unfolding on the road. ...