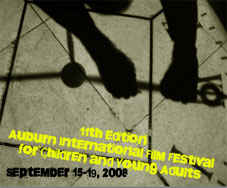 Auburn International Film Festival for Children and Young Adults was established in 1998 to provide a platform for works produced for children and youth as well as adult productions that are about or for children and youth. This event showcases artistically, socially, culturally and politically significant films from four corners of the globe annually. In the year 2008, the festival celebrated its 11th edition to represent diverse expressions and cultures in an intensive week of screenings in three venues around the Western Sydney region simultaneously.
FILMS MADE BY CHILDREN AND YOUNG ADULTS
The festival was held during September 15-19, 2008 with a huge line up of works by children aged between 6 and 14 years old from Australia, Belgium, Croatia, Finland, Poland, Nordic and Balkan Regions as well as Kenya and Spain. Among them were representatives from Channel Free Youth Media Access Network, School of Animated Films, Kids for Kids Film Festival, Videotivoli and Orson the Kid film school.
Also, the festival presented a number of films made by young adults aged between 15 and 22 years from Australia, Argentina, Poland, Russia, USA, UK and Iran. This year, the festival introduced ten short works from Tehran School of Film and Theater graduate students 2005-07 as part of Exchange and Curatorial program. The underlying themes dominant in the works made by youth this year were generally about dislocation and/or isolation coupled with the intention of change to love and/or optimism portrayed a powerful dichotomy.
Films such as Different from Poland made by a group of young people recognized cultural diversity and celebrated 'difference' against stereotypes among the emerging communities in Poland. John Flint's Paradise from UK was about disappointment and disillusionment that youth confront today, which often drives them to self-destruction instead of self-preservation. Works such as Salt Man and Sultanieh Dome by a group of Iranian young filmmakers were the most innovative works formally screened this year. These works are result of a three-day filmmaking workshop undertaken by the Australian-based ICYMAN (International Children and Youth Multimedia Access Network) in a remote town of Zanjan Iran engaging eight young adults aged between 18 and 20 years old.
FILMS MADE BY ADULTS
Alongside of children and youth works are the two main categories that are films made by adults about or for children and youth. This is a culmination of experimental, fiction, animation and documentary genres addressing children and youth social, cultural, economical and political issues globally. Nearly thirty works were presented in these sections from Australia, Germany, France, Japan, Sweden, Hungary, UK, Iran, Spain and Poland. Auburn International Film Festival for Children and Young Adults is a rare occasion that global issues surrounding children and youth are presented without censorship of content. The concerns with the children and youth civil and political Rights were the perspectives of the films, filmmakers and the festival organizers this year. ...