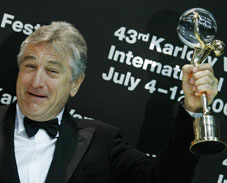 Opening/ Closing
This year, the 43rd edition of Karlovy Vary Festival opened and closed by screening two American films. However, major features of this festival were maintained and expanded. I was present at the 40th edition of the festival in 2005 and I wrote an article about the event saying that when you leave the festival you would describe it as "magnificent" and "informal". It seems difficult to be both magnificent and informal. Like other top cinema events of the world, Karlovy Vary attracts movie stars from across the world.
This year, you could see Robert De Niro who was moving toward the main hall accompanied by his wife to inaugurate his new film, What Just Happened (Barry Levinson). De Niro had apparently observed the above characteristics of the festival, because before his old film, New York, New York (Scorsese, 1977) was screened on the second night, he took to the stage and behaved quite informally.
Of course, presence of the American superstar was not the sole attraction of the opening ceremony, but the opening screening was also another surprise. It was a short black and white movie full of pursuit scenes in which a group of gangsters were trying to steal famous statue of Karlovy Vary Festival, but its officials are resisting them! What surprised viewers was the fact that the film was being shot just at the same time that they were watching it. It was a live 15-minute play performed in the middle of several maquettes and small decors. If we wanted to bring an example of modern cinema and its tools, such as digital cameras and mobiles, which have reduced time interval between film production and screening, the opening movie (which was repeated with small changes on the last night) could serve as a symbolic example. Viewers were behind the stage of a film which was screened live.
If What Just Happened was a conventional American film in which Robert De Niro appeared as a Hollywood producer grappling with professional and personal crises, the other American film, with its fantastic atmosphere and unexpected performance of Meryl Streep, was a good choice for closing ceremony of the festival. Mamma Mia was the first feature film directed by the British director, Phyllida Lloyd, was remake of a very successful theatrical play with the same name. Its screenplay has been written by Chaterine Johnson, and presence of Meryl Streep has turned it into an attractive performance with a story which totally pertains to women. It is not "womanly" just because major production factors are women, but because of its theme and references to family institution and concept of marriage. The film begins with marriage preparations of a young man and a young woman and ends in their separation. Instead, the leading character who is old mother of the bride, marries the man she has loved since a long time ago. In the meantime, simply looking at Meryl Streep, listening to her songs and being absorbed in this interesting musical was the best closing imaginable for this year's festival. When the film was finished, the screening hall turned into a scene for bidding farewell to the festival. ...