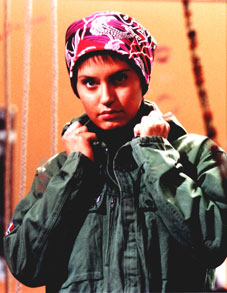 Psychological issues are a major theme for feature films and can be seen in a lot of movies. This article will briefly review the picture depicted of psychologists and psychiatrists in the Iranian cinema. Unlike international cinema where such personalities are focus of attention (there are many examples like The Cabinet of Dr. Caligari, Silence of Lambs, One Flew over the Cuckoo's Nest, A Beautiful Mind, A Clockwork Orange…) they have a low-key presence in the Iranian cinema. Perhaps the reason is that modern psychology is still young in Iran and many Iranians still consider psychotherapists to be psychologically ill themselves. Even a man like Mohammad Ali Jamalzadeh, who is known as father of modern story writing in Iran and a pioneer in writing modern novels along with Sadegh Hedayat, believes so in his work, Lunatic Asylum, in which doctors working at a psychiatric hospital are depicted like dangerous lunatics.

Similar terms are used to describe people who treat psychiatric patients, but it should be noted that each of those terms denotes a different category which should be differentiated from the others. Psychologist is a person who studies behavior of living creatures and can work in various clinical or consultation fields. Psychiatrist is a specialized physician who treats psychiatric disorders and unlike a psychologist, can administer drugs. Psychoanalyst is one who tries to help people in need by talking to them and exploring their unconscious mind. However, there is no clear demarcation among the above professions in the Iranian cinema and most of them take a general approach to psychotherapists. Even a renowned director like Dariush Mehrjui in screenplay of Hamoon, calls a person psychiatrist in one scene while calling him psychologist in another scene.

A search of the Iranian films will return 16 films in which psychotherapists had played main or supporting roles: The Silk Chains (Hassan Karbakhsh, 1986), Marriage of the Blessed (Mohsen Makhmalbaf, 1989), Hamoon (Dariush Mehrjui, 1990), Lucifer (Ahmad Reza Darvish, 1991), Miracle of Laughter (Yadollah Samadi, 1997), Psycho (Dariush Farhang, 1998), Rokhsareh (Amir Ghavidel , 2002), Movie Buff (Ebrahim Vahidzadeh, 2003), Soul Mate (Mehdi Fakhimzadeh, 2004), Ferdos Park – 5 p.m. (Siamak Shayeghi, 2006), Cease-Fire (Tahmineh Milani, 2006), Who Killed Amir? (Mehdi Karampour, 2006), The Trap (Sirous Alvand, 2006), Parkway (Fereidoun Jeirani, 2007), English Ivy (Papital) (Ardeshir Shalileh, 2007), and Barefoot in Paradise (Bahram Tavakkoli, 2007). The number of such films, as is clear, has been rising and more accurate search may reveal more names....