"Started with Ballyhoo" was the title of the first report that I wrote on Tokyo International Film Festival some 21 years ago, which focused on censorship and exclusion of Mishima (Paul Schrader). Therefore, I thought the report on the 19th festival should be titled, "Ended Unbelievably!" Unbelievably because the big prize (Sakura) was awarded to OSS 117, Cairo Nest of Spies (Michel Hazanavicius); a lame and purposeless comedy, which was only entertaining and a satire of James Bond films.
The main sections of the festival included Competition, Special Screenings, Winds of Asia, Japanese Eyes, and Nippon Cinema Classics. Subsections included Shohei Imamura Retrospective, the best of Kon Ichikawa, Rising Directors of China, women films festival, review of Seijun Suzuki's films, and Tokyo International Cine City Festival.
Seijun Suzuki, 83, has made all kinds of films, but he is no match for masters of Japanese cinema and has never been acclaimed overseas. The section screened 48 of his films. Out of 614 films presented for the competition section, 15 films were selected. The awards considered for the competition section included the award for best artistic contribution, the best performance by an actor in a leading role, the best performance by an actress in a leading role, the best director, Special Jury Award (20,000 dollars) and Tokyo Sakura Grand Prix (100,000 dollars). In addition, a variety of other awards were handed out: the best film in the Japanese Eyes section, which was judged by a separate jury; the best Asian film award along with 10,000 dollars (judged by a separate jury), Akira Kurosawa Award and audience award. There was a special section for young directors in the early editions of the festival in which films made by young filmmakers or those who had not made more than 3 films were screened. The winners were awarded a hefty 200,000-dollar award. Jafar Panahi and Parviz Shahbazi were two young Iranian filmmakers who won the award for The White Balloon and The Traveler of the South, respectively. At first, Claude Lelouch, the French filmmaker, was supposed to lead the jury, but he refused to come shortly before the deadline and festival organizers invited Jean-Pierre Jeunet, the French filmmaker (Amelie, A Very Long Engagement), to take his place. Other members of jury included Youki Kudoh, the Japanese actress of Mystery Train (Jim Jarmusch); William M. Mechanic, former president of 20th Century Fox Company and producer of such films as Die Hard with a Vengeance and Titanic; Garin Nugroho, the Indonesian filmmaker whose film won the Bronze Leopard of Venice Film Festival in 1986 and Marco Müller who is well known to cinema lovers.
This year's festival started in a misleading way. One day before the official inauguration, there was an unofficial opening through screening Yoji Yamada's new film, Love and Honor, which was attended by him and the actors. After his success in The Twilight Samurai, Yamada has made another samurai film. Shortly after being assigned to an important job, a samurai loses eyesight and decides to commit suicide. However, his wife dissuades him and has an affair with her husband's master so that her husband would not lose the job. When the blind samurai knows about it, he divorces the wife. However, he later finds out that the master has deceived both him and his wife. In order to regain his lost love and honor, the samurai challenges the master to take part in a duel and that sequence is one of the best fencing sequences in cinema.
The next afternoon, they screened Flags of Our Fathers (Clint Eastwood), but there was no sign of special ceremonies. An hour earlier, a red carpet was spread before the main theater of the festival and guests sauntered along. Apart from a few Japanese actors, not a single famous face was in view. Then directors taking part in the competition section arrived; all of them were young and unknown. Later on, a video message by Clint Eastwood was aired, but this was not apparently an inauguration ceremony. Finally, the official inauguration ceremony started at 20:00 and included addresses by the Japanese prime minister, governor of Tokyo and officials of the festival as well as introduction of jury members.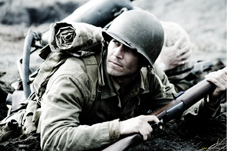 Review of Competition Section's Films
The summary plot of Little Miss Sunshine (Jonathan Dayton and Valerie Faris), which was printed in the festival's catalogue, was not encouraging and I decided to miss the film. However, in the penultimate day, when only that film from competition section and an Indonesian film from the Asian Winds section were screened, I went to watch Little Miss Sunshine and I found it a surprisingly good film. It was about a disrupted American family: the father is dreaming about success at work and home, but he is a loser at both places. The 17-year-old son of the family, who reads Nietzsche's books, has promised not to talk until he becomes a pilot. The grandfather is an addict. The uncle who has experienced love and job failures commits suicide but is saved. The mother shoulders all responsibilities and is trying to keep the family going. The only seemingly healthy member of the family is the 7-year-old Olive. The family goes from Colorado to California on an old Volkswagen, so that, Olive could take part in a competition called "Little Miss Sunshine." This is a human road comedy, which could have been turned into a superficial, sentimental and intolerable comedy at the hands of a different director. However, Jonathan Dayton and Valerie Faris, who have been working with MTV for years, helped by superb performances, powerful characterization, and unbelievable situations, have turned it into a spectacular and profound comedy which easily conveys its message. Volkswagen is symbol of the family's life: it keeps breaking down and they have got to give it a push start. However, it takes them to destination after all. In the meantime, the grandfather dies and the son discovers that he has color blindness and cannot become a pilot. In the final sequence, when the whole family has arrived in destination, they discover how ridiculous all those efforts and competitions are and start to dance together on the stage. The film says that life is not a competition, but is a party in which everybody should enjoy as much as they can. The film is so honest that you feel compelled to love it.
The Italian film, The Kreutzer Sonata (Maurizio Sciarra) is updated adaptation of a short story by Tolstoy, which carries the same name. A young and prosperous man from a wealthy family marries a pianist. A child is born to add to their happiness. The film goes 10 years forward through a cut and we see the couple having three children. Apparently, the wife is not in love with her husband anymore and the man, who is suspicious of his wife, finally kills her out of jealousy. Of course, the poor woman has done nothing wrong. I have not read Tolstoy's story, but a strange point is how jealousy of that zealous man has come up after ten years when three children have been born to them. It is difficult to grasp. The story is recounted in a flashback. The man, who is on leave from prison to see his children, talks to the old man that is sitting next to him on the plane and tells the story to him and viewers. The film is worth watching both for good directorship and acceptable performances (Giorgio Pasotti and Vanessa Incontrada), though it has nothing new to say. Love and jealousy is a repeated theme which does not wear out. In Q&A session which followed the film, when director was asked "Why Tolstoy?" and "Why you have brought him to the present time?" he said Tolstoy has been tested many times and the theme (love and jealousy) is a universal theme which does not wear out. Sciarra said since his past two films had been historical and it was difficult to block roads to make a film, he had preferred to remake the story in the present time. In response to another question "What is the message of your film?" he said, "Ettore Scola, the famous Italian director, always said messages are carried by postmen. You should see the film and feel it. The audience will understand what they see and feel. But if you insist on your question, I must say that the film's message is don't kill your wife!
Now, let's have a look at OSS 117, Cairo Nest of Spies (Michel Hazanavicius). In 1955, a French secret agent nicknamed "Agent OSS 117" is sent to Cairo of find another secret agent who had been already disappeared there. Of course, the story is just a McGuffin and the main goal of the film is to make viewers' laugh by mocking espionage clichés and James Bond films of 1950s and 1960s. Most of the film's satire stems from the secret agent's inexperience and his ignorance of local customs and traditions. Both when fighting and riding his convertible car, as well as after waking from sleep, his hair is so neat that as if he has just been to barber's. Also, like serious espionage films in which secret agents are jack of all trades and can learn to fly all types of helicopters, jets and spaceships in the blink of an eye, the said agent disguises as member of a western orchestra, but he fells into trouble and is forced to sing. Without knowing a single word of Arabic, he starts to sing better than the best Arab singers and is so warmly received by the Arab audience that he is forced to sing until the sunrise! The countenance and physical features of protagonist, Kerwin Mathews, are a combination of Sean Connery and Keanu Reeves. The film is an entertaining comedy whose mere presence in the competition section of an international festival is questionable, let alone winning the Grand Prix.
Family disruption was repeated theme of a number of films including After This Our Exile, which I'm not sure whether it had been chosen consciously or by chance. Another one of those films was The Art of Crying (Peter Schønau Fog). The film tells the story of a disrupted and strange Danish family In 1970s. The father only cries while he sexually abuses his son and daughter. The film tries to be realistic, but is severely unbelievable. Change of Address (Emanuel Mouret) is the story of a love triangle involving a man and two women. The director, who also poses as protagonist, is heavily influenced by Eric Rohmer. It is, in general, an entertaining and romantic film, which has nothing special to say. Forgiveness (Udi Aloni) is one of the good films of the competition section, which discusses the issue of Israel and Palestinians from a leftist viewpoint and tries, without taking side, to say that Israel will get nowhere through its current policy. The Israeli ambassador who was among the audience was very angry that an Israeli filmmaker had depicted such a picture of the Israeli soldiers and wished it would win no prize! The film was about an American Jew who supports Israel. He goes to Israel and kills a 14-year-old Palestinian girl during a shootout. He is subsequently so shocked that they have to hospitalize him at a psychiatric hospital. The hospital has been built where a Palestinian village previously stood whose inhabitants were massacred by the Israeli soldiers. It is a telltale innuendo: the hospital symbolizes Israel which has been established on the soil and blood of the Palestinian people. The Jewish soldier then goes back to New York and makes the acquaintance of a Palestinian woman with a 14-year-old girl who looks very like the girl he had killed in the fighting (both roles are played by a single person). Once again, the soldier wakes up in the same psychiatric hospital. This is neither flash forward, nor imagination, but reflects "possible reality" to show "what would have happened if it were so." This method has been used in other films like Sliding Doors (Peter Howitt). The main problem with the film, which may not be really a problem but intended by the director, is that certain parts of the film take a sudden dramatic turn. Fore example, a group of people suddenly fall silent and the Palestinian woman starts to sing (to mean that the voice of Palestinians should be heard), or all the Israelis and Palestinians begin to dance together (which symbolizes peaceful coexistence). The latter is closer to the director's goal, but it is like contravening a symbol, which harms harmony and acceptability of the film.
Graffiti (Igor Apasyan) is a Russian film in which a young man goes to a village to paint a hall. After he has finished painting a woman complains that her father's photo is missing. Her father has been killed in war and the painter draws the woman's picture holding her father's photo. Then other villagers, who have lost one or more members of their families during wars in Afghanistan, Chechnya and other places; come to him and ask him to paint their pictures on the wall along with their lost loved ones. The small village is, in fact, a microscopic version of Russia and related wars. The film focuses on the contemporary history of Russia and its impact on Russians. Graffiti is well structured, but its ending is unsuitably long and exaggerated. On the opposite, performances and screenplay are good. The director, who is an Armenian living in Russia, was asked about the main goal of the film. He answered, "If you shoot at the past with a revolver, the future with shoot at you with cannonball."
Thirteen Princess Trees (Lu Yue) was one of the worst, most clichéd, most artificial, and most boring film of the festival with awful performances. It is about a group of high school Chinese youth in late 1990s. Two Thirty 7 (Murali K. Thalluri) is somewhat like it; the sole difference is in the subject (a group of Australian high school kids) and the fact that the story is told in flashbacks, but similarities end right there. After that, the film is more similar to Elephant (Gus Van Sant). If you had seen the Elephant, it is impossible not to remember it when watching Two Thirty 7 because their stories are quite alike. The film is made by digital camera and focuses on 6-7 high school students. Like Elephant, the storyline follows them one by one and tells the story of every one of them in relation to the others. In Elephant, no background information is given and, at the end, two students kill the others while here, more information is provided about characters. The director deserves a big point for the film because he made it when he was only 19 (he is now 21) and the film is based on his own memories and the suicide committed by one of his friends. If he had not intended to emulate Elephant, he should have been greatly influenced by it. The film advises the audience to care more for one another.
Woman on the Beach (Hong Sangsoo) from South Korea is about a director who is writing a screenplay for his new film. He asks his friend, who is set designer, to accompany him to a solitary place and help him write the screenplay. The designer brings his girlfriend along and an emotional relationship develops between the director and the girl. However, they separate at the end. The interesting point is that the screenplay is totally forgotten in the meantime and we barely see the designer friend in the second half of the film. The film has a very strange and amateur structure. For example, in a long shot, three persons are seated around a table and the camera suddenly zooms in and through a medium shot, focuses on the girl and her designer friend. After a few minutes, there is another zoom in and this time we only see the girl. After some more minutes, the camera zooms out to its original position. It is totally like videos make at home. So what? Or suddenly we hear the sound of piano, which fades away after a few moments and it is not clear why music should have been introduced into that scene. Perhaps the director has dreamt that he is South Korea's Antonioni and should make a film about self-alienation of people and their failure to relate to one another! However, the main point of the film is that on the opposite of most South Korean films, which are full of meaningless nudity, the director has avoided of including such scenes though there is a lot of place for them in the film. He deserves a bravo for that!
The Exam (Pu Jian) is about a remote island without water and electricity in China. A female teacher has worked at the sole school of the island for 20 years. Out of concern for health conditions of her young girl who lives in the city, the teacher asks authorities for a transfer. The local authority tells the teacher that if her students, whose performance has been excellent for nine consecutive years, also excelled for the 10th year, her transfer request would be accepted. However, students fail the exams and her request is turned down. The teacher later knows that the students had intentionally given wrong answers to questions to keep her there. The good teacher, not only does not lose her temper, but also takes the students on a tour of the city and buys them ice creams. It is a very simple and even commonplace film, whose director has probably watched Kiarostami's films, especially Where Is the Friend's Home. If those people were not talking Chinese, you could have easily mistaken it for one of Kiarostami's films. However, the main point is cinematography, lighting, and colors, which are very similar to watercolor paintings, especially the works of Van Gogh. The opening sequence of the film is actually a remake of Van Gogh's "Sunflower." Yellow and orange are dominant colors of the film, as if the lands and wheat farms are painted with watercolor. The film is very scenic and really deserved the award for best artistic contribution. There is not a single close-up in the whole movie and all of it is lengthy long shots. The film has been made on the basis of a true story and the real teacher plays the role of the teacher in the film. Other actors are locals who have rendered a good performance.
M (Ryuichi Hiroki) is a Japanese film, which apart from its name, has nothing to do with Fritz Lang's famous movie. It is about an apparently happy Japanese family: the husband is a civil servant who lives with his wife and their six-year-old son. The woman comes across a young man who is apparently a good and urbane man. The woman, however, gradually discovers that the young man has killed his father at the age of 12 because he abused his mother. However, his mother has left him suddenly and disappeared. The young man seeks his mother in the woman, but her husband is suspicious about the whole affair. The screenplay is not imitation of Sling Blade (Billy Bob Thornton), but has been undoubtedly influenced by it. Thornton's film is about a young man who has been hospitalized at a psychiatric hospital for many years after he killed his mother. After he leaves the hospital, the man comes to know a small boy whose mother is being abused by her boyfriend and he finally kills the boyfriend. Hiroki has apparently made his film on the basis of a book by a Japanese writer, but its similarities with Sling Blade are undeniable.
As if it was yesterday that nobody considered Clint Eastwood even as a good actor, let alone, a good director. However, he is considered a master now and really deserves the designation because he has proved that he is not only a good actor, but is even a better director. After his brilliant work in Million Dollar Baby, Eastwood has made Flags of Our Fathers, which is splendid. In Saving Private Ryan, Spielberg cast the most real war scenes, but Eastwood is not trying to create war scenes like Saving Private Ryan, though his film is not less worthy than that. He is trying to depict human relations and human aspect of people who suddenly become heroes. The film is about six soldiers who hoist the American flag in Iwo Jima Island and after returning to the United States to a hero welcome, politicians try to use them as publicity tools to sell bonds aimed at funding war. When they are of no use anymore, those soldiers are easily discarded. One of them works as janitor and another one, how has become alcoholic, dies with others drifting toward similar fates. The film is based on a book by James Bradley, the son of one of the said six soldiers, but it will probably remind the viewers of Iraq war. In parallel to Flags of Our Fathers, which depicts the war in Iwo Jima, Eastwood, has also made another film called Letters from Iwo Jima, which is totally in Japanese and reviews Iwo Jima battle from the viewpoint of the Japanese soldiers.
Closing Ceremony
A new award was added to festival's awards this year: the best picture award in the Japanese Eyes section. In that section, a special award was first given to the young actor of M and the best movie award was given to The Cats of Mirikitani (Linda Hattendorf). It is a documentary about Jimmy Mirikitani, the 80-year-old Japanese old man, who walks in New York streets and draws paintings. Hattendorf, the American documentarist, comes across him in the street and takes him to her home. After knowing the man, she decides to make a film about him: a film about the horrors of war, racial discrimination, friendship and art. This is, in fact, an American film in which Linda Hattendorf is director, producer, director of cinematography and editor. However, since the subject is a Japanese man and she has been helped by a few Japanese during the film's production and shooting, it took part in the Japanese Eyes section as a Japanese film and won an award!
After This Our Exile (Patrick Tam) from Hong Kong won the best Asian film award. It is about a father who beats his wife and child. The mother goes away and the father forces the boy into stealing and other crimes. The boy ends up in prison and when his father goes to meet him, cuts the father's ear off with his teeth, which is of course, a symbolic act. It means that the boy has lost his childish innocence by doing so. The boy is released from prison 10 years later. One day he comes across a guy in the street who looks much like his father. Is he really his father? Can the boy establish the old relationship with his father? The director is one of the best known filmmakers of Hong Kong, who was among New Wave directors of his country in 1980s and has such films as The Sword and Nomad on his track record. He has made no films in the past 17 years due to various reasons and has limited his work to editing films made by other directors in Hong Kong such as Wong Kar Wai.
Kurosawa's daughter, Kazuko, who is fashion designer, took to the stage to announce winner of Akira Kurosawa Award. As if it has become customary to give the award to two winners. Milos Forman and Kon Ichikawa won the Kurosawa Award. Is this official policy of Tokyo International Film Festival to give the award to a Japanese and a foreign director every year? After one or two years, which Japanese filmmaker will deserve to receive that award? Forman, who had traveled to Tokyo to receive the award, took to the stage along with Ichikawa, who is 91-years-old and is confined to wheelchair. After receiving the award, first Forman took to the podium and said that about 50 years ago when he was a student in Czechoslovakia, someday someone told him that a Japanese film was to be screened at the university theater. At that time, he knew nothing about the Japanese cinema and only watched the movie out of curiosity. It was Kurosawa's Living and only 12 students watched it. Although there was no action in the film, after it ended, he was so stunned that he could barely stand up and he didn't know why. From that time, he began to love the Japanese cinema, especially Kurosawa's films and felt very proud and honored to have won an award which carried Kurosawa's name. Kurosawa's daughter said, One Flew over the Cuckoo's Nest was Kurosawa's favorite and she had watched it 15 times along with her father. She said Kurosawa had been really moved by the character of nurse Ratched. Afterwards, Ichikawa, who was not able to hold the microphone in his hands and one of the ladies on the stage held it for him, said with a muffled voice that Kurosawa had made many good films, but every time he wants to write a screenplay he reads that of Yojimbo because it is the most complete screenplay that he knows and has always been inspired by it.
The award for the best artistic contribution was given to After This Our Exile which had won the best Asian film award just a few minutes ago. Apparently, the best Asian film is automatically nominated for the competition section.
Award for best performance by an actor in a leading role was given to Roy Dupuis, protagonist of The Rocket (Charles Biname), which is about Maurice Richard, ice hockey champion of Canada in 1950s. Since Dupuis had not attended the ceremony, Ken Scott, the film's screenplay writer, took to the stage to receive the award. After thanking the authorities, he told the audience that if Dupuis was there, he would have certainly thanked the film's scenarist! Abigail Breslin, the little girl of the Little Miss Sunshine won the award for best performance by an actress in a leading role and she really deserved it. She was not in Tokyo and the award was received by directors. Once on the stage, they said Abigail was very willing to attend the ceremony, but since she was playing in another film, she could not go to Japan. It was then announced that both directors had won the best director award and they took to the stage again while humbly thanking the audience. One of them noted that Little Miss Sunshine was satire of such competitions, but they had taken part in one! The special jury award was given to Thirteen Princess Trees.
It was finally turn of winner of Sakura Grand Prix, which was announced by Jean-Pierre Jeunet. To everybody's surprise, the award was given to OSS 117: Cairo Nest of Spies. It is for this reason that nobody takes TIFF seriously. Even a small local festival would not have given an award to that film. The director was so beyond himself with joy that he could barely speak. With a muffled voice like Darth Vader, he thanked the audience and said his voice has changed due to cold. He thanked the jury and started to dance! The film had been publicly screened in France about six months ago and was successful at box office.
In a press conference in which all winners and jury members took part, Jean-Pierre Jeunet said OSS 117: Cairo Nest of Spies had been unanimously chosen by jury members, but the Japanese juror, Yanagimachi, protested to him and said the jury had not reached consensus on any of the participating films. It was rumored that due to low quality of most films in the competition section, the jury had not been unanimous on a single film and, as a result, Jeunet had chosen OSS 117… as winner. According to stars table in which seven critics from seven Japanese newspapers including Japan Times, Asahi Shimbun, Mainichi Shimbun, Yomiuri Shimbun… give from one to five stars to competition section films, the grand prix winner had obtained 17 out of 35 points, hitting the bottom of the table. The Japanese film, Awakening (Junji Sakamoto), ranked first with 28 points followed by Rocket, with 27 points, and Two Thirty 7 with 26 points.
Subsections
In the subsection called Shohei Imamura Retrospective, all 23 feature and three short films made by this Japanese filmmaker were screened. Kon Ichikawa, whose last film, Murder of the Inugami Clan, closed the festival (and was remake of one of his old films under the same name), has made all kinds of films. in the special section called the Best of Kon Ichikawa, 15 of his films were picked including 2-3 good films like Harp of Burma (1956) and I Am Two (1962). The Departed, the new Scorsese's film; Perfume: The Story of a Murderer (Tom Tykwer); and Casino Royale (Martin Campbell), the last in James bond series which casts Daniel Craig as the new Bond, were screened in Tokyo International Cine City Festival. Scorsese is among few directors whose films are still good enough to be watched at a theater instead of waiting for DVD version.
There was another small subsection called Minato Screening (Minato is a neighborhood in Tokyo) in which several short films were screened including a short 35-minute Iranian film, Once Again the Rain (Ali Vazirian). It was simultaneously dubbed into Japanese by the second grade students of dubbing academy.
The main problem with TIFF is that despite other major festivals, it is not run by cinema lovers, but major filmmaking studios of Japan are in charge. For this reason, the festival puts much emphasis on the commercial aspects of cinema and is more inclined toward popular films. It was rumored that perhaps this would be the last edition of Tokyo International Film Festival; at least, in its current form. Japan's minister of economic affairs and finance said in his address that his ministry wants TIFF to be part of the International Contents Carnival whose goal is to promote Japanese video games, music, animations, and films in other countries. If this is done, TIFF would lose credit as an international festival. In general, the existing cinema of Japan is limited to animations and most achievements of the Japanese films, both in terms of box office revenues and in foreign festivals, are owed to animations.