When film buffs talk passionately about a movie or a Film Festival, I always reserve some doubt! Sometimes the sentiments of some people toward films entangle with so much exaggerations that it seems far from reality. They call a fairly good film a masterpiece and a normal programming of a Festival, the best programming ever seen. And shame on you if they notice you didn't go to a certain Festival, or you don't know a certain genius filmmaker! I'm also referring to all the film buffs I knew who always talked admirably about Bologna Film Festival Cinema Rediscovered (Il Cinema Ritrovato). It was clear of course that it's one of the most professional Festivals in the field of classical cinema. Now going there for the first time, it could be judged at first hand, the admirations of friends and relatives not as mere exaggeration that in fact, the atmosphere, programming and the quality of the films of this Festival are totally different from all I've ever seen before.

Talk about Bologna and its inhabitants could perhaps seem repetitive. This is a tiny beautiful and peaceful city, with cultured people, having the oldest university in Europe, and with students mostly from southern Italy; and yellow, orange or red colored buildings with long windows and spacious terraces, agreeable weather and famous foods… But it's not bad to give a brief description of a Festival that tags like "Cinephiles' Paradise" or "Cannes Festival of Classical Cinema" doesn't really give an exact image of. It's a Festival without any razzle-dazzle, showy opening and closing ceremonies, and strange outfits of its participants. Their audiences are the researchers, university professors, historians, students and generally the film lovers who go there for the films and cinema. In the city center where the movie theatres show the films, you can see these participants with the Festival's sac on their shoulder and their ID card round their neck, running between the theatres, an opera house, and the two open space cinemas in order to not miss any of their chosen films. When you enter the auditoriums, most of the people are wearing glasses, reading books, Festival catalogues or film magazines. And when at the end of every projection, there's a Q&A session, their questions are so expertly put forward and discussed that every one of those sessions become a master class.

Festival's Sections

Writing about Festivals programming needs much more space than some pages in a Film Magazine and better is to consult its complete program on the Web and Bologna Cinematheque's page. But for briefly said, as it's mentioned in the catalogue, this year 427 films has been projected- the films from silent era and its very short films to a documentary like Justice Memory (Max Ophuls, 1976). "The programming of this Festival is very rich in every aspect", the director of the Festival justifiably said. The Cinephiles' Heaven section included the first films of Ingrid Bergman, some films of Leo MacCarey, Renato Castellany, rare Italian films from after war, Jazz and Cinema, 120th Anniversary of Gaumont, Centenary of Technicolor, and Buster Keaton project. As we knew that the Chaplin films have been restored at l'immagine ritrovata (film restoration & conservation) in Bologna, and projected during the Festival in 2013. In its new project, this institute has begun to restore Buster Keaton films, and part of those restored films including One Week and Young Sherlock are shown accompanied by Bologna City Hall Orchestra in the main big city's square.

The Time Machine section, invites the audience to travel through different periods. This section include some films made in 1915, a retrospective of Albert Samama Chikli, Tunisian director who some (like Férid Boughedir, contemporary Tunisian director) consider him father of National Tunisian Cinema. The Centenary of Armenian genocide too has been given an important section of the Festival. Contrary to Nazi genocides, the rarity of the archival images and reluctance of the Turkish government to recognize this crime has transformed this sensitive subject to a very complicated political problem.

The Space Machine is the section, which looks at Russian, Japanese and Iranian cinema. It was this same section that really interested me and was my criterion for this Festival. Aforetime, at Sorbonne University, I did an extensive research about Ali Abbassi, (famous Iranian producer in the 60s and Iranian New Wave), which resulted in a 100 pages essay. Putting forward the idea of showing Hassan Kachal (Hassan the Bald) in Cinema Le Nouvel Odeon at its monthly programs, I consulted Nader Takmil Homayon who welcomed the idea. At the same time I talked it over casually with Ehssan Khoshbakht who said he would like to collaborate. But as the restoration fees were very high, our efforts didn't succeed so we thought about restoration of other old and valuable Iranian films. Ehssan Khoshbakht with Jonathan Rosenbaum were both working on another project, so due to combination of these circumstances, suggesting another program to the Festival seemed impossible. When in late January I called Ladan Taheri, the director of Iranian National Film Archive for the first time, we had less than 7 months to go to the opening of Festival. With all the paper works involved, it seemed an impossible task. Collecting and preparing the films that we wanted to send was difficult to prepare and in fact (mainly because of international sanctions which make even more difficult the shipping), and quite inadequate for a reputable Festival like Bologna. So the director of Iranian National Archive suggested instead to sending four Iranian films that were shown at Toronto Film Festival and its Cinematheque section previously: The Cow, The Night That Rained, A Simple Event, and The Hunchback Night. Thus we could avoid the necessary paper works and some other difficulties due to economical sanctions imposed on Iran and send the films without delay to Bologna.

Happily, during Iranian movie screenings in Bologna the movie theatres were full and the audience and the Festival Directors welcomed the program. In those very busy days I could also do an interview with Gian Luca Farinelli, Festival's director and Cecilia Giancarli, the head of research sector, responsible of Chaplin Project and World Cinema Foundation of the Festival. Hospitality and very warm reception of these two during the Festival, and giving me the opportunity to have a conversation with them, was another aspect of reality of a Film Festival, you would rarely find anywhere else. The experience of participating in this Festival proved there's no exaggeration about what I had been told. It's an event that one has to experience at least once in his life. And for me personally, an experience so addictive that perhaps I must attend every year!

An Interview with Gianluca Farinelli,
Director of Festival
This Festival is founded in 1986 and it has gradually extended its programs in recent years. Beginning of the Festival was coincided with Iranian cinema successes around the world. This year you have covered Russian, Japanese, Armenian, European and American cinema. Why have you suddenly decided to program Iranian cinema after 29 years?

As you know, at the beginning, Il Cinema Ritrovato section was part of the Bologna cinematheque, which has now become a cultural heritage festival. At the beginning we used to present the restored classical films and also some of the unknown or neglected films. Our main idea was to rediscover and review cinema history from silent era to present time. But gradually we have made it more conceptual with some additional programs including The Time Machine and The Space Machine sections and some other fringe programs. We wanted to present the rare or sometimes lost films or to show the famous films in a new way. For example with old projectors, or accompanied with live orchestra in a big city square. Especially the restored films; for instance all of the Ingrid Bergman movies are available, but who has seen her first films with an excellent quality on a big screen? No doubt very few people. This year we've selected the films that range from around 1895 to 2015. I explain all this to show that our main task at the beginning was an archival one; it had something to do with history of cinema. But then the cinephiles, the film buffs added to the lot. Then it was the turn of the journalists, critiques, historians and in general the people who seriously follow the cinema and have an especial interest for it. Gradually the Festival became bigger and bigger. At first we had a 160 seats theatre at our disposal for a Festival that lasted only three days. Little by little we added to our projection auditoriums. We expanded the duration of the Festival and in the meantime we changed the time of the venue from autumn to summer. This change enabled us to hold some of our projections in open spaces, in the city's big square. Today we have 9 screens in our disposal (6 theatres, an opera house, and two open spaces). The small one has a capacity of 65 seats and the bigger one ten thousand seats; and adds to this 2500 people who come here from around the world with 427 films. Now let's return to your question regarding our neglect of Iranian cinema. The reason is very simple. We had no contacts with Iranian National Film Archive. Of course, the Iranian National Film Archive and Bologna Cinematheque are both members of FIAF (International Federation of Film Archives) but we had no direct touch. Although sometimes we had the opportunity to present some Iranian films at Bologna Cinematheque, but not during the Festival itself. This was of course a different matter and had nothing to do with presenting them at the Festival. The truth is that we are now at 29th edition of the Festival and we still have thousands and thousands of films in the world that we would like to show.

Meanwhile you have established a direct contact with Iranian National Archive and you have recently presented some Iranian films. With the experience you have about the foreign films and your audiences, how do you assess the impact of these films on the cinephiles?

Excellent. All the theatres showing the Iranian films were full. Many people hadn't seen these films before and were happy to discover them. When I ask my friends and acquaintances which part of the programs interested them, Iranian section is part of their response.

So are you going to include Iranian cinema in your future programming?

Yes, not only because of the Iranian cinema's appeal, but also because of its very rich history in every aspect. In other word, our main interest in Iranian cinema is from the Cinema Rediscovered's point of view. And the Iranian films made before revolution fall into that category. When you look at the History, after every revolution, the films are destroyed or lost, and after a while they're rediscovered and restored. Just like Russian cinema: only after the revolution and especially after 1980 we discovered a cinema that existed before. And what a wonderful cinema! But as you could guess, looking for that kind of cinema in those countries has its own complications. Since a while ago we have intended to program a section, which is going to emphasize solely on Cuban cinema before revolution. We have not succeeded yet. But what I have to say about Iranian cinema is that we're going resolutely to continue to have it programmed.

You pointed out the Cinema Rediscovered aspect of your Festival. Two Iranian films, The Cow and The Night that Rained are also rediscovered and restored. You have a PHD from Urbino University in restoration. What do you think about the restoration of those two Iranian films?

Nowadays the films restoration and its technology are in constant progress. We began digital restoration in 2007. This has changed everything. The restoration work too, is changing because of the advances in modern technology. So we can't give a general judgment about a film's restoration. Because I have no personal knowledge about their restoration process, I don't know which technology they have used and on which copies. The machines are changing every year. And I don't know if it's possible to update their technology in Iran or not. So I sould not give into generalization. I can only tell you that the finished work and the quality of the work are good, but that it could also be better. In this case I hope the director of Iranian Film Archive could come to Bologna to exchange ideas about today's restoration science. It's important because each two years we have the biennial FIAF conference here in Bologna. It's an occasion to exchange ideas about how to preserve or restore films. One of the useful points in this Festival is that the people involved in this field come here from around the world and can share their knowledge. Because what's happening in the restoration and preservation field in Europe, Asia or United States are very different from each other and so everybody has something to learn or to teach. For this reason, every two years for 3 weeks there's a workshop for fifty archivists from around the world-and it is held approximately in sync with the Festival and continues through July. It is an excellent occasion for Iranian specialists to attend in these programs.

Downfall (Bahram Beizai) is restored in Bologna. Do you think you're going to have another Iranian film restored here?

Sure. History of Iranian cinema is like an ocean and there are lots of possibilities working with it. We would like to continue our work, but materializing it is something that goes far from our will.

For your next edition do you have some special films in mind?

Honestly I don't know yet, because I've had no time to think about it for the moment. But I hope that the director of Iranian National Archive could come here soon to the Festival so we could talk over it. As I have little information about their way of preserving films and their way of doing things, it's really interesting for us to know more. Despite the economic embargo and considering their hard endeavor to promptly send us the films you've mentioned above, I hope they could come here and exchange ideas with archivists and cinephiles.

Interview with Cecilia Giancarli, the head of Research, Chaplin project and WCF (World Cinema Foundation)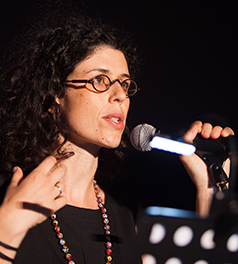 I just saw you coming out of a theatre that was showing A Simple Event of Sohrab Shahid Sales. With knowledge you have of your audience, what do you think of their reactions and the feedbacks?

Holding this Festival for years, I noticed that a lot of people who follow Iranian cinema hadn't seen these films before and they're astonished to discover them. Now I have a question for you! Why these films remain unknown and rarely shown anywhere else?

Well, I'm not in a position to answer your question, which seemingly has some complicated reasons behind it. But as far as I know, these 4 Iranian films were shown from March 5 to April 4th 2015 alongside a few other Iranian films at Toronto Cinematheque. Before that 14 notable Iranian films were projected at Fribourg Film Festival in 2014; (in fact Toronto Cinematheque project was its continuation). Of course The Cow was also shown separately at Reflet Cinema in Paris Quartiers Latin on 4th June 2014 in presence of its director, Darius Mehrjui. As a French distributor secures The Cow's rights, it had also a long and successful run there. In 2012 The Iranian National Film Archive has announced that The Cow is going to be restored by Iranian specialists at Aria Avant-Garde Cinema Company with National Archive financial help. The film's negative has been scanned and on its basis they've produced a digital file. After that the restoration of the frames was done. Fortunately as the film's negative along with its sound track has been preserved in a good shape in Film Archive, its restoration, contrary to The Night that Rained, was not so hard. But you can find better answers if you ask the people who are in charge of Iranian Film Archive, on this matter. Now it's my turn to ask you a question! After so many years working and experiencing here, what do you think of the quality of the work done on the restored Iranian films?

In regard of what you just told me now, I should say once more that we couldn't talk about a restored film easily without considering certain facts. Because the resulting job has something to do with lots of elements. For example, what copy they've worked on? You tell me it was a good copy, but how good was it? What percentage of the film had been damaged? What were the damages and with the help of what technology and what measure of capabilities they were restored? How long did they work on it? Was it an original negative or a positive they worked on? But in general, considering the same copy we've shown, the result is satisfying. Although I must repeat that one cannot easily judge such a complicated task.

You've also restored Downpour (B.Bayzai); could you please talk about it?

I've been working at Bolongna Cinemateque for 15 years. Since 2007, I work for The World Cinema Foundation, which was launched by Martin Scorsese and aims to preserve the cinema of different parts of the world. This foundation restores the important films of different countries in Bologna. This year we've presented 3 newly restored films: Insiang (Lino Broca, 1976) the first Pilipino film to be presented at Cannes Film Festival; Ah, days (Ahmed Al-ma noni, 1978) one of the most important films of Moroccan cinema; Black Girl (Ousmane Sembène's, 1966) a favorite of Scorsese. At the beginning, the idea of restoring films even for advanced countries was new. Because the restoration of important films of history of cinema, hadn't even started at that time. Not at this scale any way. This was an important goal and Martin Scorsese began to work on it. His knowledge about world cinema is amazing. Sometimes when he talks about films, you wonder where he found all these information and where and when did he see all these films! Anyway, in 2007 we decided to restore about 500 of the most important films in the history of cinema, from Italy to United States, France etc…at this foundation; but simultaneously we decided to cover some films of the Third World too. By "Third World", I don't mean from the political or geographical point of view; I'm referring to countries where restoration of films is difficult for them. So this term could also apply to economically rich countries, which don't have the capability or possibility of restoring films. The countries that have lots of money but don't have necessary know-how to do it or don't see any reason to do it. I can give you some examples. Egypt has a very rich cinema; they have also a very rich history and so they more or less have the knowledge to preserve their historical heritage. But for some reasons, since 1970 onwards they don't have capabilities to update their technology. The best example is India. Every year, India produces approximately 2000 films. It is mind boggling when you see the Indian cinema archives. The distance between Bollywood and Pune is 1,5 h. ride, but they are really two different worlds. In Bollywood everything is at its best with international standards. So modern are their equipment that sometimes you can't find similar ones even in Hollywood. But when you go to their film archives there's only one personnel who must do all the jobs. So it shows that if they don't care about their film archive it's not because of the money problem. They simply think that they could do it themselves by putting only one person in charge of the whole thing. In another word, for restoring a film there are some elements that we must take in consideration. But as far as the restoration of Downpour is concerned, we were told that there's only one 35 mm. copy of the film with English subtitles. It was the same copy that belonged to its director, Bahram Bayzai. Normally we don't do the restoration job on a film itself. We try instead to go back to its original negative copy. But as I already told you, the positive was the only source we had in our disposal. We already knew the film and we had knowledge of its artistic values. So we started our work and as we knew we have plenty of time, we did the job slowly and carefully. Its restoration was a lengthy process but we're satisfied with the end result. The film was shown for the first time at New York Film Festival. Kent Jones, the Festival director, was the project's adviser. In fact it was he who informed us that Bayzai has a copy of the film. After that, it went to other Festivals too.

Where did you get financial assistance?

The cost was not paid directly by a company, because normally we have the sponsors and so at the end it's our foundation that undertakes the costs. The sponsoring is a complicated affair, but in the case of Downpour I can cite our habitual sponsors Qatar Airways, Giorgio Armani and Cartier.

You've presented Downpour at Il Cinema Ritrovato in 2013. What was the audience reaction?

It had a very good reception. The auditorium was bonded with people and many of them were amazed to discover it. The problem is that we think we know Iranian cinema. But in fact we've seen a very limited portion of it. It's true that it's been at different international film festivals since 1980s, but I think a large part of it is still unknown to us. The fact that Iranian cinema is still on the agenda of many festivals, has its origins in a cinema that we know very little of. I think that we must show more of that cinema to Iranian cinema fans.

Did it arouse your curiosity and encouraged you to know better Iranian Cinema history and to find out the reason for its today's successes? In another word, was it only an official responsibility or a personal interest?

I was born in an Italian little town where the films we're talking about were not available or shown. So I must confess that I saw all these special films from the moment I started to work at this Festival. Of course before starting to work here, I used to come and watch them as a spectator. I also have to tell you that I'm not at all a specialist of Iranian cinema and have no pretension on this matter. But I feel close to Iranian cinema. As we all know, Italian Neorealism influences Iranian cinema a lot, and I admire that kind of cinema. For instance we rarely see a real and simple portrait of a boy as it's shown in A Simple Event. Iranian cinema has a humanistic conception of the world that's dazzling. But sometime this humanistic point of view is so moving that we forget about the film's artistic and technical values. But in repeated viewing, you can see the director's "mise en scene", and the special compositions that are very rich indeed. That's why I believe that these films must be seen and shown more often. By the way, today I was talking with George Sico, director of Moma (New York Museum of Modern Art). He told me that The New York Times has decided not to publish any farther articles about the films that have no public screenings in the States. And that seems to me a tragedy. Because it means that they're only going to write about the pictures that have commercial screenings. I thought to myself that if a newspaper like New York Times doesn't write about them, how's it going to affect the countries where this kind of news do not really have a big exposure? By mentioning that I'm referring in fact to our mission and our activities at this Festival. We try to present the rare and exceptional films as much as possible.

So are you going to have another program about Iranian cinema?

I very much hope so; because even though it was our first time to have this program, but all the auditoriums showing Iranian films were full in every session. There was a real warm reception and the Iranian Film Archives had a wonderful cooperation with us. There's no reason not to continue on this path. Because normally we start with a little program and then we expand it gradually. If you look at the Festival's programs you notice that it is a single agenda that's repeated every year. We have always a silent cinema section; then a section dedicated to restored films; a program focusing on a director at transitional period of silent to talking movies; or a section devoted to a star (for example, Ingrid Bergman this year). Then we have a program about Far East cinema, for instance Japanese cinema that we continue to cover since 2013. That's why I think we could do the same about Iranian cinema. In fact we love the idea to plant a seed and to look how it develops and grows.

How do you think you're going to continue your Iranian cinema program? Giving prominence to author cinema or the kind of films that are not really known in Europe? Some old commercial Iranian films for instance?

I think we're going to continue with Author cinema. Because our goal is to present the treasures that are unknown to enthusiasts of world cinema. If it were a commercial film that had an important role in history of cinema, it would've been different. And we have our reasons to do that. Every year around 2000 film specialists and academics come to this Festival to see the world's most important films and to take these films back to their respective countries and universities. They count on our preliminary researches. I know some academics that program their entire university year by their one-week stay here. This is exactly what's happening at New York Museum of Modern Art or Atlanta University and Cinémathèque français. But something that we must bear in mind is to choose films that are rarely shown anywhere else. For instance if we decide to show a film by Kiarostami it would certainly be the films that nobody has seen before, like his first commercial films, and not Taste of Cherries or Ten.

Did you have a ceremony or special round tables about these films?

As we have a very busy programming, and the people come here for watching films rather than anything else, there's no time for extra activities. Even the rare discussions we have are very short and last for maximum one hour, so not to interfere with audience planning. Sometimes even with very famous personalities our auditorium stays half empty. Because what's important for people is to watch films.

Which Iranian film director do you prefer?

It's a difficult question. But I answer your question by asking you: is there anyone who doesn't like Asghar Farhadi's films?! So, among the veterans I very much like Ebrahim Golestan's films. But unfortunately they're rarely seen, neither the films he produced nor the ones he directed himself.

Did you ever think about restoring Golestan's works? For instance, did you ever see The House is Black that he has produced?

Yes, I've seen it and it really puzzled me. His works are truly valuable and we can program them. But as I told you earlier, restoration of a film is not an easy task and depends on many elements and it takes lots of financial and spiritual tangling. But we hope that it could happened.

I.N.F.A.'s Note on the Screening of Iranian Films

At Il Cinema Ritrovato

One of the Iranian National Film Archive's main responsibilities is to preserve the past for the future. Most of our sound and pictorial documents are more than one hundred years old. But as we've acquired them from different sources, we don't have many of our films negatives. In addition to that, these positives are damaged extensively because of their repeated screenings and very bad preservation conditions in the past. Many of these films cannot be restored with analog equipment and technology. It's only possible to wash them to take off the dust, repairing the broken perforations, and save them from further stiffness and brittleness. With traditional and analog technology we can restore neither missing frames nor reviving the original colors that have lost their luminosity and edge. In fact we can't even repair the very deep scratches on the gelatin surface. So the only thing we were able to do in this past 30 years was to preserve them from further deteriorations.

In our time, digital technology and its infinite capabilities make it possible to scan the films, restore their lost colors and images and damaged sound strips and turning them to a dazzling sight and sound experience. In recent years, instead of dispatching damaged films abroad, Iranian National Film Archive encouraged Iranian specialists to obtain the equipment and acquire the skills of restoring films. Fortunately we have succeeded to obtain the digital technology and the knowledge of restoring films in Iran. Thus, we gradually restored some of the most important films of history of Iranian cinema and there are some more in the process of restoration now.

We have plenty of films to restore but at the same time limited resources, few active specialists and fewer film restoration companies and a high restoration cost, that make the job a slow and painstaking process. That's why the Iranian National Film Archive has decided to continue as before printing the films based on the available negatives and simultaneously continue to digitally restoring films. This policy at least enables the future generations with their better and more advanced technology to restore the films more easily.

We've dispatched 4 Iranian films to 29th Il Cinema Ritrovato Festival, which have all had very good reception. Among these films, The Cow and The Night That Rained had their negatives scanned and the digital restoration of their damaged scenes was done on their scanned frames. But for A Simple Event, we've printed a new positive copy based on its negative at a laboratory we have launched recently, which is continuing its activity since then. A Simple Event negatives had been preserved in a good condition in the past 50 years and fortunately were not damaged seriously. Of course the basic colors of its negative were fading gradually. But after color correction process, the basic colors were restored and an excellent positive copy was done on that basis.

Sending good quality copies of these films to Il Cinema Ritrovato Festival and the public's warm reception have once more attracted the attentions to the Iranian cinema and its treasures. One hopes that in the next edition of Il Cinema Ritrovato or similar venues other treasures of Iranian National Film Archive could be screened and appreciated.