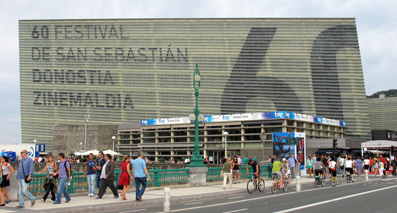 The 60th edition of San Sebastian Film Festival was held in a descent way with over 200 movies in various sections, enthusiastic viewers, passionate and friendly hosting, and very little shortcomings in the tumultuous days of Spain's deep economic crisis, and in its organizers' words amidst a crisis that has left its mark on creativity and culture by ruling them out as unnecessary extravaganza. Like the other four times I had visited he festival in recent past, it had a pleasant discipline and tempo and a cordial atmosphere both in the movie theaters and in the spectacular city that is to become Europe's cultural capital by the year 2016. The festival was first held in 1950 to attract more tourists to the beautiful beaches of San Sebastian with its golden sand and azure water. It became officially an international film festival in 1953and later became Spain's most credible and impressive film event. It also became the best place to detect and follow the newest and most notable films from Latin America as well as a platform for the region's creative filmmakers and a very good venue to introduce their films to European film markets. The festival's budget this year was less than previous years. But organizers do not run a festival only with money. They invested their heart in order to ad value to the spectacular festival.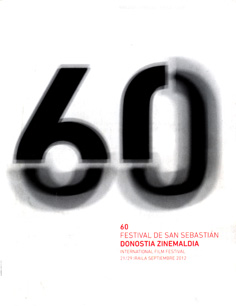 Preparations for holding the 6th festival started only a few days after the 59th edition when an email from the organizers informed reporters that posters were being designed by graphic artists for the 60th edition of the event. From then on, in between the news of new films and celebrities to take part in the event, we also saw various posters in the emails from the festival. Those posters were beautiful, created in various styles with a variety of motifs. Every one of those posters could have been elected as the best poster, if there was a contest among posters for film festivals. Later a modest black and white poster was chosen from among all those colorful beautiful designs. It showed a 60 with the last figure looking like an opened link of a chain. It was not a surprising choice. A country with great painters such as Francisco Goya, Diego Velazquez, El Greco, Pablo Picasso and Salvador Dali with about four million Euros I revenues from tourism who go there to see the works of hundreds of such great artists did not need to boast colors on the posters of its most important film festival. Such a simple but otherwise solid and eye-catching work of art has been born out of such a celebrated good taste. From another point of view, such a choice could be a sign of sympathy with the economy of part of the population: A choice that has to be appreciated.

Posters and teasers of film festivals are part of their identity and they can be memorable when they are created beautifully and in an artistic way. The film festival in San Sebastian has always had the shortest, the most attractive and the most memorable teasers. The posters have always been consistent with the teasers as far as their motifs are concerned. The teasers are so short that they will not be boring even you watch them several times during the day. You are going to love them every single time. As young adults we used to draw the picture of a standing man on a 5x% cm cardboard and on the other side of it we sketched the same man in a moving position. Then we whirled the threads we had fastened to the two sides of the cardboard and created some sort of enjoyable moving image. This year's San Sebastian Film Festival's teaser had used the same technique of animation. The figure 60 was printed on both sides of the cardboard and when it moved we saw the figure 60 in many – perhaps 60 – positions which turned from a shaking pale grey into a static 60; the same familiar one that we had seen on the poster. In this way we saw 60 years of ups and down of the history of the festival in a matter of six seconds.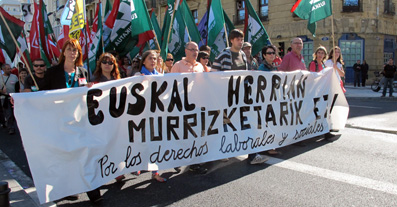 Usually the competition section of a class A film festival features 18 movies. This year, for the first time, only 13 of the 18 entries in this festival were reviewed by the jury. Out of the other five Arbitrage (Nicholas Jarecki) was shown at the opening ceremony and Quartet (Dustin Huffman) at the closing ceremony; and Argo (Ben Affleck), Atraco! (Eduard Cortes) and The Impossible (Juan Antonio Bayona) were shown out of competition. Apart from the financial strains, the only intelligent guess about why only 13 films were shown at the competition section, which is the core of any festival, is that there are less and less good films and more and more superficial movies everyday that cannot add value to such a festival.
The selection committee had chosen 17 films for the New Directors section. All of these films including the Iranian entry Parviz by Majid Barzegar, had their first screening at San Sebastian. At the closing ceremony the section's jury, headed by Iranian distributor Katayoun Shahabi who distributes Iranian films in the international market, expressed appreciation for Parviz and the Peruvian entry The Cleaner by Adrian Saba. However, the most spectacular section of the festival was Zabaltegi, with 28 films that had already been shown and were acclaimed at other international festivals. These included Amour (Michael Haneke), the winner of Palm d'Or at Canes 2012, and Caesar Must Die by (Paolo and Vittorio Taviani) the winner of the golden bear at Berlin 2012.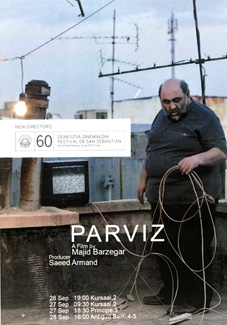 I was surprised upon my arrival after I found out that there were only two films planned for journalists for 26 September. It was unprecedented. I had only seen it in Animafest Zagreb (1986) that organizers had let alone reporters for half a day. But the surprise did not last long. Every day after the festival opened, there were more and more flyers, posters, handwritten slogans and graffiti around. On the 26 September there was an all out demonstration by leftist and right wing groups against unemployment, poverty and the economic austerity policy of the government. That was why the organizers had minimized the number of films to be screened on that day.
When I woke up on the 26th I could hear the demonstrators' slogans chanted from all over the town. In every neighborhood groups of 30 to 40 people had set out to go to the venue of the demonstrations with their flags and slogans. It was in the vicinity of the festival palace. I gave up my breakfast and moved quickly. I walked past the closed doors of the festival's palace and made it to a square where tens of thousands of people had gathered. There was the deafening sound of the crowd's demands for some things to be eliminated and other things to be created. The police were standing in a distance and their looks told you that were sympathizing with the crowd. After a few speeches the crowd began to move in dense rows. It took them an hour to get past the festival palace. As their voice came from a distance, the street floor became filled with flyers and statements on paper and the autumn breeze carried them here and there. Such demonstrations have been going on across Spain for quite a few years now. Whether they really work is another story. According to one of my Spanish friends although the organizers may not benefit from such demonstrations, there are two groups who certainly benefit: Those who make the flags and flyers and sprays and loudspeakers and the factories that produce batons, helmets, armored personnel carriers and water cannons and other devices.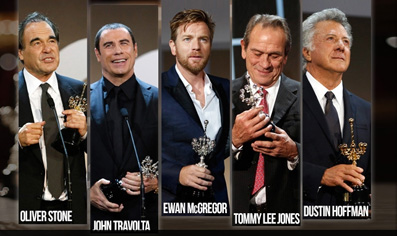 I saw two films by two Iranian directors on the same day. Parviz, the second movie by its director Majid Barzegar with its impressive global motif elicited a long standing ovation by viewers. With its new outlook and innovative story and delicate directing style this film signified a certain type of independent cinema which is alive and kicking. This unique and different movie with a superb memorable performance by Levon Haftvan created a new image for Iranian cinema. The other Iranian film Rhino Season owed all of its merit to the eye-catching cinematography of its director of photography Touraj Aslani who won the jury's award for photography. Good films are not simply made by putting together big names without having a good screenplay and reasonable characterization. Apart from the beautiful frames presented by Aslani the film lacked any artistic value. It's fabricated story is utterly attempting to appeal to non-Iranian viewers. Most of the film's symbolic scenes look naïve and superficial and often  include undue self-reflections such as the gathering of cats that reminds one of the director's (No One Knows About Persian Cats), the falling turtles (Turtles Can Fly) and the horse that pushes its head into the protagonist's car (A Time for Drunken Hoses). It was interesting that the film was presented as an entry from Turkey, where the story of characters like Sahel have been so true during the past four decades.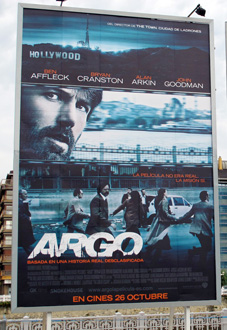 Argo was shown at San Sebastian 27 days before its international release. I knew about the film's story before going to the festival and was looking forward to watching it as its story could be interesting to Iranian viewers. The film's trailer was full of familiar commercial clichés. Which look shiny thanks to good music and fluid editing and good performances by actors. The film mildly criticizes US government for the 1953 coup that made the Shah's government last a bit longer to suppress freedom fighters and to widen the class gap. It's a convincing beginning. But the film distances itself from reality as it continues and then becomes a thriller. The film is about 6 US embassy staff members fleeing Iran but where the people are present in the scene, it is the cliche that prevails: The same cliché that presented a distorted image of Iranians following the seizure of the embassy by a group of students. When the episode took place Ben Affleck was only six years old.  His views and mind appear to be under the influence of the media he admits have scared Americans by their exaggerated stories and pictures following the 4 December 1979 seizure of the embassy.  Argo starts with a series of pictures and documentary footage. From among the pictures of the revolution presented in Argo there is a vague picture of a man being hanged on a crane. This is one of the pictures Affleck presents to depict the inhumane behavior of violent Iranians in those days. This comes while on those days no one had even thought of the idea of hanging on a crane. Two other such examples are the scenes that show the van carrying embassy personnel and CIA agent Tony Mendez comes across a group of demonstrators in Tehran who support the student. The demonstrators chant slogans and shout angrily as they see the foreigners and beat and kick the car. This comes while from the viewpoint of the demonstrators they could have been the staff members of any other embassy in Tehran and therefore they saw no reason for such a Zombie-like behavior. Since a long time ago the bazaar in Tehran has been frequented by foreign tourists. Those working and living in that area are used to seeing foreigners and like them as generous customers who usually do not haggle before shopping. That a traditional man of the bazaar makes such a fuss by seeing a foreigner woman taking a picture of his shop among supporting by standers looks funny to any Iranian viewer.
Iranians did not expect Ben Affleck to make a film to cater to Iranian taste as he works within the frameworks of Hollywood rules. But a film that boasts to be based on a historical event with many repercussions and has reconstructed the embassy compound in Tehran in great detail gives rise to the expectation that it should have attached more significance to the role of the main characters. Affleck's most notable mistake is that he forgets to talk about the role and presence of the students. He has simply omitted them from the story. This ignoring is to the point that he shows a bunch of adolescents sitting in hall trying to put together shreds of confidential papers.
According to Affleck what mattered to him was only the entertainment side of the story. He has simply sought to make an entertaining movie not a political film. So, one may ignore the final scene in which the guards chase the Swiss aircraft that carries the six Americans on the runway based on the idea of a last minute breakthrough. As if the airport was located in wilderness, lacked a control tower and was not situated in a densely populated city. As if they could not make a phone call to the control tower to stop the plane before takeoff and as if fighter jets could not take off and force the aircraft to land. The question is whether the impact of this "entertaining non-political film" on the public opinion among Iranian and non-Iranian viewers did matter at all to Affleck? He presented an unpleasant image of Iranians in a well made movie. It is sad to divide the people of the world into first and second grade. Governments come and go, but the people will always be there.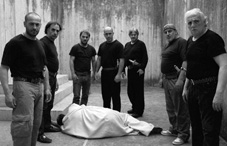 Amour, Haneke's moving film with its eternal story is a movie about death. It is a rebellious performance of man's longing for a decaying world. Darius Khonji's brilliant photography is another testimony to his ability to portray the worlds of filmmakers with various styles and visions. Amour is one of those films that would linger in one's mind for many years. Caesar Must Die embodies several different visions of the world. It is a unique adaptation of William Shakespeare's play Julius Caesar. Instead of working with professional actors the Tavianni Brothers have had an unmatched experiment. They have used the inmates of Rebibbia prison in Rome where they serve often long terms from ten years to life imprisonment. The story and the message of the film transcends the play and its black and white and color scenes span from the Roman empire to modern day European Union. This line by the actor who played Casius at the end of the movie is enduring: "Solitary confinement became a real prison since I began to know art."
The seven-episode-movie 7 Days in Havana is fun. It has seven separate but other wise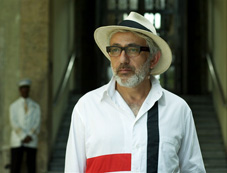 liked stories directed by six directors and performed by a very well known actor. Every episode describe one day of a week. It covers the unusual everyday life of its characters. The film is far from the familiar clichés of Cuba's official propaganda for tourists as they were used before the country's recent reforms. It conveys the real spirit of the city, its neighborhoods, ambience, generations and cultures. Emir Kusturica's performance in the episode directed by Gaspar Noe and Elia Suleiman's performance in the episode he made are so pleasant and both episodes are so comic. The two have appeared as themselves. Kusturica has gone to Havana to receive the best film award and Suleiman is there to interview Fidel Castro with the mediation of the embassy of Palestine: an embassy where there is no one although there is a TV set constantly on, broadcasting an exciting speech by Castro.
From among the four Spanish movies Snow White (Pablo Berger), The Dead Man and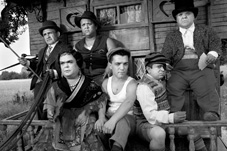 Being Happy (Javier Rebollo), Atraco! (Eduard Cortés) and The Artist and the Model (Fernando Trueba) shown at various sections of the festival, Snow White has a stunning directing with eye-catching performances, a very simple art directing and an absurd ambience. This is a valuable work of art from Spain. It is a simple but otherwise intelligent adaptation of the Grimm Brothers Snow White and the Seven Dwarves. Here the protagonist is a rigorous female matador and the story goes on in southern Spain the 1920s.The film is full of incidents, feelings and laughter. The Dead Man and Being Happy is a talkative and slow movie about a sick man in the final days of his life. Based on the cliché of this type of films, he sets out in a journey in search of his past but finds nothing and leads no one to nowhere.  The only memorable thing in this film is the performance by Jose Sacristan as the murderer.  Atraco! Is one of those films that cannot be categorized in any genre because it is a combination of all genres: comedy, noir, drama, thriller, costume and whatever. The story is about a mock robbery to get back the stolen jewelry of the wife of Juan Peron, the former Argentine dictator who was toppled with a coup in 1955. Like most similar films, at the end of the movie no one gets the jewels that remain for generations to come. The Artist and the Model is an eye-catching movie about the originality of art. However, it remains at the surface of this controversial subject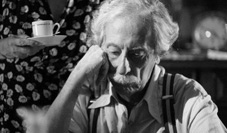 and does not offer anything new. The screenplay by Jean-Claude Carrière and Fernando Trueba is about a disillusioned sculptor who regains his love of beauty after many years upon meeting a young girl. Everything in this movie is in its right place, its beautiful scenes take place at the border between Spain and the war stricken France of 1943 with black and white photography Jean Rochefort plays the sculptor, Claudia Cardinale plays his wife and Aida Folch plays the young model. They have all performed very well but the film is less than impressive.
In Something in the Air Olivier Assayas talks about the restlessness of the the post 1968 generation in France in the early 1970s. Gilles, a young student is restless in the midst of political turbulence. Like his friends hie is divided between social commitments and personal ambitions and has to make a firm choice. Just like Gilles and those in his generation the movie is also divided over choices and at the end leaves the viewers in an undecided state. Something in the Air is several steps behind its director's brilliant TV series Carlos. It is not even as good as his Paris Awakens which he made more than 20 years ago in 1991. The Attack by Ziad Doueiri, a co-production from Lebanon, France, Qatar and Belgium is also in an undecided state.  It is made based on a book by Algerian author Mohammed Moulessehoul who writes under the alias Yasmina Khadra. His novel is about a suicide bomber and her husband in Tel Aviv. Amin Jafari is a Palestinian surgeon who is not a stranger in Tel Aviv. He has a good family and professional life and has many friends. But when his wife is found behind a suicide bombing at a restaurant and kills herself and 18 others he has no longer any place in Tel Aviv or Gaza. The film's a motivation is to gap the bridge between Israelis and Palestinians but this paper bridge will have to collapse with the first drops of rain.
Foxfire (Laurent Cantet), Fishing Days (Carlos Sorin), Twice Born (Sergio Castellitto) and The Hypnotist (Lasse Hallstrom) were among the competition section films that were at a lower level than the other films of the directors who had created them although viewers would decided to see these films based on the credibility of the directors' names. In Foxfire, with a story that goes on in the early 1950s based on a novel by the celebrated Joyce carol Oates a group of young girls form the Foxfire secret association led by a neurotic Legz to take revenge of men and take the law in their hands, but will have to pay a high price for that. Foxfire has been most adversely affected by the sidelines that dominate the main story line. Fishing Days adds nothing to the carrier of Carlos Sorin who has such a good film as Histrorias Minimas in his track record. Marco, a peddler who has a background of drinking decides to change his life after detox. Part of the therapy calls for a hobby and he chooses fishing and sets out for southern Argentina to among other thing find her daughter who has been away for some years. The film only attempts to tell this story but fails from going any further to the deeper layers of the novel. The crime thriller The Hypnotist by Lasse Hallstrom might be a hit in Sweden where viewers like psychodramas, but it is far less than a second grade Hitchcock movie. Hallstrom who has won international acclaim and an academy award for his family drama My Life As A Dog shows with this new film that a good screenplay does not necessarily make a good film. Twice Born is made by prolific Italian actor Sergio Castellitto and looks better than the other three movies. With a story that takes place during the Balkan war in Bosnia and Herzegovina, the film has a good start and continues very well but the multitude of its sentimental finales ruins the directors superb work on the reconstruction of the Sarajevo war scenes. In one scene the protagonist decides to commit suicide out of despair and jumps from a rock into the waves. After a long pause his son brings his head out of the sea and the entire theater dedicated to the press burst in applaud!
Another film in the competition section was The Dead and the Living, with a below average quality of a television film. Capital whose name reminded one of Karl Marx's book was a film by Costa-Gavras one of the most political filmmakers of world cinema who has won many international awards including academy award. In spite of its good screenplay and well calculated structure, the film was not a surprise and offered a cliché-like caricature of the topic of crisis in global economy and was unlike its director's memorable movies such as Z, The Confession and Music Box and will be forgotten quickly. The film is the story of an ambitious banker who would resort to anything in order to reach his goal; exposing the destructive structure of capitalism. The message of this film is an old statement Costa-Gavras reads out to the press after the film is screened: "We are the slaves of capital. We shrink when it shrinks, we grow when it grows. And when it is victorious, we celebrate. Who is going to set us free? Shall we take the initiative and liberate ourselves from the clutches of capital? At least we should come to know those who serve the capital and the way they serve it." In the House, made by now well known French director Francoise Ozon is a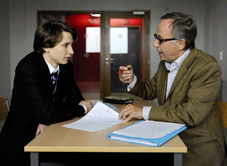 pleasant and engaging movie that won the Golden Shell award at this year's festival. This is one of those films whose straightforward story will be popular with ordinary viewers while its complicated motifs will attract the attention of the elite: German a literature teacher at high school is marking his students' test papers. All of them are terrible except Claude who sits at the end row so that he can see everyone. His writing is powerfully imaginative. As he calls on Claude to pay more attention to the reality of life around him, he begins to write more seriously inspired by the life of those around him. They end up in a situation where Claude collects information about everyone including the teacher's wife. Gradually the border between reality and imagination become blurred to the point that when the teacher reads Claude's writings his relationship with his wife falls apart. He helped Claude to be a writer such as Louis-Ferdinand Celine who wrote a bitter ending for the story of his characters.
The action thriller Savages by Oliver Stone with its two absolutely different endings was something like a computer game. I could tolerate it only thanks to the brilliant performance by John Travolta. The film was full of inconsiderate scenes of bloodshed and savage torture, masochism, treason, crime and sadism of two drug producers and a Mexican drug cartel and its mercenaries, with the loose message that for some people (definitely for Stone, they are capitalist "systems" such as the one in America) man's life has no value and they would kill and destroy whatever that comes in their way, in order to materialize their bleak goals.  Had the film a few more comic scenes like the one in which we see a gallon of artificial blood spilled next to a shop, it could have been categorized as a parody to the Godfather.
Delicateness, liveliness and sometimes lyrical tone of Me and You by Bernardo Bertolucci
removed the dull sense of watching movies like Savages from my eye and mind. After eight years being far away from cinema Bertolucci in his 24th film, which he made on a wheelchair, worked on a story by Niccolo Ammaniti whose prevailing theme and preoccupation has always been the psychological crises and sentimental complexity of contemporary German middle class. Like his previous work, The Dreamers (2003), this new movie is also about the challenges of adolescence and a new quest into this tumultuous period of its two leading characters. The story mainly goes on, and is filmed, in their house's basement with its delirious labyrinths. Lorenzo is an isolated 14 year old adolescent with an abnormal behavior whose relationship with his parents and peer has been disrupted. He decides to hide in this deserted basement in order to escape from all of his problems. However, an unwanted surprise meeting with his half sister changes his world. Bertolucci has tried his best to make this film in the best possible way having in mind his physical situation these days. Therefore, it is not devoid of small shortcomings which are mainly about the performance of his actors. Nevertheless, like his previous works this film too has a calculated and refined structure.  A lighting that makes the scenes look more or less like paintings, delicate compositions in difficult indoors settings, the meaningful art directing with abandoned objects and a music which is consistent with the characters' mood are not the only positive characteristics of this movie. The maestro has embodied a new and different message compared to his vision in his previous films: Change yourself, and the world will change.