Interview with Bahram Tavakkoli on the screening of "Here without Me"
Cinema Helps Us to Tolerate Life!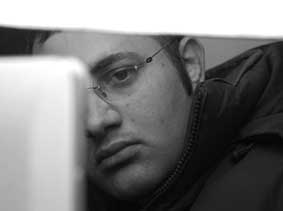 Bahram Tavakkoli is 35 years old and has so far made three features which make him one of the best Iranian directors. He has a master's degree in screenwriting from Tarbiat Modarres University. His first feature, Barefoot in Paradise (2005) was about a young cleric who looks for God in an institute for quarantined patients. His second feature, Roaming in the Mist (2009) was about a comatose patient recollecting his life. Now, his third feature, Here without Me, which was screened in Iran in the summer of 2011, is a localized adaptation of Tennessee Williams' famous play, The Glass Menagerie. Critics consider his films as laudable examples of getting close to the essence of art. The following interview was conducted on the occasion of the public screening of Here without Me.
Film International: Please tell us about your film taste. Which genre, you're interested in?
Bahram Tavakkoli: The taste of any filmmaker is usually reflected in the films they make. We, however, can only show part of our interest through our work, not all of it. I love various genres and I wish I would be able to make a comedy or a war film too.
FM: I asked this because some believe that you are following a set course in cinema; something like the elitist cinema of Ingmar Bergman. We also know that your thesis was about Bergman.
BT: I see cinema as a wider world. In past years, some films were preferred over others; as if Andre Tarkovsky was more important than Billy Wilder. I don't think so. That extremism is now firing back with some arguing that Tarkovsky has not been a filmmaker at all. Such comparisons result from a superficial approach to cinema. All kinds of cinema are beautiful if taken together. We had a period of thoughtful cinema, but now, there are people who simply seek entertainment. I see to conflict here. Even Bergman's films can entertain. I also make films to entertain; of course, according to my own version of entertainment.
FI: Your latest feature can relate to the public more easily. Your past two films were hard for ordinary people to understand.
BT: One reason I chose The Glass Menagerie was its simplicity. When a filmmaker becomes more experiences, he uses a simpler language too. I wanted to know whether a simplified version of Tennessee Williams' play could be important for Iranians or not? Can I go for a simple façade whose deeper layers will take viewers into concerns of various characters or not?
FI: There are common elements among your three films such as creative imagination, physical disabilities of some personalities and narration of personal stories.
BT: My films are not that important yet to find a common denominator among them. I am still experimenting with cinema. Finding such components is special to filmmakers who have defined their cinemas. I still cannot tolerate any of my films from the beginning to the end. I consider them incomplete experiences which can teach me how to tell a story. Of course, common elements are usually added to films knowingly or unknowingly. Sometimes a filmmaker concludes that one method is better for drama than another. Such analysis is rooted in his taste, mentality, favorite movies and even the society around them. I love some sequences in my films about which I can talk seriously, but I think there are many problems with totality of my works.

... To Be Continued
[Page: 90]
President & Publisher
Massoud Mehrabi

Editors:
Sohrab Soori
Massoud Mehrabi
Translators:
Sohrab Soori
Vazrik Der-Sahakian
Behrouz Tourani
Zohreh Khatibi

Contributors
Mehrzad Danesh

Advertisements
Mohammad Mohammadian

Art Director
Babak Kassiri

Ad Designers
Amir Kheirandish
Hossein Kheirandish

Cover Design
Alireza Amakchi

Correspondents
E.Emrani & M. Behraznia (Germany)
Mohammad Haghighat (France)
A. Movahed & M. Amini (Italy)
Robert Richter (Switzerland)
F. Shafaghi (Canada)
B. Pakzad (UAE)
H. Rasti (Japan)

Print Supervisors
Shad-Rang
Noghreh-Abi
Gol-Naghsh

Subscription & Advertising Sales
Address: 10, Sam St., Hafez Ave., TEHRAN, IRAN
Phone: +98 21 66722444
Fax: +98 21 66718871
info@film-magazine.com

Copyright: Film International
© All rights reserved,
2023, Film International
Quarterly Magazine (ISSN 1021-6510)
Editorial Office: 5th Floor, No. 10
Sam St., Hafez Ave., Tehran 11389, Iran

Printed in Tehran
Publishing Date Summer 2011

*

All articles represent views of their
authors and not necessarily
those of the editors