Economic report of the Iranian cinema in 2008
As Simple as This
by Mohsen Beigagha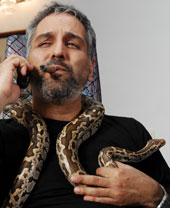 The best time to screen films has been always a matter of controversy between filmmakers and owners of movie theaters. Some consider new year holidays as the best time for screening, while others oppose them claiming that in holidays, people are on vacation and theaters are not crowded. Up to two years ago, movie theaters were not crowded during two-week Norouz holidays, but for a number of reasons, this has not been the case in the past few years. Other people consider Eid ul-Fitr at the end of the fasting month of Ramadan as a good time for screening, but as lunar occasions vary in relation to solar calendar, sometimes they may coincide with days when students are sitting for their exams and some people are opposed to film screening in those days. Similar differences exist as to the best screening season; some say that summer is the best time because students are not attending classes while others consider autumn as the best time for films. Up to a decade ago, films made for children and young adults sold good in summer while autumn was a time for low-quality films. However, like Europe and the United States, autumn has been a high season for film screening during the past few years. The bestselling film of the preceding year was Parisa Bakhtavar's first feature film, Tambourine. Its screenplay, with a lot of characters, had been written by Bakhtavar's husband, Asghar Farhadi. Farhadi who won the best director's prize from Berlin Film Festival in 2009 to become the first Iranian director to have won it, first intended to make the film himself, but later on, he gave the screenplay to his wife who had already produced a number of television series. The success of Tambourine was not simply due to abilities of Bakhtavar and Farhadi. The film was banned from screening after its premier in Fajr International Film Festival and enthusiasts watched it two months later after some scenes were cut out. The two-month interval and speculations about possibility of continued ban on public screening of Tambourine was a major reason why it brought 750,000 viewers to theaters.
Four-Clawed was even more controversial than Tambourine. After making some war movies, Saeed Soheili has made a film about a conjoined twin one with religious propensities and the other a liberal person. The main reason behind good sales of the film, which was criticized by other filmmakers, was jokes which other directors did not dare to use in their films, but Soheili used them with ease of mind. Some of those jokes were related to religious issues. Four-Clawed attracted more than 700,000 viewers to theaters.
The third hit of last year was also a comedy: There's always a Woman in Between. The film which had been snubbed by critics due to its confused screenplay was watched by more than 600,000 moviegoers. It featured such superstars as Reza Kianian, Golshifteh Farahani, and Habib Rezaei, as well as the popular television actor, Mehran Modiri. There's always a Woman in Between proved that people sometimes loved what critics rejected. Kamal Tabrizi, who had already made one of the bestselling and controversial Iranian films, The Lizard, about a thief wearing the cloth, proved once more that he knew a lot about people's taste.

[Page: 38]
President & Publisher
Massoud Mehrabi

Editors:
Sohrab Soori
Massoud Mehrabi
Abbas Yari

Translators:
Sohrab Soori
Behrouz Tourani
Zohreh Khatibi

Contributors
Shahzad Rahmati
Saeed Ghotbizadeh

Advertisements
Mohammad Mohammadian

Art Director
Babak Kassiri

Ad Designers
Amir Kheirandish
Hossein Kheirandish

Cover Design
Alireza Amakchi

Correspondents
E.Emrani & M. Behraznia (Germany)
Mohammad Haghighat (France)
A. Movahed & M. Amini (Italy)
Robert Richter (Switzerland)
F. Shafaghi (Canada)
B. Pakzad (UAE)
H. Rasti (Japan)

Print Supervisors
Shad-Rang
Noghreh-Abi
Gol-Naghsh

Subscription & Advertising Sales
P.O.Box: 11365-875,
Phone: +98 21 66709374
Fax: +98 21 66719971
[email protected]

Copyright: Film International
© All rights reserved,
2009, Film International
Quarterly Magazine (ISSN 1021-6510)
Editorial Office: 5th Floor, No. 12
Sam St., Hafez Ave., Tehran 11389, Iran

*

All articles represent views of their
authors and not necessarily
those of the editors