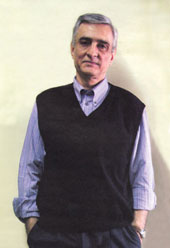 I meet Amir Badi', in his office at the Iranian Film Industry Service Center, somewhere in downtown Tehran. As Fajr Film Festival's inauguration is approaching, the "Center" is full of activity, and its entire staff is busy. I'm here to talk about his father, Mohsen Badi'. I was aware that his role was very important in development of the Iranian cinema. Also, the machine he made at the end of 1940s is now kept at Cinema Museum. His photo is above Amir Badi's desk, and when he talks about his father, his eyes rivet on his photo. Amir Badi' talks about somebody who has made very important tools and machines for the Iranian cinema; a father who after his death nobody in the then government officials went to his funeral. Indignation of 56 years old son of Mohsen Badi', has the same connotation as of a son who has tried all these years to follow his father's path. Now it's too late for this kind of talk. Government officials have been replaced, but the Center is celebrating its 60th anniversary this year. The pretext for this conversation is this commemoration and also tribute to honor its founder at Festival's inaugural ceremonies. It was at the end of our conversation that I realized where the industrialization of Iranian cinema took form and who its initiator was. And it was at the end of this conversation that I knew how much Badi' family would've liked their third generation to continue this path. I certainly won't forget that Amir Badi' has studied cinema at University of South California and his college mates were people like George Lucas and Steven Spielberg.
Film International: When did a big company like this start to operate?
Amir Badi': We moved to these premises in 1962. Its construction began in 1959. The initial thought was that perhaps the laboratory work would not flourish in Iran as expected; that's why the organization you see has two buildings. The first one was built just like an apartment building so that if the work didn't advance, as one hoped, they could rent its units. Laboratory equipment was installed in the apartment at the back. Until 1977-1978 this was the only floor which was allocated to laboratory works. But as we had some development programs at that time and we were going to import some extra equipment, we occupied the other parts of the building as well.
FI: So, your first memory of laboratory, the very first images of it has been shaped in your childhood?
AB: In my childhood, my plays with children of my age were about laboratory.
FI: How come?
AB: At that time, in our house and those of our neighbors, there were some big cherry trees. Winters and falls, when there were no leaves on them, we passed some ropes among the branches and we began to pull them very carefully and slowly as if we were developing films.
FI: What a strange entertainment!
AB: I remember, when Soiree in Hell was being made, I was very afraid. I was a child and the film was about the Devil and the Hell and so forth. So, at night it was really horrifying. But from the beginning I was watching my father and I could see what he was doing; and I tried to understand what he's saying and what he's doing and to remember them. Just after that, when my brother and I were going to high school, during summer holidays we had to work at the laboratory. In fact, my father didn't give us pocket money and would say that he would give us salary if we worked at the laboratory.