Niwe-Mang (Half Moon)/ Director: Bahman Ghobadi
Lifeless Images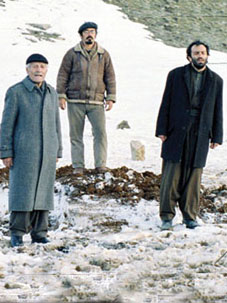 Like his previous movies, Bahman Ghobadi's fourth feature film, Niwe-Mang, is also a film about Kurdistan and Kurdish people. Thanks to its special position in the Middle East, Kurdistan is a marvelous ethnic location between Iran, Iraq and Turkey. Elements such as beautiful natural setting, joyful and hardworking people, ethnic variety and political geography are among the most outstanding features of this region. Bahman Ghobadi, the 39-year-old Iranian filmmaker, who was born in the city of Baneh in Kurdistan, has made all of his films in this region. In A Time for the Drunken Horses, he told the story of a family living a difficult life. A young boy who is breadwinner of his family has a handicapped brother and his sister has had an imposed marriage. In Songs of My Motherland, he tells the story of an aging Kurdish singer who is looking for his ex-wife, also a famous singer, in the Iraqi Kurdistan in a journey with his sons. His best film so far according to most critics, Turtles Can Fly, is a bitter poetic movie about an adolescent boy who collects mines from minefields and installs satellite TV dishes to make a living. This is a unique Kurdish movie with a story that takes place as American troops are attacking Iraq to overthrow Saddam Hussein. But what is Niwe-Mang's position in Ghobadi's film career?
Niwe-Mang is about post-Saddam Iraq. Mamo, a great Kurdish musician living in Iran, decides to take all his sons to Iraq for a major concert. On his way to Iraq, he ignores all warning signs and goes ahead resolvedly. At the same time, he decides to take with her Hashu, a woman from a village where all villagers are singers. Hashu has a beautiful voice but she lacks self-confidence. On their way to Iraq, police stops them and arrests Hashu. Mamo and his sons go to a village where a friend of his lives. His friend turns out to be dead. However, he discovers another woman singer who is singing near his friend's grave. She dissuades Mamo from returning to Iran and encourages him to go ahead with his plans for the concert. Once again, Mamo sets out on a journey to Iraq, but this time he is stopped by bad weather. Niwe-Mang, who turns out to be the angel of death, promises Mamo that he would make it to the concert. After his death, Mamo hears the applause and happily rests in peace.
Niwe-Mang is different from Ghobadi's previous films in many ways. In this film, unlike the previous ones, he has worked with professional actors. The movie casts Iranian stars such as Hedyeh Tehrani (Hashu), Golshifteh Farahani (Niwe-Mang), and Hassan Pour-Shirazi (police officer) with Nigel Bluck and Crighton Bone behind the camera. This film is visibly at a higher level of production. The second difference is the film's surrealistic appearance. Although there were metaphysical signs in his previous films, like the adolescent boy who can tell the future in Turtles Can Fly, here, surrealistic aspect is visible throughout the film. It appears that Mamo is aware of his imminent death from the very beginning of the journey. As an example, remember the nightmare about the coffin and lying in the grave, which is reminiscent of Wild Strawberries. Appearance of these metaphysical elements continues later in this movie with the emergence of the bearded man who constantly tells Mamo about his death. ...
[Page: 116]
President & Publisher
Massoud Mehrabi


Editors:
Sohrab Soori
Massoud Mehrabi

Translators:
Sohrab Soori
Behrouz Tourani
Zohreh Khatibi


Contributors
Shahzad Rahmati
Saeed Ghotbizadeh


Advertisements
Mohammad Mohammadian

Art Director
Babak Kassiri

Ad Designers
Amir Kheirandish
Hossein Kheirandish

Cover Design
Alireza Amakchi

Correspondents
E.Emrani & M. Behraznia (Germany)
Mohammad Haghighat (France)
A. Movahed & M. Amini (Italy)
Robert Richter (Switzerland)
F. Shafaghi (Canada)
B. Pakzad (UAE)
H. Rasti (Japan)

Print Supervisors
Shad-Rang
Noghreh-Abi
Gol-Naghsh

Subscription & Advertising Sales
Address: 10, Sam St., Hafez Ave., TEHRAN, IRAN
Phone: +98 21 66722444
Fax: +98 21 66718871
info@film-magazine.com

Copyright: Film International
© All rights reserved,
2023, Film International
Quarterly Magazine (ISSN 1021-6510)
Editorial Office: 5th Floor, No. 12
Sam St., Hafez Ave., Tehran 11389, Iran

*

All articles represent views of their
authors and not necessarily
those of the editors