An interview with Mahtab Nassirpour, actress of The Child of the Earth
I Am My Own Critic
by Saeed Ghotbizadeh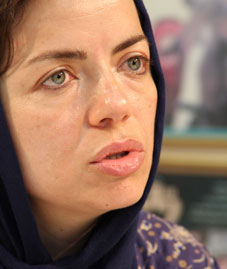 Mahtab Nassirpour is one of the most talented actresses of the Iranian cinema. She has proved her capabilities in few films in which she has appeared. Her first and foremost preoccupation is theatrical plays. With her husband, Mohammad Rahmanian, they have formed a highly successful actor-director team. Nassirpour's major movies are I, Taraneh, Am 15 (Rassoul Sadr-Ameli) and The Child of Earth (Mohammad Ali Ahangar). In her latest movie, she plays the part of a Kurdish woman living in an area at Iran's border with Iraq. Thanks to her strongly impressive appearance in this film she won the best actress award of Fajr Film Festival. She took part in this interview on the occasion of the film's release.

Film International: If you were to start everything anew, would you still be so fond of theater? Would you still ignore cinema?
Mahtab Nassirpour: If I could go back, I would have spent even more time on theater. I'm still thirsty for it. In the past, theater was not in good shape. In the 1990s, unfavorable situation of theatrical plays made many good stage actors to turn to acting on TV. At that time, a teletheater section was launched at the Iranian TV. We went there and worked on some plays. Those were the works that could not have been staged in the City Theater.
FI: Who were there apart from you?
MN: There was Hassan Fathi (now a film and stage director), Parvaneh Mojdeh (playwright and stage director), Majid Mozaffari (film actor), Farimah Farjami (film actress) and Mohammad Rahmanian (stage director).
FI: Despite all that experience in theater, TV and cinema, you have not appeared in too many films. Are you happy about that?
MN: Naturally I'm not. I am not unhappy only about my career in cinema. It is about the situation of Iranian cinema. In the early 1990s I used to go to the movies and enjoyed it very much and liked to enter the world of films. But if I could go back in time, I would still concentrate on theater. I wouldn't go to TV so that people would see me and ask me to act in films. This will not happen again.
FI: How long did the work in TV continue? When did theater go back to normal?
MN: Stage actors were invited in 1995. They called us at home and asked my husband Mohammad Rahmanian to present a play at an annual theatrical event. Before that, we thought no play would be ever performed on the stage again....
[Page: 71]
President & Publisher
Massoud Mehrabi


Editors:
Sohrab Soori
Massoud Mehrabi

Translators:
Sohrab Soori
Behrouz Tourani
Zohreh Khatibi


Contributors
Shahzad Rahmati
Saeed Ghotbizadeh


Advertisements
Mohammad Mohammadian

Art Director
Babak Kassiri

Ad Designers
Amir Kheirandish
Hossein Kheirandish

Cover Design
Alireza Amakchi

Correspondents
E.Emrani & M. Behraznia (Germany)
Mohammad Haghighat (France)
A. Movahed & M. Amini (Italy)
Robert Richter (Switzerland)
F. Shafaghi (Canada)
B. Pakzad (UAE)
H. Rasti (Japan)

Print Supervisors
Shad-Rang
Noghreh-Abi
Gol-Naghsh

Subscription & Advertising Sales
Address: 10, Sam St., Hafez Ave., TEHRAN, IRAN
Phone: +98 21 66722444
Fax: +98 21 66718871
info@film-magazine.com

Copyright: Film International
© All rights reserved,
2023, Film International
Quarterly Magazine (ISSN 1021-6510)
Editorial Office: 5th Floor, No. 12
Sam St., Hafez Ave., Tehran 11389, Iran

*

All articles represent views of their
authors and not necessarily
those of the editors