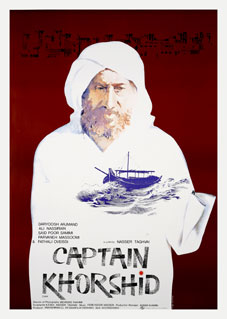 History of film poster in Iran is no less than history of its cinema. Posters have advanced in parallel to movies, shoulder to shoulder, and while characterized by shortcomings and imitation, have included brilliant examples which raised new hopes. History of film poster in the Iranian cinema, like "history of the Iranian cinema" can be divided into pre-revolution and post-revolution periods. The first period can be called disappointing in a fair judgment. However, what took us to the second period was the slight hope raised and maintained by few brilliant examples which served as a beacon.
Production of film posters started simultaneous with production of first films at the climax of lithography (late 19th century). Cinema not only availed of all potentials of theatrical plays, but also exploited its poster-making abilities. Lumiere brothers, as the first persons to order film posters, invited Laurent Heel, famous designer of theatrical posters, to cooperate with them. He produced a large number of film posters for Pathe Company at Faria Atelier. Then it was Brispot's and Trouchera's turn to produce posters for Lumiere bothers and others. Their names, along with Laurent Heel, have been registered as the first designers of cinema posters in the history of film cinema, though this was not their main incentive.
What happened to theatrical plays and their posters was repeated in Iran. Lithographed posters of Haji Qara, Arshin Malalan, Leili and Majnoun, Ali Baba and 40 Thieves of Baghdad… gave way to posters of such films as Satan and Woman, Golden Butterfly, Shelter, Me or Him, Tiger's Roar, Prince Bizel…. In those years, posters were printed in black ink on papers of different sizes (it seems standard sizes were absent) mostly in yellowish brown, bright red and Turkish blue and since they were mostly offered in such cities as Gilan, Tabriz, as well as Khorasan province and Tehran, they were mostly written in Persian, Russian, and French. Sometimes, Armenian and English were used instead of French. Early samples had no pictures of actors, but focused on the names and amazing stunts by famous actors. Name of the screening theater, glamour of the film, as well as production cost and perhaps extras were highlighted on the fringes of the poster. By and by, famous names lost their influence and were moved to topside or the middle of posters. There was no name of directors and other production crew! At that time, beautiful and crafty posters were designed and produced in Europe and the United States. Poster designers and painters found their unique ways and styles and orders were not given to just any designer. Metro Goldwyn Meyer, Paramount, Pathe, Babelsberg and other major companies have their own poster designers and relations are totally professional. Although such posters are sent to Iran along with a copy of the film, Iranian film screeners prefer to print and present their own traditional posters. The Son of the Sheik, was an early example of film poster for Rudolph Valentino (a United Artists production, 1926) for which Arnold Jacobson, Alexander Levin, and Emil Surkov, owners of Cinema Iran Company, designed and printed a 75 cm x 54 cm poster at Tehran's Ferdowsi printing house in Persian, Russian, and French. Production of traditional posters, which were more like communiqués, continued for years by Iranian film screeners. ...