48th Thessaloniki International Film Festival
Zorba's Dance in the Rain
by Abbas Yari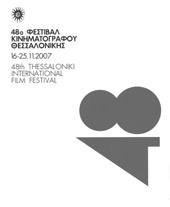 At 9 pm on Friday 16, the festival's guests are trying to make it to the opening ceremony as heavy downpour starts. Reporters had been told to report to a certain gate an hour ahead of the program so that they would be directed to the hall as VIP. The grand hall of Olympion Cinema is full of viewers who are waiting impatiently before the opening of the 48th festival. As the ceremony starts, cameramen and still photographers rush to the scene. Outside, there is a huge gathering of men and women standing with their umbrellas under a heavy shower watching a group of youngsters holding big colorful balloons.
The children held 48 balloons to mark the 48th edition of the festival. The hall has been designed in a way that huge marbles hanging from the ceiling reflect pictures from various movies. At the end of a speech by Georges Cooraface, the festival's chairman, a brass band of young boys and girls enter the hall. They pass by the spectators and reach the stage. The director of the festival comes down the stage and leaves the hall with the band as CCTV cameras show their pictures outside the hall, in the street, and under the rain, where they are dancing, soaking in the rain. The children wave their balloons and cheer. A large group of people who are standing by applauded the band. The festival director's dance in the rain reminds me of Gene Kelly's Signing in the Rain. They return to the hall later, the children release their hot air balloons. Each balloon turns into a moving picture and the festival's 48th edition starts with such an exciting and absorbing image.

The Big Sleep
Chinese filmmaker, Wong Kar Wai, who is popular in Cannes and his previous film Happy Together won the Palm d'Or in 1997, has sent his new romantic film My Blueberry Nights for the opening evening of Thessaloniki. This film was welcomed in Cannes in this year short of wining an award. It looks like a long movie clip with unusual compositions and confusing surrealistic lighting. Yet the film is dull although at the end we find out that it was depicting the inner journey of the leading character: "Elizabeth sets out for a journey to the States after a period of tension and crisis. She leaves sad experiences behind in the hope of a dream-like life with new friends. She meets a restaurant owner who helps her cure her old wounds. Then others come into her life including a policeman whose wife is an addicted gambler in Nevada. Meeting these people makes Elizabeth realize that other people have more things to worry about."
[Page: 74]
President & Publisher
Massoud Mehrabi


Editors:
Sohrab Soori

Translators:
Sohrab Soori
Behrouz Tourani
Zohreh Khatibi


Contributors
Shahzad Rahmati
Saeed Ghotbizadeh


Advertisements
Mohammad Mohammadian

Art Director
Babak Kassiri

Ad Designers
Amir Kheirandish
Hossein Kheirandish

Cover Design
Alireza Amakchi

Correspondents
E.Emrani & M. Behraznia (Germany)
Mohammad Haghighat (France)
A. Movahed & M. Amini (Italy)
Robert Richter (Switzerland)
F. Shafaghi (Canada)
B. Pakzad (UAE)
H. Rasti (Japan)

Print Supervisors
Ziba Press
Gol-Naghdh Press
Blue Silver

Subscription & Advertising Sales
Address: 10, Sam St., Hafez Ave., TEHRAN, IRAN
Phone: +98 21 66722444
Fax: +98 21 66718871
info@film-magazine.com

Copyright: Film International
© All rights reserved,
2008, Film International
Quarterly Magazine (ISSN 1021-6510)
Editorial Office: 5th Floor, No. 12
Sam St., Hafez Ave., Tehran 11389, Iran

*

All articles represent views of their
authors and not necessarily
those of the editors