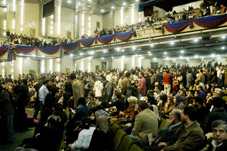 This year's edition of Iran's biggest cinema event, Fajr International Film Festival, was different from its predecessors. One of the most important changes was division of the festival into an international section (the first five days) and the Iranian cinema section (the following six days) because foreign films which take part in the festival usually attract less viewers. Film buffs prefer to watch the Iranian movies because, firstly, the foreign films can be easily bought through unofficial market on CDs and DVDs due to absence of copyright in Iran, and secondly, Iranian theaters are not modern enough, both in terms of audio and visual facilities, to encourage moviegoers watch movies there. Thirdly, foreign films, which are screened in the festival, are usually among less important international productions. Fourthly, since some Iranian films may face subsequent problems on public screening, the festival is a good opportunity for those who follow the situation of the Iranian cinema to watch movies whose public screening may be later banned. Anyway, festival authorities made the decision in order to encourage the Iranian audience to watch foreign films. However, relative emptiness of theaters during the first five days of the festival compared to the following six days proved that the decision had not been effective and simply caused heavy traffic of the Iranian movies in those six days, which caused problems for the festival's schedule.
The most important films in international competition section of this year's festival (where 14 films were screened) included: Aleksandra (Aleksandr Sokurov, 2007), Redacted (Brian De Palma, 2007), Mighael Clayton (Tony Gilroy, 2007), Almost Adult (Yousaf Ali Khan, German/Britain, 2007), Children of Glory (Krisztina Gola, Hungary, 2006), and Egg (Semih Kaplanoglu, Turkey/Greece, 2007).
Other foreign sections of the festival included spiritual films competition, Asian cinema competition, festival of festivals, special screenings, Palestinian cinema, as well as perspective of independent cinema of Georgia. The most important films which were screened in those sections included: The Island (Pavel Lungin, Russia, 2006), 1408 (Mikael Hafstrom, 2007), In the Valley of Elah (Paul Haggis, 2007), A Man from London (Bela Tarr, 2007), The Good Shepherd (Robert De Niro, 2006), The Road to Guantanamo (Michael Winterbottom, 2006), Miss Potter (Chris Noonan, 2007), 3:10 to Yuma (James Mangold, 2007), Children of Men (Alfonso Cuaron, 2006), and The Golden Compass (Chris Weitz, 2007)...