Report on the 25th Pordenone Silent Film Festival (October 7-14, 2006)
A Touch of Silence
by Ramin S. Khanjani
October 2006. Giornate del Cinema Muto celebrated its 25th anniversary. It may be hard to believe that such a festival which mainly deals with silent films has lasted for a quarter of a century. Even the festival officials confessed that they had not predicted such a future for the festival at the time they founded it. But faced with scores of silent film buffs, film historians and students rushing to the festival enthusiastically, they were encouraged to continue this movement regularly and more extensively. Just take a look at every year's program and subsequent discoveries to understand the importance of this seminal annual event for film historians and cinema scholars. Giornate 2006 was no exception to this rule. It screened several unknown or less known pieces of early cinema art as well as meticulously restored versions of famous films of the history of cinema. Add to that the informal and friendly atmosphere of the festival, which provides film students and movie lovers with a good opportunity to meet prominent and sometimes legendary film scholars who would be otherwise difficult to meet.
Despite all promises, Giornate did not return to its original location, Pordenone, and was held again at the small and quiet town of Sacile, which is only one hour from Venice by train. But does it make any difference? Any place in Italy, with its glorious past, could be suitable for a festival which is about history in its own way.
This year, Diana Sarah Carey (who appeared as Baby Peggy in Hollywood movies and is currently a writer and chronicler of Hollywood) was the honor guest of the festival for the third time and her presence gave the event the sense of the continuity of silent cinema into the present time. The current year's program included several sections including: Nordisk 100 (celebration of the 100th anniversary of the Danish company by screening selected silent short and feature films), The Griffith Project 10, the return of Thomas H. Ince (there was another program on Ince several years ago), Walt Disney's Silly Symphonies and some other animations, Italy Before and After Cabiria, Stars, Out of Frame, Magic and Cinema, 21th Century Silents and Williams Find (including several newly-found early short films), not to forget the special presentations. A film and book fair was held on the sidelines of the festival as an inseparable accompaniment. Moreover, there were two interesting small exhibitions on the sidelines of the Giornate. The first one, "Images of Silence", consisted of pictures from silent Italian movies made in Torino during early 1910s, when it was the capital of the Italian cinema. It was held as a street exhibition in front of Teatro Zancanaro, one of two theaters screening the festival's films. For me, the interesting point was the way that ordinary citizens of Sacile reacted to the pictures that showed them part of their past visual culture. The other exhibition, "Chaplin's Shadow", was made up of photos owned by Hiroyuki Ono, Japanese driver and personal servant to Chaplin. Pictures of Chaplin in his trips to Japan illustrated the relationship between Hollywood and the Japanese cinema at that era. Also, I should mention the collegium dialogue sessions which were held every day covering a variety of issues, ranging from more public subjects like "Magic in Films" to more specialized issues like "new contracts on copyright and fair use" which mainly targeted people in archives. In my opinion, the collegium, which mainly consists of young people who are somehow engaged with silent cinema, plays a significant role in establishing relationship between different generations of people studying silent films and exchanging their attitudes about them. Moreover, there is an opportunity for younger generation to avail of the knowledge and experience of experts in the field and also to express their new ideas about silent cinema which can promote the related studies.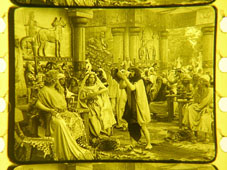 A feature of this year's Giornate was presentation of different versions of the same film or the same story. The resulting comparison could lead us to interesting results. Maybe the most important example was screening of two restored versions of Cabiria (silent and with sound effects) which along with screening parts of Story of the Kelly Gang, was the most important event of the festival. In fact, the sound version resembled a gigantic opera, especially in the sequence of sacrificing children. There were also minor cases of comparison, like French and Austrian versions of Baden Verbotent. The more comic atmosphere of the former compared to more erotic and mysterious nature of the latter reflects the differences between French and German cultures. Another case was the Danish "White Slavery" film program, which illustrated evolution of a curious subgenre by screening four films. The films ranged from Vigo Larsen's Den Hvide Slavinde, with its less moral ending which just manifested the bare bones of the genre, to two August Blom's films with more complicated plots that are open to be called feministic due to depicting unity of women against male exploiters. One of them is a variation on the theme in which the main victim is a male instead of a female and more emphasis is put on the role of women whose effort to save the kidnapped boy was accompanied with hidden rivalry as they were both in love with him. But in the other strange Danish short film, Rivalinder – which was exceptionally shown one more time upon spectators' request – this rivalry is shown explicitly through reversing the stereotyped roles of men and women and it can be regarded as an archetype of modern action films with female superheroes in leading roles.
Other Danish films I should mention are two feature films by August Blom revealing his religious tendencies and his conflicts with modern civilization. In his End of the World, which contains obvious religious references, he denounces both capitalists and scientists (the latter, of course, implicitly) and succeeds in filming a kind of apocalypse when a real catastrophe (WWI) was happening in the frontline. In his psychological, nature-dominated drama, Atlantis, which was one of the first feature films in the history of cinema, Blom depicts the more complicated structure of feature films through two short shows that are similar to early short films and are comparable with the mighty structure of this trans-Atlantic drama and the sequence in which the huge ship capsizes.
Consecutive screening of two films by Holger-Madsen – The Soul of the Violin and The life of an Evangelist – unraveled his mastery in use of an expressive mise en scene and may also encourage scholars to further study his oeuvre, specially because of the thematic similarities that can introduce him as a possible auteur (for example, the heroes of both films are too much influenced by their mothers indicating a hidden Oedipal relationship). But the most famous Danish film in the festival was Dreyer's Leaves from Satan's Book, dealing with the theme of loyalty or betrayal, which also can be noticed in his later films like as Mikael or Day of Wrath. The first episode conveys the atmosphere of Nordic tales especially in Gethsemane garden scenes, but in my opinion, the best episode is the second one with its sadomasochist monk who throws his inner torment over his beloved and her family and can't separate love from violence.
Another pair of Danish films that is worthy of mention includes Flight from Seraglio and Maharajah's Favorite Wife, which testify to a shift in Europeans' attitude toward eastern culture from confrontation to understanding. The similar understanding of other cultures could be noticed in Ince's Last of the Line especially with its last image showing the Indian chief leaning over the cross of his son's tomb, which in one way, draws an analogy between his suffering and crucifixion. On the other hand, he is blaming the western civilization for his son's death.
From Italian cinema, an old version of Odyssey was screened. With a fragmented narrative – like other semi-long early films – it looked like an illustrated book. Like the original tale and contrary to later versions, the gods and goddesses (here Athena) play a crucial role in the story.
Another great event of the festival was screening of The Battle of the Somme, with its firm structure. In the first part, it alternates between happy soldiers preparing for war and artilleries pounding enemy line. Suddenly, the second part starts with a big explosion showing soldiers at the mouth of big calamity called war. The most impressive point about this film is the strange gaze of both soldiers and captives. The execution of Gonzales in the Chilean film, El Husar de la Muerte, was similarly shocking because it happened so rapidly as to reveal the futility of political activities. It should be noted that many spectators welcomed the Chilean film as a sign of the shift in Giornate to show more silent films from countries with less known cinema industry.
Two major themes of this year's Giornate were Stars and Magic and Cinema. There were two strange cases of stars. The first one was Harry Houdini, the famous magician, whose Terror Island with its strange story and images demonstrate his skills. The other interesting case was the Maciste character in two Italian films in which the actor and his role are merged into one character that carries the Maciste. Especially Maciste Inamorato gives us some clue to be interpreted as a modern legend (from similarity of the kidnappers' hideout to a witch's cave, to the fall of Maciste in a well which reflect the death and reincarnation of the mythical hero). The other Italian film, Prix de Beaute with Louise Brooks in the leading role, was another film whose plot revolved around stardom. Its persistently moving camera, which induced various effects such as emotional emphasis or speed of modern life, testifies to the glamour of silent cinema in its summit. The shot showing dying Brooks under her own picture on the screen summarizes the film perfectly.
We also had an opportunity to see three circus dramas. The first one, Sandberg's Klovnen with its rather passive hero presented an alternative approach to this type of drama, which is more poetic and slow-paced. However, because of its slow rhythm, it seemed to be a bit lengthy. Likewise, Paul Fejos's Last Performance dealt with complicated relation between success in artistic life and loss in personal life as well as the crisis of aging. The final sequence parallels the end of the old magician's career –through revealing his trick at the end of his life. The most important of the three was Tod Browning's The Show in which John Gilbert's beauty is in contrast with circus show freaks, lizards and even the wicked Greek (who is a beast himself) and the existence of death can be felt in every moment of the gloomy world of the film. The scene showing the girl, who plays Salome, kissing Gilbert's head in the role of John the Baptist depicts how death intermingles with life and beauty with horror.
In addition to those films, watching Maya the Bee was a real surprise. Although the film has been made 80 years ago, it still looks great even when you compare it with modern insect films like Microcosmos, especially because unlike the latter, Maya the Bee is a film with a straight storyline and its shooting has been much more difficult than just documenting everyday life of insects.
I remember that after screening Harold Lloyd's Safety Last, when musicians came to the stage facing applauding spectators, they asked the audience to applaud Lloyd himself whose close-up was on the screen simultaneously. Of course, Lloyd is a famous actor, but Giornate gave us the opportunity to evaluate less known directors and applaud them as well. The same praise should go to David Robinson and Livio Jacob and all other people working for Giornate to whom we owe this unique opportunity. Even after 25 years, the silent film festival can surprise us with its discoveries and fill us with energy and inspiration to study more about silent films. So let's wish to be able to attend its 50th anniversary celebration!
[Page: 140]
President & Publisher
Massoud Mehrabi

Editors:
Sohrab Soori
Translators:
Behrouz Tourani
Sohrab Soori
Zohreh Khatibi

Contributors
Shahzad Rahmati
Saeed Ghotbizadeh

Advertisements
Mohammad Mohammadian

Art Director
Babak Kassiri

Ad Designers
Amir Kheirandish
Hossein Kheirandish

Correspondents
E.Emrani & M. Behraznia (Germany)
Mohammad Haghighat (France)
A. Movahed & M. Amini (Italy)
Robert Richter (Switzerland)
F. Shafaghi (Canada)
B. Pakzad (UAE)
H. Rasti (Japan)

Print Supervisors
Ziba Press
Raavi Press
Blue Silver

Subscription & Advertising Sales
Address: 10, Sam St., Hafez Ave., TEHRAN, IRAN
Phone: +98 21 66722444
Fax: +98 21 66718871
info@film-magazine.com

Copyright: Film International
© All rights reserved,
2023, Film International
Quarterly Magazine (ISSN 1021-6510)
Editorial Office: 5th Floor, No. 12
Sam St., Hafez Ave., Tehran 11389, Iran

*

All articles represent views of their
authors and not necessarily
those of the editors.