6th Dubai International Film Festival (Dec. 9-16, 2009)
Sharing Cheerful Moments
by Mohammad Mohammadian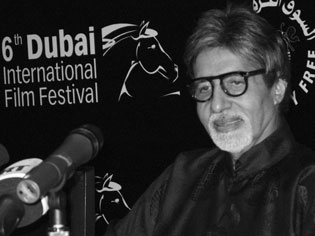 Have you ever thought why film festivals in Cannes, Venice, Berlin, San Sebastian, and Thessaloniki are such big and glamorous events? Perhaps a reason for their importance is prominence of those countries' filmmakers. It is them who give credit to festivals, not the glamour of red carpet ceremonies. Festivals like Dubai which are willing to catch up with those big events would have done better if they first identified their young talents and organized festivals of short films made by them. Shohreh Golparian, the Iranian director of a Japanese film company in the festival, says that UAE officials are trying to compare their festival with Cannes and urge that it is the best film festival in the region, though they still have serious problems with keeping order and solving the simplest problems. She is right because as long as I was there, there was nobody in the Public Relations Department to answer my questions though a nascent festival like this should care more for the mass media. It is hard to believe, but the movie theater which was exclusive to media crew and was supposed to screen the most important entries in the festival only screened one film a day! Unlike Thessaloniki and other major festivals where you are encouraged to see more movies this was not the case in Dubai. Perhaps, this is the most important difference between cultural and other festivals.
The Indian actor, Amitabh Bachchan, was the most famous celebrity invited and was subject of intense publicity as the people of UAE are so interested in the Bollywood. In the first day of the festival, he took part in a press conference and was also given an award for a lifetime of artistic achievements. He said, "I consider this award a tribute to the Indian cinema. Arab countries are great hosts for the Indian cinema and their people help the Indian cinema thrive. Although we speak different languages, we share a common culture. The Indian cinema fills you with a poetic feeling. After watching an Indian film, your lips are smiling, but your eyes are weeping." This year's festival included a tribute to the Indian cinema and Raj Kapoor's grandson, Ranbir Kapoor, who appeared in Rocket Singh, Salesman of the Year, was the other prominent Indian guest of the festival...
[Page: 106]
President & Publisher
Massoud Mehrabi

Editors:
Sohrab Soori
Translators:
Sohrab Soori
Behrouz Tourani
Zohreh Khatibi

Contributors
Saeed Ghotbizadeh
Mehrzad Danesh

Advertisements
Mohammad Mohammadian

Art Director
Babak Kassiri

Ad Designers
Amir Kheirandish
Hossein Kheirandish

Cover Design
Alireza Amakchi

Correspondents
E.Emrani & M. Behraznia (Germany)
Mohammad Haghighat (France)
A. Movahed & M. Amini (Italy)
Robert Richter (Switzerland)
F. Shafaghi (Canada)
B. Pakzad (UAE)
H. Rasti (Japan)

Print Supervisors
Shad-Rang
Noghreh-Abi
Gol-Naghsh

Subscription & Advertising Sales
Address: 10, Sam St., Hafez Ave., TEHRAN, IRAN
Phone: +98 21 66722444
Fax: +98 21 66718871
info@film-magazine.com

Copyright: Film International
© All rights reserved,
2023, Film International
Quarterly Magazine (ISSN 1021-6510)
Editorial Office: 5th Floor, No. 12
Sam St., Hafez Ave., Tehran 11389, Iran

Printed in Tehran
Publishing Date Spring 2010

*

All articles represent views of their
authors and not necessarily
those of the editors