The 29th International Istanbul Film Festival (April 3-18, 2010)
Me and Istanbul
by Ali-Nour Mousavi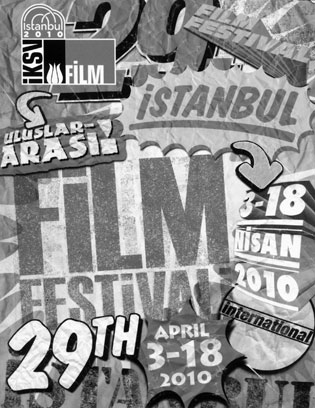 It all started on Fireworks Wednesday in Abu Dhabi. Sauntering among Iranian friends, who were observing the occasion at a coastal area in the capital city of the United Arab Emirates, I saw Peter Scarlet, director of the Middle East International Film Festival (which will be called Abu Dhabi International Film Festival from this year on), who was accompanied by his Iranian wife. He told me that he was going to Turkey to judge films at International Istanbul Film Festival. Turks had apparently decided to make up for Scarlet's favor in allocating a section in last year's Middle East Film Festival to Turkish films. Since I had never been to Turkey before; I found the combination of spring in Istanbul and an international film festival too tempting to resist especially since Istanbul had been announced "the European Capital of Culture" in 2010.
So, I packed up and set off to Turkey. The flight was scheduled for 03:00 and I arrived in Istanbul at 07:00. After having breakfast at the hotel, I had no time to rest as Tehron (made by Nader Takmil Homayoun, the Iranian director living in France) was on screens that morning. After sipping a cup of Turkish coffee, I went to the theater. Most theaters screening festival movies were located on Esteqlal (Independence) Avenue where my hotel was fortunately located. I found it a boring movie with a tedious screenplay. The main forte of the film was a cameo played by Atila Pesiani. Poverty and prostitution in big cities can be depicted in an attractive, yet shocking, way as was the case with Danny Boyle's Slumdog Millionaire or Ja'far Panahi's The Circle. I hope the young director's next features would be more impressing...
[Page: 102]
President & Publisher
Massoud Mehrabi

Editors:
Sohrab Soori
Translators:
Sohrab Soori
Behrouz Tourani
Zohreh Khatibi

Contributors
Saeed Ghotbizadeh
Mehrzad Danesh

Advertisements
Mohammad Mohammadian

Art Director
Babak Kassiri

Ad Designers
Amir Kheirandish
Hossein Kheirandish

Cover Design
Alireza Amakchi

Correspondents
E.Emrani & M. Behraznia (Germany)
Mohammad Haghighat (France)
A. Movahed & M. Amini (Italy)
Robert Richter (Switzerland)
F. Shafaghi (Canada)
B. Pakzad (UAE)
H. Rasti (Japan)

Print Supervisors
Shad-Rang
Noghreh-Abi
Gol-Naghsh

Subscription & Advertising Sales
Address: 10, Sam St., Hafez Ave., TEHRAN, IRAN
Phone: +98 21 66722444
Fax: +98 21 66718871
info@film-magazine.com

Copyright: Film International
© All rights reserved,
2023, Film International
Quarterly Magazine (ISSN 1021-6510)
Editorial Office: 5th Floor, No. 12
Sam St., Hafez Ave., Tehran 11389, Iran

Printed in Tehran
Publishing Date Spring 2010

*

All articles represent views of their
authors and not necessarily
those of the editors