58th International Filmfestival Mannheim-Heidelberg
Dreams of Life
by Mehrzad Danesh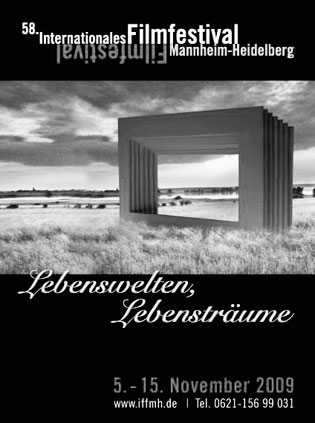 The discourse of economic globalization is in vogue these days and the introduction to the festival's catalogue, written by its manager, pointed to high importance of film festivals in cementing cultural relations among various nations. It added that films conveyed intellectual and human concepts and ideas and connected people in different parts of the world by focusing on various aspects of their lives. By being screened in various festivals, films help human dreams to travel far and wide. Festivals are, as such, a bridge connecting various cultures of the world.

New viewers
The opening ceremony was held under a big tarpaulin tent at Heidelberg University square. Another tent was erected on the campus because theaters screening cultural movies are not spacious and officials' empty promises about building a special theater for the festival have never come true. Most viewers are young people because Heidelberg is an old academic city and there are new viewers every year. More and more foreign students have been settling in the city during recent years. Diverse nationalities, which match diversity of films screened in the festival, create a remarkable cultural mix. Opening films are comedies with happy endings which are not taken seriously by either viewers or critics.

Support and introduction
A total of seventeen films were screened in International Competition section. No film made by renowned directors has been ever screened in this section as its main goal is to support and introduce young filmmakers. Many famous filmmakers such as Wim Wenders, Jim Jarmusch, Kristof Kislovski, and Atom Egoyan started in this festival. Some young Iranian directors have taken part in and received prizes from this section during recent years including Rafi Pitts (Sanam and The Fifth Season), Vahid Mousaeian (Silence of the Sea) and Abbas Rafiei (The Exam).
Tehran for Sale (Iran – Australia co-production) made by Granaz Moussavi was screened in this section this year and received five stars from critics of the festival's magazine who opined that the film deserved Fassbinder Award. The jury, however, ignored that view. The Last Season: Shawaks (Kazim Öz, Turkey) was a documentary about a Kurdish village in east Turkey. Cattle breeders take livestock to mountain ranches as the spring begins while women and children produce dairy for sale. This is a film about the toil of livestock breeders in four seasons of the year and includes fascinating pictures of nature. Introducing their film, the director and crewmembers noted that they had lived with cattle breeders for a whole year and this is a strange lifestyle to urban viewers...
[Page: 96]
President & Publisher
Massoud Mehrabi

Editors:
Sohrab Soori
Translators:
Sohrab Soori
Behrouz Tourani
Zohreh Khatibi

Contributors
Saeed Ghotbizadeh
Mehrzad Danesh

Advertisements
Mohammad Mohammadian

Art Director
Babak Kassiri

Ad Designers
Amir Kheirandish
Hossein Kheirandish

Cover Design
Alireza Amakchi

Correspondents
E.Emrani & M. Behraznia (Germany)
Mohammad Haghighat (France)
A. Movahed & M. Amini (Italy)
Robert Richter (Switzerland)
F. Shafaghi (Canada)
B. Pakzad (UAE)
H. Rasti (Japan)

Print Supervisors
Shad-Rang
Noghreh-Abi
Gol-Naghsh

Subscription & Advertising Sales
Address: 10, Sam St., Hafez Ave., TEHRAN, IRAN
Phone: +98 21 66722444
Fax: +98 21 66718871
info@film-magazine.com

Copyright: Film International
© All rights reserved,
2023, Film International
Quarterly Magazine (ISSN 1021-6510)
Editorial Office: 5th Floor, No. 12
Sam St., Hafez Ave., Tehran 11389, Iran

Printed in Tehran
Publishing Date Spring 2010

*

All articles represent views of their
authors and not necessarily
those of the editors