Interview with Jean-Michel Frodon, editor in chief of Cahiers du Cinema
Cinema Is Our Homeland!
by Houshang Golmakani, Abbas Yari, and Massoud Mehrabi
Until a few years ago, Jean-Michel Frodon was top critic of Le Monde newspaper. When Le Monde acquired Cahiers du Cinema magazine, he was appointed by newspaper managers as editor in chief of the old and creditable film magazine and started to change it. He has written several books on cinema and also teaches at university. He visited Iran a few months ago along with another group of French cultural figures to take part in a series of sessions. During that trip, we invited him to Film Magazine and arranged an interview with him, just as we did with Charles Tesson, the former editor in chief of Cahiers du Cinema, when he was in Tehran. We first showed him to various parts of the magazine and the interview started with talking about the magazine. The questions were posed by Massoud Mehrabi, Abbas Yari, and Houshang Golmakani. Our friend, Nader Takmil Homayoun, who accompanied Frodon in his trip, not only helped us as a skillful interpreter, but was also one of the interviewers. We believe the interview contains readable and interesting points.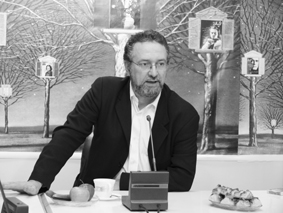 Film International: What changes have you made to Cahiers during the past 3.5 years that you have been working there?
Jean-Michel Frodon: As a first step, I brought young people to the editorial department. Perhaps I am the oldest person there, but the rest of them are very young ageing 30 years on average. Without changing the layout of the magazine, I changed the order of its material. Now Cahiers has four sections: critique of new films; news, festivals and economic section; thought and theory section; and a fourth section which deals with history of cinema. I think before I took over, Cahiers was more inclined toward visual discussions. Therefore, cinema was not the crown jewel. When I took over, I set the magazine's direction toward cinema. I think Cahiers can evolve into a specialistic magazine purely dedicated to cinema. Of course, this will not bar other magazines from discussing cinema or other visual discussions. But we want to specialize on cinema.
FI: How did the readership react to the said changes?
JMF: Our retail sales have increased.
FI: How many?
JMF: We are currently selling 9,000 copies through newsagents. Our subscribers declined at first, but are now increasing.
FI: How many subscribers you have?
JMF: Some 25,000 subscribers worldwide. Meanwhile our overseas sales have also increased.
FI: How Cahiers was distributed before it was acquired by Le Monde?
JMF: It was distributed by somebody who was on Cahiers' payroll.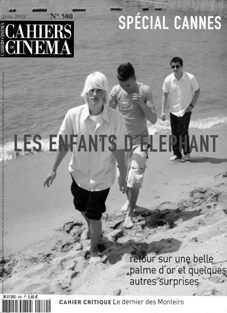 FI: The magazine's circulation stood at 30,000 under Mr. Charles Tesson. How introduction of young people and its alleged positive consequences have affected circulation?
JMF: Our circulation stands at 45,000. I don't mean that all copies are bought. We print 45,000 copies.
FI: It is very interesting that when you want to make change, you introduce young people. When we do the same here, some people complain why the old ones are not writing anymore. We always bring Cahiers as example. Sometime people like Truffaut, Chabrol, Godard, and Rivette and other dignitaries worked there. They later took to filmmaking or other jobs and some of them died. Anyway, none of them is still around. They cannot be kept forever. Generations have got to change….
JMF: It is true that we have introduced young people, but we have also tried to get people from past generation to do something for us. For example, Jean Douche was one of them who only wrote articles in the yellow cover period (1950s and 1960s). We have asked him to write for us on a monthly basis. There is also Alain Bergala who started to work with Cahiers in 1980s. Anyway, we try to both pay attention to the youth, and retain our old roots. The youth form a majority, but they are not averse to history and the past and enjoy good relations with their past.
FI: Cahiers du Cinema is 55 years old, but you talk in such a way as if you had been working there all those years. However, you have been with Cahiers only for three years. Were you familiar with Cahiers from the beginning or you came to know it during the short period that you have been working as its editor in chief?
JMF: ....
SUBSCRIBE
[Page: 58]
President & Publisher
Massoud Mehrabi

Editors:
Sohrab Soori
Translators:
Behrouz Tourani
Sohrab Soori
Zohreh Khatibi

Contributors
Shahzad Rahmati
Saeed Ghotbizadeh

Advertisements
Mohammad Mohammadian

Art Director
Babak Kassiri

Ad Designers
Amir Kheirandish
Hossein Kheirandish

Correspondents
E.Emrani & M. Behraznia (Germany)
Mohammad Haghighat (France)
A. Movahed & M. Amini (Italy)
Robert Richter (Switzerland)
F. Shafaghi (Canada)
B. Pakzad (UAE)
H. Rasti (Japan)

Print Supervisors
Ziba Press
Raavi Press
Blue Silver

Subscription & Advertising Sales
Address: 10, Sam St., Hafez Ave., TEHRAN, IRAN
Phone: +98 21 66722444
Fax: +98 21 66718871
info@film-magazine.com

Copyright: Film International
© All rights reserved,
2023, Film International
Quarterly Magazine (ISSN 1021-6510)
Editorial Office: 5th Floor, No. 12
Sam St., Hafez Ave., Tehran 11389, Iran

*

All articles represent views of their
authors and not necessarily
those of the editors.