28th Vancouver International Film Festival (October 1 – 16, 2009)
Same Planet, Different Films
by Mehdi M. Kashani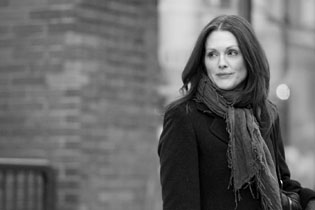 A total of 379 films from 75 countries were shown in the 28th Vancouver International Film Festival. This year's motto was "Same Planet, Different Worlds", which with the plethora of movies and their diversity proved to be an appropriate description. One could testify to the diversity by seeing enthusiastic people of various races and ages in long lines, oblivious of cold weather or rain. Sixteen days of the festival is a good spectacle to prove the multicultural nature of Vancouver.
And here's my take on a few of the screened movies.
Four years after Where the Truth Lies, in another foray into commercial cinema, highly praised Canadian filmmaker, Atom Egoyan, presents Chloe. Starring Liam Neeson and Julianne Moore, Chloe is an unofficial remake of the French movie Nathalie. Neeson and Moore portray an otherwise successful middle-class couple who face bumps in their conjugal life. The woman, in a desperate pseudo-masochist attempt, enlists the services of an escort, the titular character, to examine her husband's fidelity. As expected, things do not go as planned and drama ensues. Egoyan has a long history of seesawing between small-budget and more mainstream films (one can clearly see this trend in his previous four films). His last effort to appease general audience was Where the Truth Lies, which failed to attract much positive attention. With Chloe, however, he seems more at home and the final product is convincing enough. Julianne Moore shines as a frustrated gynecologist who is caught in a sensual world but a cold husband.
After Alejandro Gonzalez Inarritu's Babel (2006) and Tom Tykwer's The International (2009), it is Lukas Moodysson's turn to present his cosmopolitan take on the world's current affairs. His new film, Mammoth, is undeniably international: the story takes place in the United States, Thailand and Philippine; the director is Swedish and the two leading actors are Mexican (Gael Garcia Bernal) and American (Michelle Williams).
[Page: 92]
President & Publisher
Massoud Mehrabi

Editors:
Sohrab Soori
Translators:
Sohrab Soori
Behrouz Tourani
Zohreh Khatibi

Contributors
Saeed Ghotbizadeh
Mehrzad Danesh

Advertisements
Mohammad Mohammadian

Art Director
Babak Kassiri

Ad Designers
Amir Kheirandish
Hossein Kheirandish

Cover Design
Alireza Amakchi

Correspondents
E.Emrani & M. Behraznia (Germany)
Mohammad Haghighat (France)
A. Movahed & M. Amini (Italy)
Robert Richter (Switzerland)
F. Shafaghi (Canada)
B. Pakzad (UAE)
H. Rasti (Japan)

Print Supervisors
Shad-Rang
Noghreh-Abi
Gol-Naghsh

Subscription & Advertising Sales
Address: 10, Sam St., Hafez Ave., TEHRAN, IRAN
Phone: +98 21 66722444
Fax: +98 21 66718871
info@film-magazine.com

Copyright: Film International
© All rights reserved,
2023, Film International
Quarterly Magazine (ISSN 1021-6510)
Editorial Office: 5th Floor, No. 12
Sam St., Hafez Ave., Tehran 11389, Iran

Printed in Tehran
Publishing Date Spring 2010

*

All articles represent views of their
authors and not necessarily
those of the editors