34th Toronto International Film Festival (September 10-19, 2009)
Good Films Don't Sell
by Ferry Shafaghi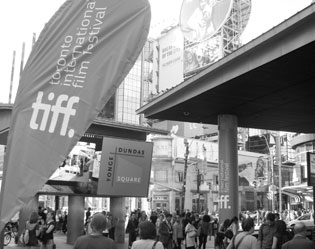 Although there were nine different programs in the 34th Toronto International Film Festival, the films could be easily divided in two simple categories: films which were selected based on their artistic merits and Hollywood productions. But wait a minute! Are we talking about Cannes? The question is whether you want stars, glamour and hype in your festival or you just want to showcase unconventional, poetic and avant-garde productions of the world cinema. Given economic conditions and monetary considerations, I don't blame the organizers because they managed to have movies in the festival almost for all tastes anyway. This choice eventually turns into Hollywood versus world cinema. I don't claim that we can always draw a clear line between the two as there are some films that can be placed in a gray area, somewhere in-between, and I am not talking about exceptions because there are some American films which are made with qualities completely opposite of Hollywood standards and also European films which are dismal imitations of Hollywood cinema. But I guess the general idea, in selection of the films, is to have variety and also don't forget the bitter fact that good films don't sell!
This year, I started my 10-day exciting journey with the German film, Phantom Pain, which is based on the life of a professional cyclist who loses one of his legs in a car accident. He is a single man who occasionally writes stories, but has no motivation or enthusiasm to publish his works. He is so fortunate to have a wonderful friend who always supports him with unconditional love. He is divorced and doesn't have a great relationship with his only teenage daughter. He is off and on with his nice girlfriend who always encourages him to publish his works. One morning, when he wakes up, he suddenly decides to turn his sluggish life around. He opens the curtains and sees dark clouds passing, giving way to a bright sky. By getting a haircut and reconciling with his daughter, he transforms to a new character and finally, with his artificial leg, goes cycling in a beautiful landscape he always dreamed of. I thought that the well-made, touching film would close to a happy ending showing his picture on the cover of his book in shop windows. Instead, the film takes us to a subjective and stunning place. The most thrilling part of the film, for me, is characterization of his friend as we rarely see people with so much love and generosity in today's material world...
[Page: 84]
President & Publisher
Massoud Mehrabi

Editors:
Sohrab Soori
Translators:
Sohrab Soori
Behrouz Tourani
Zohreh Khatibi

Contributors
Saeed Ghotbizadeh
Mehrzad Danesh

Advertisements
Mohammad Mohammadian

Art Director
Babak Kassiri

Ad Designers
Amir Kheirandish
Hossein Kheirandish

Cover Design
Alireza Amakchi

Correspondents
E.Emrani & M. Behraznia (Germany)
Mohammad Haghighat (France)
A. Movahed & M. Amini (Italy)
Robert Richter (Switzerland)
F. Shafaghi (Canada)
B. Pakzad (UAE)
H. Rasti (Japan)

Print Supervisors
Shad-Rang
Noghreh-Abi
Gol-Naghsh

Subscription & Advertising Sales
Address: 10, Sam St., Hafez Ave., TEHRAN, IRAN
Phone: +98 21 66722444
Fax: +98 21 66718871
info@film-magazine.com

Copyright: Film International
© All rights reserved,
2023, Film International
Quarterly Magazine (ISSN 1021-6510)
Editorial Office: 5th Floor, No. 12
Sam St., Hafez Ave., Tehran 11389, Iran

Printed in Tehran
Publishing Date Spring 2010

*

All articles represent views of their
authors and not necessarily
those of the editors