13th Iranian International Market for Films and TV Programs Tehran; Jan. 27 – Feb. 1, 2010
Nobody Lives Twice
by Mohammad Mohammadian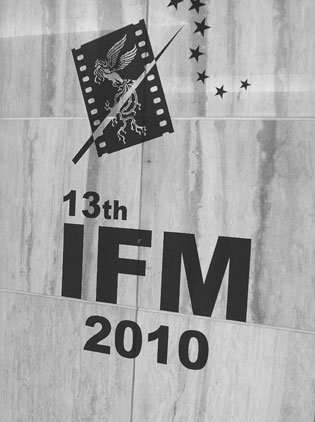 This year's edition of the Iranian International Market for Films and TV Programs was attended by customers and sellers from all over the world as well as directors and representatives of famous international film festivals on the side of one of the tallest towers in the world: the Milad Tower. The market has regular customers who go there every year along with new faces who have new and different things to say about cinema. They love the Iranian cinema as a human and yet international phenomenon. Therefore, when a film begins, they race to their chairs; foreign guests whom I have seen in the past 13 years at the Iranian film market have been always too busy.
Representatives of such festivals as Cannes, Montreal, Pusan, Karlovy Vary, Brisbane (Australia), Dhaka, Religion Today (Italy), and Black Nights (Estonia) attended this year's festival.
Kabul Film (Afghanistan); East West (Australia); BHT (Bosnia and Herzegovina); China Film Promotion (China); Celluloid Dreams and Dream Lab (France); DW TV (Germany); Madhu (India); Ecco (Indonesia); Mediaset (Italy); Al-Manar TV, AR-Hiham, and Mli (Lebanon); Moskwood Media (the Netherlands); Roaah, Cinema Production (Palestine); AP Manana (Poland); Ziad Art (Syria), Hazar Film (Turkey); Founoon (the United Arab Emirates); Media Star and ANC were major filmmaking companies who were present to promote their productions and buy films...
[Page: 82]
President & Publisher
Massoud Mehrabi

Editors:
Sohrab Soori
Houshang Golmakani
Abbas Yari

Translators:
Sohrab Soori
Behrouz Tourani
Zohreh Khatibi

Contributors
Saeed Ghotbizadeh
Mehrzad Danesh

Advertisements
Mohammad Mohammadian

Art Director
Babak Kassiri

Ad Designers
Amir Kheirandish
Hossein Kheirandish

Cover Design
Alireza Amakchi

Correspondents
E.Emrani & M. Behraznia (Germany)
Mohammad Haghighat (France)
A. Movahed & M. Amini (Italy)
Robert Richter (Switzerland)
F. Shafaghi (Canada)
B. Pakzad (UAE)
H. Rasti (Japan)

Print Supervisors
Shad-Rang
Noghreh-Abi
Gol-Naghsh

Subscription & Advertising Sales
P.O.Box: 11365-875,
Phone: +98 21 66709374
Fax: +98 21 66719971
[email protected]

Copyright: Film International
© All rights reserved,
2010, Film International
Quarterly Magazine (ISSN 1021-6510)
Editorial Office: 5th Floor, No. 12
Sam St., Hafez Ave., Tehran 11389, Iran

Printed in Tehran
Publishing Date Spring 2010

*

All articles represent views of their
authors and not necessarily
those of the editors