28th Fajr International Film Festival (Jan. 25 – Feb. 4, 2010)
The Calm after the Storm
by Mehrzad Danesh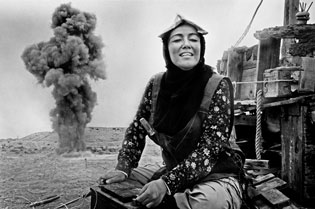 The 28th edition of Fajr International Film Festival was held a few months after reelection of President Ahmadinejad as head of the 10th government while social and political atmosphere was influenced by post-election political turmoil. Relative stagnation in film production during summer 2009 and appointment of new cinema mangers made some observers believe that the forthcoming festival would not be a prosperous event. In reality, however, the 28th festival had greatly changed compared to past editions.
For the first time, an independent manager was running the festival. Before that, managing director of Farabi Cinema Foundation, which is a state-run institution and executive arm of Cinema Department of the Ministry of Culture and Islamic Guidance, was in charge of the festival. Now a real person had been appointed to manage the event. Mehdi Massoud-Shahi has been influential in establishing some film entities. This could be a first step in promoting the festival from a simple office run by the government to a full-fledged organization. Of course, it will take some years before this idea is fully realized. Therefore, there were no specific changes to prove that the festival has turned into an independent organization. The second change was considering cinema complex of Milad Tower as the venue or the palace of the festival. Milad Tower is a tall telecommunication tower, 435 m high, which is new symbol of Tehran and is home to commercial, tourism, telecommunication and cultural facilities. Critics, journalists, foreign guests and filmmakers were there. In previous editions, the festival was held in several places, but now it was more focused. Of course, ordinary viewers still had to watch festival movies at different theaters across the city. Therefore, "festival palace" was, in fact, a misnomer for cinema complex of Milad Tower.
Another feature of this year's festival was screening of films which had been banned in previous editions, including Colored in Purple (Ebrahim Hatami-Kia), The Fireman (Mohsen Amir Yousefi), and Payback (Tahmineh Milani). The reason behind banning these films will be discuss below. Some analysts maintained that festival officials adopted this policy to show that the festival was not stagnant, but such allegations were rejected by the officials. Of course, some banned films were screened on a limited scale while films like Nothing and The Fireman were only screened for journalists and critics. Judgment and film selection was another controversial aspect of the festival. Members of the film selection board were not creditable in film circles and judgments were surrounded by controversies. At first, renowned filmmakers like Ezzatollah Entezami, Asghar Farhadi and Abbas Kiarostami did not accept to judge the films. Secretary of the festival added to the festival's wonders by announcing that the names of jury members will be announced at the closing ceremony! Of course, their names were revealed in the middle of the festival. One of them, Fatemeh Goudarzi (actress) changed her mind later, thus, decreasing the number of judges to six, though an even number is not compatible with standards of judgment...
[Page: 68]
President & Publisher
Massoud Mehrabi

Editors:
Sohrab Soori
Translators:
Sohrab Soori
Behrouz Tourani
Zohreh Khatibi

Contributors
Saeed Ghotbizadeh
Mehrzad Danesh

Advertisements
Mohammad Mohammadian

Art Director
Babak Kassiri

Ad Designers
Amir Kheirandish
Hossein Kheirandish

Cover Design
Alireza Amakchi

Correspondents
E.Emrani & M. Behraznia (Germany)
Mohammad Haghighat (France)
A. Movahed & M. Amini (Italy)
Robert Richter (Switzerland)
F. Shafaghi (Canada)
B. Pakzad (UAE)
H. Rasti (Japan)

Print Supervisors
Shad-Rang
Noghreh-Abi
Gol-Naghsh

Subscription & Advertising Sales
Address: 10, Sam St., Hafez Ave., TEHRAN, IRAN
Phone: +98 21 66722444
Fax: +98 21 66718871
info@film-magazine.com

Copyright: Film International
© All rights reserved,
2023, Film International
Quarterly Magazine (ISSN 1021-6510)
Editorial Office: 5th Floor, No. 12
Sam St., Hafez Ave., Tehran 11389, Iran

Printed in Tehran
Publishing Date Spring 2010

*

All articles represent views of their
authors and not necessarily
those of the editors