Job insecurity in modern Italian cinema:
Please Hire Me!
by Anna Maria Motacchi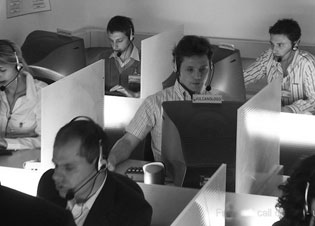 This article has been written by faculty member of Tehran branch of the Islamic Azad University who has been teaching Italian at the university since 15 years ago. She has published a collection of contemporary Italian poems entitled Scream of Swallows, which has been translated into Persian by Maryam Shoraka. The following, is English translation of one of her film articles which is about job insecurity and its negative consequences in the Italian society as well as its reflection in the Italian cinema.

It is difficult to believe that employment has been a major topic in the Italian cinema in recent years: predominance of comic genre and the number of filmmakers, who have made such films without common grounds, tends to dispel that idea. The issue of employment has been less of a subject in the Italian movies during the past decade considering that only a few of the Italian films have been noteworthy and most of them are commonplace works. There is no sign of talented directors like Ken Loach or masters of form and content like Laurent Cantet or a masterpiece like Costa Govras' The Ax (Le couperet, 2005). However, there are still few good films about unemployment which are rebelling against dominance of comedies and melodramas some of which are good enough to be watched to the end. The following focuses on this group of films.
The Italian cinema provided a good ground for socially committed films in 2008 by focusing on temporary jobs, especially at call centers which symbolize such jobs. In April the same year, an independent film, Good Morning Heartache (Anna Negri, 2008) was screened. It was about love and professional relations among young people who are trying to make a documentary film about temporary jobs. They have believed that they should make a film about predicament of contractual workers at any cost; not-so-young workers with family and children and many years of professional experience that still lack future prospects save for their contracts. Good Morning Heartache uses temporary jobs as an excuse to pay attention to modern concepts like critical relations among couples and other people. In March 2003, A Whole Life Ahead was made by Paolo Virzi which was a comedy about employees of call centers and young people grappling with problem resulting from occupational insecurity on the outskirts of big cities. They try to draw the attention of well-off viewers, who may want to see their favorite actors, to bitter social themes. The film, at least, raises the question as does a horrendous place like call centers really exist?
[Page: 52]
President & Publisher
Massoud Mehrabi

Editors:
Sohrab Soori
Houshang Golmakani
Abbas Yari

Translators:
Sohrab Soori
Behrouz Tourani
Zohreh Khatibi

Contributors
Saeed Ghotbizadeh
Mehrzad Danesh

Advertisements
Mohammad Mohammadian

Art Director
Babak Kassiri

Ad Designers
Amir Kheirandish
Hossein Kheirandish

Cover Design
Alireza Amakchi

Correspondents
E.Emrani & M. Behraznia (Germany)
Mohammad Haghighat (France)
A. Movahed & M. Amini (Italy)
Robert Richter (Switzerland)
F. Shafaghi (Canada)
B. Pakzad (UAE)
H. Rasti (Japan)

Print Supervisors
Shad-Rang
Noghreh-Abi
Gol-Naghsh

Subscription & Advertising Sales
P.O.Box: 11365-875,
Phone: +98 21 66709374
Fax: +98 21 66719971
[email protected]

Copyright: Film International
© All rights reserved,
2010, Film International
Quarterly Magazine (ISSN 1021-6510)
Editorial Office: 5th Floor, No. 12
Sam St., Hafez Ave., Tehran 11389, Iran

Printed in Tehran
Publishing Date Spring 2010

*

All articles represent views of their
authors and not necessarily
those of the editors