Film Photography in Iran:
Self-Made Professionals
by Ahmad-Reza Jalili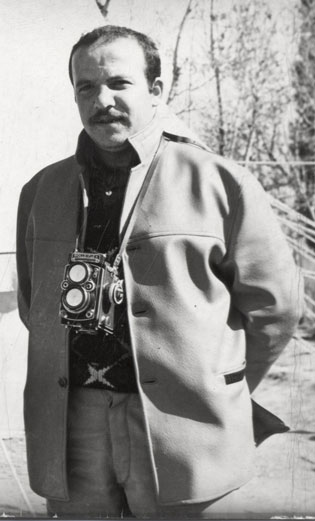 Still photography in Iran started almost concurrent with Europe. The first still photographs were taken at the time of Mohammad Shah Qajar, the third Qajar king; that is, in 1844 and depicted members of his royal court. Under his successor, Nasser-ed-din Shah, who was very interested in painting and photography, this technique further prospered.
Historians consider the French Jules Richard, who visited Iran in the middle of the 19th century, as the first still photographer of the country. He was followed by more European photographers from Austria, Italy and other countries. After a while, Nasser-ed-din Shah employed another French photographer in order to promote photography in Iran. Those who earned necessary skills after completing photography courses were called "Akkasbashi (Persian equivalent for still photographer)" by the royal court. Aqa Reza Akkasbashi was the first person to be called as such. Mirza Ebrahim Khan Akkasbashi was the main figure who continued to promote photography in a serious manner under the rule of Nasser-ed-din Shah's son, Mozaffar-ed-din Shah. After knowing about cinematography for the first time during his visit to France in 1899, Mozaffar-ed-din Shah ordered his photographer, Mirza Ebrahim Khan, to start cinematography in Iran. Mirza Ebrahim Khan bought two cinematography cameras from a French company, thus starting the Iranian cinema at the beginning of the 20th century.
"Photography is the first factor introducing a film." This description by a professional film photographer is perhaps the most concise way of explaining the status of still photography in cinema. This is true because the first step in knowing a film by viewers is usually through seeing its stills in print media or at the entrance of movie theaters. Sometimes, sample pictures help filmmakers to test the result of their work. However, this profession is usually like the fifth wheel of a coach in the Iranian cinema though in professional world cinema, still photography is one of the most efficient tools to promote a film....
[Page: 42]
President & Publisher
Massoud Mehrabi

Editors:
Sohrab Soori
Translators:
Sohrab Soori
Behrouz Tourani
Zohreh Khatibi

Contributors
Saeed Ghotbizadeh
Mehrzad Danesh

Advertisements
Mohammad Mohammadian

Art Director
Babak Kassiri

Ad Designers
Amir Kheirandish
Hossein Kheirandish

Cover Design
Alireza Amakchi

Correspondents
E.Emrani & M. Behraznia (Germany)
Mohammad Haghighat (France)
A. Movahed & M. Amini (Italy)
Robert Richter (Switzerland)
F. Shafaghi (Canada)
B. Pakzad (UAE)
H. Rasti (Japan)

Print Supervisors
Shad-Rang
Noghreh-Abi
Gol-Naghsh

Subscription & Advertising Sales
Address: 10, Sam St., Hafez Ave., TEHRAN, IRAN
Phone: +98 21 66722444
Fax: +98 21 66718871
info@film-magazine.com

Copyright: Film International
© All rights reserved,
2023, Film International
Quarterly Magazine (ISSN 1021-6510)
Editorial Office: 5th Floor, No. 12
Sam St., Hafez Ave., Tehran 11389, Iran

Printed in Tehran
Publishing Date Spring 2010

*

All articles represent views of their
authors and not necessarily
those of the editors