Economic report of the Iranian cinema in 2009:
A Year of Quantity
by Mohsen Beigagha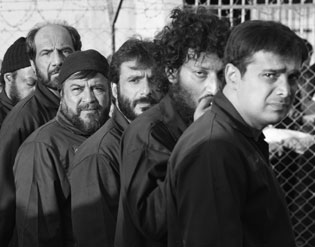 How good do we know moviegoers and to what extent can we claim that we control their choices? Who can claim that he knows the secret of blockbuster movies? It has happened time and time again that out of two films made by the same director, one has been a bestseller and the other one a failure. It is very difficult to know the movie audience. Perhaps, discovering a formula to predict box office returns of a film is more difficult, and of course more lucrative, than discovering the formula of Coca-Cola! Undoubtedly, if there were such a formula, producers would have spared to effort to get their hands on it.
When The Expelled 2 was screened in last year's edition of Fajr International Film Festival, it was snubbed by critics who considered it an unworthy film with indecent and even disgusting jokes. Therefore, they foresaw that box office return would be even less than its prequel, The Expelled 1. However, when the film was premiered at the beginning of the Iranian new year (starting March 21), Iranian moviegoers were more than enthusiastic to watch it. The enthusiasm was so hot that the film not only broke the record of the Iranian cinema by selling 3.75 million dollars and drawing more than 1.5 million people to theaters, but its box office success was three times that of The Expelled 1, which was an all-time record at its own time. The Expelled 2 sold so good that no other film is expected to catch up with it for many years to come. Of course, the role of state support in the form of frequent television teasers and billboard ads cannot be ignored. The good relationship that Massoud Dehnamaki, the film's director, had with the government allowed him to joke about Iran-Iraq war and instead of an epic and serious atmosphere, introduce jests and hilarious jokes to a war genre movie. Unprecedented sale of The Expelled 2 also proved that critics and elites had failed in shaping people's film taste and even negative political propaganda in the cyberspace against this state-sponsored director had no negative effect on the box office. The film was, of course, a blessing to the Iranian cinema as it reconciled people with theaters. Consequently, as many as seven million people went to theaters throughout the year and total box office revenues for the year were registered at the surprising figure of 18 million dollars (10,000 rials = 1 US dollar)...
[Page: 36]
President & Publisher
Massoud Mehrabi

Editors:
Sohrab Soori
Translators:
Sohrab Soori
Behrouz Tourani
Zohreh Khatibi

Contributors
Saeed Ghotbizadeh
Mehrzad Danesh

Advertisements
Mohammad Mohammadian

Art Director
Babak Kassiri

Ad Designers
Amir Kheirandish
Hossein Kheirandish

Cover Design
Alireza Amakchi

Correspondents
E.Emrani & M. Behraznia (Germany)
Mohammad Haghighat (France)
A. Movahed & M. Amini (Italy)
Robert Richter (Switzerland)
F. Shafaghi (Canada)
B. Pakzad (UAE)
H. Rasti (Japan)

Print Supervisors
Shad-Rang
Noghreh-Abi
Gol-Naghsh

Subscription & Advertising Sales
Address: 10, Sam St., Hafez Ave., TEHRAN, IRAN
Phone: +98 21 66722444
Fax: +98 21 66718871
info@film-magazine.com

Copyright: Film International
© All rights reserved,
2023, Film International
Quarterly Magazine (ISSN 1021-6510)
Editorial Office: 5th Floor, No. 12
Sam St., Hafez Ave., Tehran 11389, Iran

Printed in Tehran
Publishing Date Spring 2010

*

All articles represent views of their
authors and not necessarily
those of the editors