In memory of Ne'mat Haqiqi
Traveling toward Eternity
by Mehrzad Danesh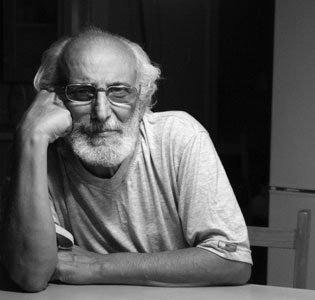 Apart from few exceptions, standard and creative cinematography was lacking in the Iranian feature films made up to the early 1960s. Cinematographers were just simple technicians who were required to produce clear pictures. Therefore, cinematography was not an art, but a technical job. Ne'mat Haqiqi was one of the pioneers who put an end to that situation and turned cinematography into an art. When choosing the most memorable film pictures in Iran, both before and after the Islamic Revolution of 1979, an important selection will come from films in which Haqiqi was cinematographer or director of photography. He lost a long battle to a chronic disease on April 28, 2010. His death caused great sorrow among filmmakers as he was a kind person in addition to being master of cinematography and many Iranian stars wept in his funeral. Many writers and artists wrote memorial notes in various periodicals.
Ne'mat Haqiqi was born 71 years ago and like most pioneer filmmakers, started his film career at movie theaters. The high school where he studied was close to Laleh-Zar Street (which was a hub of film industry of that time where many movie theaters were located). Therefore, it was a short distance from his school to a host of major movie theaters. As a young boy, he became so interested in cinema that decided to make it his profession. He dropped out of school, bought a camera and took photos of different places as his first experience in arts. He says, "After leaving school and at an age of 16, I started to take photos of flowers, candles and birds; I also took photos of houses, people and buildings. At 17, I was helping my father to make a livelihood. I was introduced by one of his friends to Farrokh Ghaffari; one of few educated filmmakers of that time who made two impressive social films in the 1950s. Ghaffari had just arrived from abroad and planned to form a group. Since he knew nobody, he chose his colleagues through friends. I met a cinematographer at Ghaffari's office whose name was Nasser Raf'at. I started my career as cinematographer with him under conditions when I knew nothing about it." ...
[Page: 27]
President & Publisher
Massoud Mehrabi

Editors:
Sohrab Soori
Translators:
Sohrab Soori
Behrouz Tourani
Zohreh Khatibi

Contributors
Saeed Ghotbizadeh
Mehrzad Danesh

Advertisements
Mohammad Mohammadian

Art Director
Babak Kassiri

Ad Designers
Amir Kheirandish
Hossein Kheirandish

Cover Design
Alireza Amakchi

Correspondents
E.Emrani & M. Behraznia (Germany)
Mohammad Haghighat (France)
A. Movahed & M. Amini (Italy)
Robert Richter (Switzerland)
F. Shafaghi (Canada)
B. Pakzad (UAE)
H. Rasti (Japan)

Print Supervisors
Shad-Rang
Noghreh-Abi
Gol-Naghsh

Subscription & Advertising Sales
Address: 10, Sam St., Hafez Ave., TEHRAN, IRAN
Phone: +98 21 66722444
Fax: +98 21 66718871
info@film-magazine.com

Copyright: Film International
© All rights reserved,
2023, Film International
Quarterly Magazine (ISSN 1021-6510)
Editorial Office: 5th Floor, No. 12
Sam St., Hafez Ave., Tehran 11389, Iran

Printed in Tehran
Publishing Date Spring 2010

*

All articles represent views of their
authors and not necessarily
those of the editors