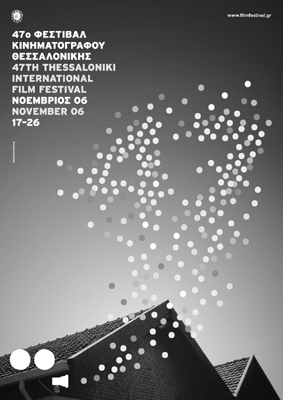 History – Thessaloniki, which is second in significance among Greek cities after Athens, stands on the easternmost part of Europe on the dividing line between Europe and Asia and is an important city due to its geographical situation. The downfall of the Macedonian Empire; occupation of various Greek cities, including Thessaloniki, by the Ottomans; as well as freedom-seeking struggles against fascism, Nazism and the dictatorship of generals a few centuries later, have created special conditions for people of this region during the past centuries and decades. Thessaloniki, as the most important cultural center in Greece which dates back to 3,000 years ago, reflects those historical ups and downs both in terms of people's customs and traditions, and in view of economic, social and cultural conditions. That reflection is evident in symbolic and beautiful expression of Nikos Kazantzakis in his book, Report to Greco, who believes: "I don't think that the two symbols of perfection, Ares and Aphrodite, have been blended so meaningfully elsewhere as the pure and the happy land of Greece."
Background – Thessaloniki International Film Festival (TIFF) is the oldest film festival of Greece, which has been held internationally since 1992 and has gone through a tortuous path. The festival was born about half a century ago called, "Week of Greek Cinema" and aimed to support the national cinema of Greece. The week of cinema gradually evolved into an important arena for introducing prominent Greek filmmakers. Theodoros Angelopoulos won the best prize of the 11th edition of the festival (1976) for his first film. A year later, he won the best director's prize for his second film. The support offered by the festival for new filmmakers created a sense of competition which promoted the quality of the Greek cinema. Of course, in some years, it led to conflicts between the new and traditional filmmakers. The 1970s witnessed prosperity and rebirth of the "New Greek Cinema". The Greek Film Center was launched in the early years of the said decade and helped further prosperity of the festival. In spite of the support from the socialist government, which came to power in 1981, that led to joint productions with other countries, due to various reasons including lack of people's enthusiasm for Greek films and cinema, film production began to decline. During those years, Thessaloniki Film Festival was the main event that kept the Greek cinema alive.
Thessaloniki International Film Festival (TIFF, which should not be mistaken for Tokyo International Film Festival, Toronto International Film Festival or Tiburon International Film Festival !) has grown considerably over the past years as the most creditable cinema affair in Balkan region. Much of that growth was owed to endeavors made by previous managers of the festival, whose job has been followed by the current managers. TIFF, with its many awards and diverse sections, both discovers new talents and plays a great role in introducing the world's top movies to Greek audience. The section for reviewing the works of creditable filmmakers, which is accompanied with publication of a books about them and their works, is world-famous. TIFF is the first festival to have arranged a review of Kiarostami's cinema in 1992 (which was held in a more complete format in 2004). Since the festival went international, the Iranian cinema has enjoyed a superior position. A review of Mohsen Makhmalbaf's works, presence of such Iranian filmmakers as Abolfazl Jalili and Niki Karimi among the official selection, arranging five seminars on "Women in the Iranian Cinema" which have been attended by five prominent Iranian actors, screening important Iranian films in a section called "Treasures of the Iranian Cinema", organizing an exhibition showcasing 170 photos from major Iranian still photographers themed "Iranian Look", annual participation of new Iranian movies at international competition section and other sections, as well as winning important awards of the festival by the Iranian cinema indicate deep-rooted cultural ties between the two ancient nations that have forgotten the exhausting wars of past centuries, especially the damage done to the Iranian civilization by Alexander the Great. Today, festivals are crossroads of human culture and civilization and it is not important whether their award is called "Alexander" or "Olive Branch".
Structure – At present, a budget of about 3 million euros is needed to produce a film according to the European standards. That figure constituted the whole money that was allocated to TIFF during the preceding and the current years. Although, big and small sponsors play a big role in prosperity of the festival, it is the main budget of the festival that determines its scope and latitude of the organizers. More money is spent on festivals that are counterparts of TIFF. Karlovy Vary's budget has amounted to 5 million euros during the past five years while Locarno has claimed slightly more. Even the budget allocated to a less known and uneventful festival like Dubai Film Festival, which was held on December 10-17, 2006; stood at about 5 million euros. This comparison would not simply show that TIFF impresses its audience more than an European film (which is true), but in view of various sections of the festival, the conclusion is that Thessaloniki Film Festival is programmed and managed skillfully despite its not-so-generous budget. The main forte of TIFF is that its budget is not wasted on glamour, red carpet or extravagant invitation of costly stars whose presence is usually limited to a few memories, photos and autographs.
A glance at the diversified sections of this year's festival indicates interesting and effective planning. The official section is the main section of the festival, which is allocated to the first and second films made by aspiring young directors from across the globe. Films selected for this section are usually screened in such subsections as competition, out-of-competition, and special screenings. The Golden Alexander Award (which is worth about 37,000 euros) as well as the Silver Alexander Award (which is worth 22,000 euros) is given to selected films and directors. The jury of FIPRESCI judges films screened in this section and chooses a movie as the best. Since there are many other festivals that are willing to screen first and second films of creative directors and also enjoy similar sections, it is difficult for organizers of TIFF to find suitable films for this section that have not been screened anywhere before.
Balkan Survey is another section of TIFF, whose thirteenth edition was supervised by Dimitris Kerkinos this year. Due to geographical location of Greece, TIFF is more than willing to become a hegemonic cinema current among Balkan countries. Other festivals also take a similar approach. For example, Spain's San Sebastian Film Festival is very interested in the Latin American cinema or Sweden's Goteborg Festival eyes the whole Scandinavian cinema. Based on this viewpoint, each year films from Albania, Croatia, Romania, Serbia, Bosnia and Herzegovina, Slovenia and Turkey are screened in TIFF.
Tribute to Nuri Bilge Ceylan, the different and prominent Turkish filmmaker, along with screening one short and four long films in addition to an exhibition of his photos was part of Balkan Survey section. Special attention paid to the Balkan cinema was not limited to Ceylan's films. In the section called Balkan Fund, which is part of the Coordination Scheme of European Funds and is also supported by some institutions and foundations and was held in the midst of the festival for three days, out of 12 selected screenplays and projects, four were allocated a budget of 10,000 euros. A five-member special jury examined the projects. The festival's attention to Balkan cinema was also evident in publishing a book titled "24 Frames: The Balkans," which was edited by Dina Iordanova", a 2,000-euro prize awarded by the audience to their selected movie, as well as the Conference on European Screenwriting.
Paying homage to the Brazilian and Chinese cinemas was another section of this year's TIFF. "New Cinema from China: Another View" was supervised by the British critic, Derek Elley. Films that were screened in that subsection delineated an interesting picture of the Chinese cinema of the past three decades. In the section for paying homage to the Brazilian cinema, 18 films, which were made between 1965 and 2005, were screened including works by Nelson Pereira Dos Santos, and Marcelo Gomes. After "The Official Selection", the "Independence Days" is among spectacular and popular sections of TIFF. This section aims to have a special look at the works of independent filmmakers of the world. Although the terms "independent" and "independent filmmaker" seem to be meaningless now, films can still be found whose directors have worked with more (if not complete) independence. In this section, in addition to special attention to certain films (including Gus Van Sant's first feature, Mala Noche, which he made as an independent filmmaker in 1985) and such filmmakers and artists as Jan Svankmajer, Jim McKay, and Sissako Abderrahmane, a total of 40 films were screened. Also, the 15,000-euro special Human Values Award was given to the section's best film for the second consecutive year.
Wim Wenders has attended Thessaloniki International Film Festival on several occasions. This year was a good opportunity for his fans to watch 27 of his films from The Scarlet Letter (1972) to Don't Come Knocking (2005). Wenders, who is a favorite filmmaker of our generation, would have enjoyed the same lofty position that he now occupies in the history of cinema, even if he had not made anything apart from Paris, Texas (1984), and Wings of Desire (1987). Apart from review of Wenders' works, an exhibition of onstage and behind-the-scenes photos of some of his films, including his last four films whose photos were taken by his own wife, Donata, was held at the Museum of Photography themed "Still Images of Moving Pictures". Apart from photos of Don't Come Knocking and few photos from Land of Plenty, which were showcased for the first time, other photos had been already displayed at different publications, websites, and exhibitions. Perhaps this should not give rise to criticism, but presentation of some photos in the form of low-quality prints did not match the elegance of the exhibition's frames, which were more beautiful and eye-catching than the photos.
Like an endless story, there is still more to be said about various sections and subsections of the festival. Agora is the name of Thessaloniki's film market, which was held for the second straight year at Industry Center. Films made by cinema students were screened in a one-day section called "The Salonica Studio". In another section called "Focus: Teenage Lust/ Teenage Angst", eight long and 4 short films made by directors with new ideas were screened. Apart from paying tribute to Ceylan, Svankmajer, Donata, and Wim, an exhibition of works of Eva Sussman was held by Culture Department of Municipality of Thessaloniki. In the second edition of crossroads section, which was held over three days, attention was paid to financial and technical organization of 15 projects that had been chosen out of 50 projects. Homage was paid to Wenders, Chen Kaige and a group of prominent Greek filmmakers and they were awarded honorary Golden Alexander awards. There was also a section on the Greek cinema, which was a complete festival of new and old films.
So much time is needed to explain about the Greek cinema that other sections should be forgotten. Some 18 long narrative films, four documentaries and a number of award-winning short films were screened at "Greek Films 2006" section. In Greek Tributes section films made by Stavros Tsiolis and Dimos Theos as well as a number of other films were screened in two subsections themed "immigration in Greek Cinema" and "Spotlights". Add to that the Digital Wave movies in addition to the happy and yet sorrowful dance of Zorba the Greek, which is still going on.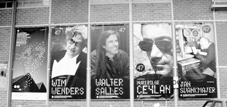 Search – Film festivals are often like a banquet. What makes such banquets glorious is films that are served as healthy food; films that cheer up the audience and make them review the movies in their minds time and time again and revel in discovering artistic moments. If the viewer is a film critic, those films will get him off writing something to share his joy at watching the film with others. Certainly, I do not mean cheerful films with stylish stories and happy endings, which are meant to entertain the audience. If film noirs contain a new and artistic expression as well as powerful structure, then they will be impressive too.
During 8-9 days that I attended the festival, I watched three to five films per day. Most of those films were screened at the competition section but I also watched some films at other sections. I did not see a film that would deeply touch the viewer. At best, they were simply worth watching and provoked one's feelings. I entered the theater every day in the hope of making a big discovery out of filmmakers who had presented their first or second films. I wished to be driven in such euphoria by watching a good film that I would walk all through Thessaloniki on foot and double my pleasure by looking at magnificent sun and mind-provoking clouds hovering over the beautiful Mediterranean. But alas! Professionals know what an ordeal it is to watch three to four disappointing films per day!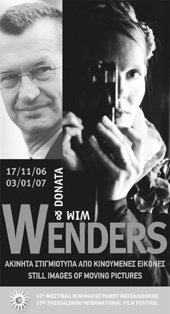 Instead of watching those films, I could have watched films made by famous directors at other sections. There were famous movies at "special screenings" and "Independence Days" sections and sections on the national cinemas of Brazil and China. You could even give up the search for new discoveries and sit down watching wonderful films of Wenders. However, you can always see those films even on a DVD at your own home.
Participation of such films at Official Selections section was not the result of a mistake by festival's organizers. The bitter reality is that there are few lasting films these days. How many directors like Andre Zvyagintsev are found each year, who can fascinate fans of artistic films by his first feature film, The Return (2003)? On the other hand, will such festivals as Cannes, Venice, and Berlin allow those films to be screened for the first time at an event like TIFF? What remains would include movies that are made for the first or second time by their directors who have simply made different films and not lasting ones. Experience has shown that most of those filmmakers are not able to continue an evolutionary course in their next films. They will either repeat themselves or, at best, are attracted to commercial and popular cinema. There are many examples among the Iranian filmmakers who can be generalized to other countries; directors who exhaust all of their capabilities, novel ideas, dreams and zest in their first or second films and have nothing more to say in the subsequent films. There are even some Iranian directors who have won the Golden Camera Prize (Camera d'Or) of Cannes Film Festival or major prizes of other festivals with their first films only to make disappointing movies afterwards.
Interestingly, unlike the new generation of filmmakers, most great directors like John Ford, Alfred Hitchcock, Jean Renoir, Robert Bresson, Ingmar Bergman, and Akira Kurosawa lacked academic film studies and made their movies for the lay people, not for intellectual circles. A glance at the track record of directors whose films have been screened at international competition section would reveal that most of them including Julia Loktev, Gerardo Naranjo, Slawomir Fabicki, and Tariq Teguja have learnt filmmaking at cinema schools. It is not bad for a beginning, but we should not forget that "you can learn the art, but you cannot learn to be an artist".
Films – The interesting and positive point about films screened at the competition section is the way they have been selected. Perhaps different people have selected them out of hundreds of movies, but all of them have been certainly unanimous about the themes. Self-alienation, unrest, failure to achieve one's goal, inability to establish relations with other people, demise of human emotions, philosophical disillusionment… are major motifs of 14 films at the competition section.
Thicker than Water (Arni Olafur Asgeirsson) from Iceland tells the story of a destructive crisis which is ravaging a couple's life. Petur and Asta are living a happy life. When they are expecting their second child, Petur understands through a mishap that happens to his son, Orn, that the boy's blood group does not match his own; that is, Orn is not his real son. Petur leaves home and tries to sink his sorrow in alcohol. However, Asta insists that she has not been unfaithful to Petur. Finally, it transpires that no disloyalty has occurred and the phenomenon is of a genetic origin. Although Petur has been unfaithful to Asta during their estrangement, he returns to their common life, which is now overshadowed by doubt and suspicion. The saddest part of the story is that the main damage is done to the innocent Orn.
Thicker than Water is entertaining as a good telefilm, but as a movie, it is only an ordinary film. Although the director has studied at Lodz cinema school, his film is full of imitations. For example, when Orn leaves the nocturnal family party at the end of the film to go home, the rain that hits the car's windshield is a clear reminiscent of famous sequence of In Cold Blood in which rainfall on the windshield symbolizes the internal sorrow that the character feels.
Back Home (Rabah Ameur-Zaimeche) is an intellectual film made by a French filmmaker of Algerian stock; one of those films that are an amalgamate of repression of eastern women, rotten traditions, cultural backwardness, reactionary ideas and a declining society in addition to some pictures of tourism attractions and exotic scenes that are more useful to deceive the western film viewers. In such films, the protagonist returns home from the west to introduce new plans as a savior. Kamel is protagonist of Back Home who is deported from France after leaving prison and goes back to his homeland, Algeria. During his exile, he observes a turbulent society, which is torn apart between modernization and traditional ideas of its ancestors. As usual, such films run on a slow pace. Now and then the director tries to startle the audience by showing a strange scene like beheading a cow in front of the camera and the long scene of blood flowing from its neck. Making such films cannot help a society like Algeria and will also damage the dialogue among cultures. The feeling that such films arise in the western audience is a combined sense of sympathy and hatred for people living in developing countries.
Day Night Day Night (Julia Loktev) has focused on a sad and hectic subject of recent years; that is, suicide attacks. An unknown 19-year-old girl is preparing to launch a suicide attack at Times Square of New York. Her nationality cannot be determined and we never know why she has made such a decision. We are also not informed about her beliefs and we only know that whatever they are, she firmly believes in them. As put by director in the festival's catalogue, the film is somehow inspired by a story printed in a Russian newspaper and is also inspired by the story of Joan of Arc. The main positive point of Day Night Day Night is that the subject is not restricted to specific people or places. While showing the details of such operations, which has never been recorded in any other film before, the film does not condemn anybody. It targets the criminal operations itself and condemns human proclivities. The girl's desperation when she pushes the explosive button several times but it does not go off along with slow motion movement of hands of people who are supposed to be torn apart by the bomb is one of the most memorable and breathtaking scenes in cinema. It is similar to the famous sequence of Alfred Hitchcock's Sabotage in which a young boy carries a time bomb. Selection of Times Square of New York as the location indicates the director's intelligence, because that square is a common place for anti-war demonstrations by the American people. Julia Loktev shows through this film that she is a talented and promising filmmaker. She had already made a long documentary called Moment of Impact, which has brought her many prizes including the best director prize of Sundance Festival and the best film prize of Karlovy Vary.
Drama/Mex (Gerardo Naranjo) from Mexico is like most other Latin American movies of past years which depict poverty and depravation of the young generation. The film consists of short stories about a suicidal old man, a fugitive 15-year-old girl, a young couple that are going through the angst of their tragic separation, as well as a small-time young thief who connects other characters. The whole story occurs in 24 hours in Acapulco when it was a flamboyant port city. Although The Last Attack of the Beast, which was presented as Naranjo's thesis, has been screened in many festivals and has won the best prize of Directors Guild of America in 2002, Drama/Mex is devoid of the appreciated innovations which this director is known for. The film neither contains major flaws, nor creative scenes. It is a commonplace film that tells its story without stammering. Handheld cinematography, which has become very popular, as well as grainy scenes of the film are not good choices for such a movie.
On a Friday Afternoon (Mona Zandi Haghighi) which was screened on a Friday afternoon by talented organizers of the festival, was reminiscent of films made by new generation of the Iranian filmmakers. Although Zandi has already made few short films and edited three feature films, she has gained most of her experience as assistant of Kiyanoush Ayyari, the prominent Iranian filmmaker. Most of Ayyari's films focus on social themes through a realistic approach. This is also true about Zandi's first feature, On a Friday Afternoon. Sogand, who had fled home many years ago, is leading a difficult life along with her 15-year-old son, Amir. The conflicts between Sogand and Amir have made the latter a rebellious youth. On the other hand, Banafsheh, the younger sister of Sogand is trying to find her sister and take her to see their dying father. Confrontation between Banafsheh and Sogand makes an impressive scene especially that after her sister's insistence, Sogand reveals a secret that deeply touches the viewer after witnessing all that woe. Sogand tells her sister that she fled home 16 years ago after being raped by her uncle and has given in to a hard life and imprisonment just to save her family's face. The film's story is considered taboo in Iran's traditional society. Iranian viewer would easily know that if Sogand had revealed her secret at that time, she was sure to be killed.
Impressive performances, especially that of Mehrdad Sediqian, the young boy who has appeared as Sogand's son, play a great part in transmitting the bitter tone and sense of the film. Interestingly, Sediqian has had no acting experience and has been chosen out of hundreds of applicants through an advertisement. After appearing in his second film, The Night Bus, he has become one of the most wanted Iranian actors.
Like On a Friday Afternoon, Retrieval (Slawomir Fabicki) was one of the good films of the festival. Fabicki has already made a number of short films, one of which (A Man Thing) was nominated for Academy Award of the live action short film category in 2001. Retrieval enjoys a suitable structure with a powerful storyline. The film is full of details that are not flaunted at viewers. Therefore, it is a multilayer film which will be construed by every viewer according to their knowledge and understanding of cinema and will be a pleasing experience with most viewers. A 19-year-old young man called Wojtak is in love with a Ukrainian woman, Katja, who is several years older than he. Wojtak gets involved in underground activities to help her and her young son naturalize in Poland. Before long, he is deep in illegal boxing matches and is surrounded by small-time gangsters and a collection agent who is harassing him. Raised as an orphan, Wojtak lives in a poor neighborhood. The more he tries to improve living conditions of Katja and her son, the more he goes down in vise. Ultimately, Wojtak has no choice but to sacrifice his life to get rid of the horrendous world around him. There is a river in the film which symbolically flows through the world of Wojtak's sufferings and dreams. In a scene, his grandfather tells him, "If there were a bridge over the river, you could be at home in five minutes." At the end of the film and after killing the collection agent, a mortally wounded Wojtak throws himself into the river in order to cross it. The film slides into slow motion up to the fixed picture at the end, which depicts a situation between the Hell and Paradise that extends into eternity.
Rome Rather than You (Tariq Teguja) is another Algerian film which tastes of French snobs. The film's story is a threadbare cliché: a silent war has been going on in Algeria for more than 10 years. There is no sign of battlefield, but more than 100,000 people have been killed. A young couple, Zina and Kamel (yet another Kamel!) have decided to leave the country, but they have no passport or visa. They roam in the streets of Algiers and its suburbs to find Bosco, a sailor who smuggles travelers into Europe. However, it is not easy to find him and this is no surprise. If he were easy to find, how could the director drag out the film for 111 minutes to push the viewers to extreme boredom? If wasting the viewers' time is a crime, then Teguja is a first-rate criminal.
Many films are made which follow a slow pace to depict futility of worldly life. There are also films that despite their slow external pace enjoy a powerful and pounding internal rhythm. Rome… does not belong to either of the two categories. At best, it is a lame caricature by an amateur. In this film, the camera only observes the scenes just like an idle person who is standing by and watching. A few of the film's characters enter the scene and stare at a point for a long time. Then, as if they are talking to ghosts, they utter few political and quasi-philosophical sentences and continue to stare at an uncertain point. The scene is then cut to the next scene which is nothing but the continuation of a meaningless idleness. The film is so unconventional which cannot be forgotten as an unpleasant experience. If this has been the original goal of the director, he has been greatly successful. Few viewers who could put up with this unpleasant experience to the end left the theater with a sense of being deceived. Awarding "Everyday Life: Transcendence or Reconciliation" prize, which is worth 15,000 euros, to this film was a surprising incidence in this year's TIFF.
During Christmas time, television networks usually air those movies that are related to the occasion one way or another including films that contain a little sorrow and poverty combined with love, compassion and generosity. Riding up Front (Markus Herling) was one of those films. On a Christmas Eve in Berlin, a group of people who do not know one another meet quite accidentally. Elke is a single mother who is barely alive, but decides to give, at least, one treat to her children at a restaurant. Werner meets his father once a year on Christmas. Alwin is just back from acting audition and has spoiled the test. Otto is a subway driver. Joseph is going through hours of psychotherapy. Wiener dresses as Santa Clause and robs stores while expressing wise and witty remarks. Riding up Front is, on the whole, an entertaining film and its happy ending attracted people both on television and in theaters. Although the film comprises a number of subsidiary stories, the director has been able to build a consolidated whole by using suitable rhythm and editing.
The most striking element in Suely in the Sky (Karim Ainouz), a joint production by Brazil, Germany, Portugal, and France, is outstanding cinematography by Walter Carvalho. Selection of suitable and beautiful frames, especially in external scenes, realistic lighting at night and preserving the rhythm of camera movements in all sequences are among prominent features of the film. The Artistic Achievement and FIPRESCI awards were apparently given to the film for its superb cinematography, rather than for the story, which was by no means novel. The story is the old tale of girls who are deceived and forsaken most of whom end up prostitutes. The young and beautiful Hermila, holding her child in her arms returns to her small hometown from Sao Paulo. She is waiting for her husband to comeback and make a better life for them. However, his unfaithful and irresponsible husband does not show up. Hermila knows that she will not have a promising future in her own small hometown. She chooses Suely as her pseudonym and despite insistence of her old boyfriend who is still willing to live with her, she lives the town toward an uncertain destination. Although Ainouz retells this repeated story in an artistic manner, it cannot be considered a different movie due to lack of distinction with other social films that are made in Brazil.
The Point (Joshua Dorsey) from Canada is a relatively good film which, in the best, can rank among medium works of Hollywood. Compared to other ineffective Canadian films, this is somewhat a bold film and depicts a different picture of the outwardly calm Canadian society. The story pertains to a district in a multiracial city and the director claims that it has been made on the basis of the real life of its adolescent actor. The life of the actor shows how he is surrounded by illicit drugs, rape, felony, and crime. Due to bitter tone of the director, which is present all through the film, its happy ending does not seem probable. Although the number of times that "F word" is uttered has few parallels among feature films, it contains practical warnings to the Canadian families.
Soul Kicking (Yannis Economidis) and Pink (Alexander Voulgaris) were Greek films of the competition section. Soul Kicking is a commercial film with a social motif while Pink is a semi-intellectual film. Although both films enjoy relatively good structures, they are not good representatives for the Greek cinema considering its remarkable record and memorable films. Anyway, the board selecting films for the competition section has had good knowledge of the Greek cinema and the two films have been probably the best choices out of one-year productions of the Greek cinema. The main irritating point about Soul Kicking is the clichéd picture of villain characters. The time for stereotyped bad men whose appearance indicates their villain character ended many years ago, at least, after production of Godfather movies.
The main advantage of Soul Kicking over Pink is that it could, at least, attract more viewers both at theaters and on television. Pink, however, failed to do that despite all the showiness and bravado. The summary plot of Pink, as mentioned in festival's catalogue is much more attractive than what you see on the silver screen:
"Vassilis Golis is afraid of growing up. Snezana Tkatchenko is afraid of understanding. Sakis the Movie Star is afraid of feeling. Emily the Irish girl is afraid of starting over. Lauren the Wife is afraid of admitting. Agne, the teacher, is afraid of living… Father is afraid of speaking. Mother is afraid of coming back."
With all those fears in mind, what we should do when the director poses as a wise teacher or a great thinker and buries us under a heavy load of wise words, which are in practice, meaningless?
"I am tired of looking at sinners."
"There are times that I feel so ugly, Snezana."
"While I'm dying I want to be listening to a stupid love song."
Do you know where Kuala Lumpur is? It's the capital of Malaysia."
The main artistic distinction of the film is small maquettes of the film's locations that usher in every scene. A Persian proverb says "one flower does not bring spring." What can be said about this film is that repeating James Joyce's name does not make it an intellectual film! Despite the two Greek films of the competition section, the documentary Live at Kyttaro – Rock'n'Roll made by Antonis Boskoitis greatly exhilarated me. I happened to watch the movie due to a change in the schedule and caught a terrible cold to see it! I had five minutes to get to the Olympion Theater. I ran all the way and was drenched in sweat when I got there. When I reached the theater, a long line of people had extended into the street. A cold wind was blowing and the film was screened after a delay of 45 minutes. The result was a combination of cold and rock'n'roll.
Live at Kyttaro – Rock'n'Roll is a short film of 63 minutes, but its scenes and sequences outstrip feature films. Black and white pictures and rapid rhythm of the film, which is suitable for such a theme, will stir a sense of nostalgia and vitality in viewer. Apart from that pleasant feeling, the film looks at political problems of Greece from early 1970s up to the end of that decade and shows how rock music worked against dictators who ruled the country during those years. The Greek rock music was born in early 1970s. The Greek youth were already familiar with other types of music introduced by Bob Dylan, Frank Zappa, and Jimi Hendrix and had seen how Greek traditional music blended with new forms of electronic music. Drawing on rare archive pictures, dramatization, and the viewpoints of Greek artists who introduced the modern Greek music in early 1970s, the film depicts how rock music was born in such places as Rodeo and Kyttaro. Antonis Boskoitis has done a great job. Interviews conducted by tens of Greek musical artists in addition to rhythmic editing have made it unique. The video clip structure of the film and the satire that flows through it made viewers dance at the theater. For Greeks who love music, the film was like a memorial book whose every page was reminiscent of joys and pities.
In selecting films for various sections, TIFF has overemphasized on filmmakers who had already won prizes from other creditable festivals and elsewhere. Kythera and Widows on Monday, which were screened at out-of-competition section, were among those films. Although Péter Mészaros, Hungarian director of Kythera, had already won the Golden Palm of Cannes in 2003 for his short film, After Rain, and the German director, Ulrich Kohler, had won many prizes for his first film, their films like many other films that were screened in the competition section were not something different.
Fireworks Wednesday (Asghar Farhadi) from Iran was one of the best films that I watched in the special screenings section. The film had already won the best film prize and special audience price of International Fajr Film Festival in 2005. It was welcomed by people upon public screening and critics wrote many positive accounts on it.
Despite being more conservative compared to radical movies made by the new generation of Chinese directors, The Road (Zhang Jiarui), is an entertaining film. Jiarui has attended to political developments in China during the past four decades through depicting the life and adventures of a bus driver. His jokes with Mao's statue make up one of the most attractive scenes of the film.
A Crime (Manuel Pradal) from France vacillates among noir, thriller, and melodrama genres. It is very similar to films made in Hollywood and is somehow reminiscent of Martin Scorsese's Cape Fear.
Dreams May Come (Xu Jinglei) is a disappointing film on film by Ms. Xu, the famous Chinese actress. She took part at San Sebastian Film Festival with Letter from an Unknown Woman some two years ago, which was an impressive film and won the Best New Director award. All sequences of the film, apart from the closing sequence, have been shot in a single room using two actors (one of whom is herself). She has done her best to make a different film, but the film, especially the weak finale, is a step backward in her track record.
The unconventional film, The Fountain (Darren Aronofsky) from the United States, turned out very ridiculous despite all the prior praise for the director. The film's special effects have greatly harmed it despite all the effort that has been made to make them look grand. The wish to find the fountain of eternal life is rooted in Greek, Iranian, and Chinese myths. There is no need to the magic word "abracadabra" or intergalactic travel to tell such stories. Watching Stalker (Andrei Tarkovski – 1979), The Fountain is whose watered down version, would make us believe that the fountain of everlasting life is as close to us as possible; inside of us.
Master Class –Sessions held at John Cassavetes Theater themed "Master Class" were the most interesting part of TIFF; even more interesting than various movies and ceremonies. This year, Wim Wenders, Walter Salles, Chen Kaige, and Constantin Casta-Gavras were among prominent filmmakers who took part at the sessions. I did not attend Casta-Gavras session, but I traveled with him from Milano airport to Thessaloniki. He is a very pleasing and witty person. His witty remarks make you laugh beyond yourself like the court scene in The Confession. I admitted that, as students, we were used to charge him with many things after watching Z and State of Siege. We considered him a CIA agent. He said, "It was not solely the Iranian students who thought like that. Many Greek and French students thought along the same lines. You were all right. The main problem was that checks written by CIA for me were never liquidated and always bounced back!"
Chen Kaige's session was not very interesting. The long journey from Beijing to Rome and from Rome to Thessaloniki, where he arrived just a few hours before the session, had made him groggy and tired. The interviewer also did not ask new questions and most questions were about how the films were made about which we had already read and heard a lot. Of course, there were some interesting points in what Chen Kaige said: "I was raised in poverty. I spent four years in the army and also played basketball. I was interested in making films since childhood. I promised myself to make my own dreams as a director. However, dreams do not always come true. I like to be a writer because you only work with pen and paper. You should be concerned about many people and many things when making a film. A film should first touch people's hearts. Cinema is like the church; where we cry, ask for forgiveness, absolve ourselves, and wish for a better world. I no longer enjoy living in Beijing. It is no more my old and lovely Beijing. Many high-rises have mushroomed and traditional architecture is vanishing. This is a tragedy. I do not necessarily work with professional actors. I work with everybody who suits my purpose. There are one million Chinese in Beijing who think they are movie stars. Well, there are few good actors among them! I do not make films to be welcomed in Cannes Film Festival. I try to do a good job. It may or may not be later appreciated in Cannes or somewhere else. If I use western, rather than Chinese, music in my films it is because of the Cultural Revolution in China, which forced us to listen western music in private and, like it or not, I have got used to that music."
The most enthusiastic and informative Master Class session was that of Wenders and Salles about road movies. It could be guessed beforehand that the session would be sincere but confrontational. Wenders and Salles follow two different ideologies which are totally reflected in their works. The leftist ideas of Salles are evident in his films while Wenders' attitude to the society and the world paves the way for non-socialistic interpretations. Even shoes worn by Wenders in the session were much more expensive than shoes and simple clothes worn by Salles!
Quotes from their debate:
Wenders: "Road means cinema. We write with our cameras and our writing aims at better understanding the world. I called the character of Paris, Texas Travis to remind us of traveling. Road is the greatest teacher of all, the greatest giver of lessons. The road is the best gift that people give to themselves. Every journey is an escape. Road movies are escape cinema."
Salles: "Roads are the main characters of road movies. Every road has its own screenplay without any need to décor or fictional characters. Road movies are equivalent of documentary cinema."
The session took two hours during which short footages of both directors' movies were screened as proofs to their claims. Part of their debate will follow this report.
Closing Ceremony – The ceremony was supposed to start at 20:30, but it began after a delay of 20 minutes. The old and fashionable Olympion Theater, which can accommodate only 700 people, was not suitable for the closing ceremony. If all those who were involved in organizing the festival including managers, hundreds of organizations, institutions, and sponsors as well as the city's dignitaries were to take part in the ceremony, there would not be enough space even for the jury and those who were supposed to dispense and take the awards. However, the ceremony was carried out in good manner.
The jury of the competition section included Christine Vachon, producer and a vanguard of the American cinema as jury's president; Pierre Rissient, the French director, distributor and film consultant who is well known to Asians, especially the Iranians; Katia Lund, the Brazilian director, screenwriter, and producer, who is mostly known for joint directing of City of God along with Fernando Meirelles; Diego Galan, a film critic who has been managing San Sebastian Film Festival for many years and is now an advisor to the festival's managers; Mogens Rukov, screenwriter and university lecturer from Denmark, whose name is tied to Dogma Movement; Xu Jinglei, the Chinese actor, director and producer; as well as Lefteris Voyatzis, who is one of the most important artists of Greek stage plays and cinema.
I was no lucky enough to watch Kim Tae-Yong's Family Ties who won the festival's best feature film award. However, considering other awards, the judgments were quite fair.
The Awards:
Best Feature Film – Golden Alexander (37,000 euros), Family Ties by Kim Tae-Yong (South Korea).
Special Jury Award – Silver Alexander (22,000 euros), On a Friday Afternoon by Mona Zandi Haghighi (Iran).
Best Director: Slawomir Fabicki for Retrieval (Poland).
Best Screenplay: Mauricio Zacharias, Felipe Branganca, and Karim Ainouz for Suely in the Sky (Brazil, Germany, Portugal, and France), and Sung Ki-Young & Kim Tae-Yong for Family Ties.
Best Actress: Moon So-Ri, Goh Doon-Shim, Kong Hyo-Jin and Kim Hae-Ok in Family Ties.
Best Actor: Antoni Pawlicki in Retrieval.
Artistic Achievement Award: Suely in the Sky.
The FIPRESCI award for a film in the International Competition section to was given to Suely in the Sky, and for a film in the Greek Films 2006 section was given to Eduart, by Angeliki Antoniou.
Discussion between Wim Wenders and Walter Salles about Road Movies:
Road Means Cinema
Walter Salles: A director was once making a film about a tribe. One day, the tribe's shaman asked him what he was doing. The director answered: "I travel. I go to places with my camera that I have not visited before and see people who have not met before. I travel through time and space. This is what I do." The shaman said, "O! I know this feeling. When I am meditating, I exactly do the same and travel in the same manner." We, like the shaman, produce road movies while in continued meditation.
Wim Wenders: Here, I want to show you a small part of Paris, Texas, which is a dialogue between two brothers. Travis (I chose this name because it is reminiscent of 'traveling') hits the road and distances from his brother, Walt. Walt catches up with him and, finally, these dialogues are exchanged between them (in road movies short dialogues are always better than long ones). While pointing at the horizon, Walt asks Travis, "Why you move in that direction? What is waiting for you there?" Instead of giving a clear answer, Travis just stares at the horizon and points to the horizon. This is all his answer. The horizon is the thing that is waiting for him. In road movies you always move toward the horizon and when you get there a new horizon is awaiting you. The goal is horizon. It is where you want to go and as the horizon keeps moving, you should move too. Kings of the Road was the movie in which I was heavily dependent on this mother of all cinema genres; that is, road movies, because the whole screenplay that was written for a three-hour long film was not more than a single page! The whole screenplay was about a man who wakes up in his truck and another man who is driving his car. They meet because one of them drives into the river with his car while the other one is shaving at his truck just in the same place. The screenplay was not more than a single page, which described the opening scene of the film. We went to that location, that is, Elbe River which at that time separated West Germany from East Germany. If you look carefully at the scene when the car enters the river, you could see watchtowers at the border with East Germany on the other side of the river. I was fascinated by the border because the river travels all through Germany. I had an idea to make a film along the river's course. I had written a description of the first scene in which the two men met. However, when we reached the location, I realized that we could not simply shoot that single scene! Therefore, I cast one of them as he wakes up, makes coffee and starts to shave. Then you see the other man driving. I thought it would be a good idea to show that the second man has left his home and it is for this reason that he tears up that small photo. Road movies are also related to the concept of being at home. The first thing that the man does is to tear up the photo of his home. After shooting the scene that was outlined in the single-page screenplay, we should have shot other scenes. The problem, however, was that we had nothing to work on after the meeting between the two characters. Therefore, it was an extreme move. I was alone with the borderline between two Germanys which extended out to the far north. The road was our screenplay. But you can only rely on it when you know the road, you know where you are going, and of course, when you love it. I loved that road. Perhaps it's a daring experience to go to a film's location when you have only a one-page screenplay. But I was not scared even for a single moment because I was familiar with the roads and I had traveled it twice from north to south in my car. Therefore, I was by no means afraid of it because I was sure that the road would take me where I wanted.
Salles: What you said about starting to shoot your film by relying on a one-page screenplay reminded me of Flaherty's documentaries like Nanook of the North or Man of Aran, whose actual screenplays was written in the course of shooting and they are, in fact, about how a national identity is established. The first road movies were made to put names on things that were nameless before. Gradually, this changed and changing identities or identities in crisis constituted the main themes of road movies. In my road movies, I have tried to establish a link between crisis of identities in characters and crises in their respective countries and somehow associated the crisis that characters were facing to the crises that were going on in their homelands. Did this occur to you when you were making Kings of the Road?
Wenders: Of course. I mean that border was the biggest problem that both Germanys were facing. That border had divided the country in two and crossing it was starting on a road with no return. The other side of the river was not simply another side of a river, but it was like the other side of the Moon. It was the dark side of the Moon where you could not venture. The country was in crisis and the road that extended from south to north of the country was like a big scar. At the end, you realize that the two characters are mentally agitated and both think that they have lost their social standing. They do not know where they belong. In fact, both men are in critical conditions.
Salles: I think the film asks whether those borders are internal or external. I think western road movies are also about extending the west's borders. From a structural viewpoint, road movies cannot be structured like traditional movies. A traditional movie is defined on the basis of actions and the screenplay and, therefore, conflicts among characters are always external. On the contrary, in road movies conflicts are always internal. When we wrote the screenplay for Motorcycle Diaries and offered it to various companies to find a financer, 99 percent of those companies rejected the screenplay because they believed that there was no conflict in it. In fact, those conflicts occurred inside characters and the film should have been made on the road not on paper, as you pointed out. I must now say that road movies have two basic elements. First of all, they are not predictable. As you said, we must get along with them and coordinate all unpredictable factors. If it starts raining or snowing, you must simply accept them and include them in the movie. Although it is the road that shapes your film, what is happening on the sidelines of the road and people who pass by make drastic changes to the film's structure. In Motorcycle Diaries, we introduced many things into the film, which had not been mentioned in the screenplay and started to include all those elements and persons in the film. Just imagine that we traveled to Patagonia in summer. It was a sunny day, but as our plane landed, the snowfall suddenly started! It was quite unexpected. The two main actors were so adventurous that they jumped on their motorcycles in the snow – as you see in the movie – though the motorcycles lacked ice tires. Five or six of us worked on this scene. I was driving the car as we followed them. The director of cinematography, who was positioned on the roof of the car with his camera, was freezing. We also had sound recorder and another person who helped us. Everything that the actors said was improvisation because we had no idea what we were going to do. Meanwhile, the screenplay had described the scene as such: "Patagonia, summer, a sunny day." The two actors kept talking about everything and I suddenly decided to include their conversation in the film. Unlike Kings of the Road, our screenplay was full of careful details. I had already made two more road movies: Foreign Land and The Central Station. I wrote the first film's screenplay as the work advanced; that is, it was somewhat like the Kings of the Road. But this was not the case with Motorcycle Diaries because it was a more complicated film and we had to travel the length of the Americas. Therefore, its screenplay was well structured and had been written carefully. It was there that I understood that the work was somehow similar to jazz music. As you know, the more powerful the musical structure is, you can add more ramifications to it. When you have a good melody, you can break it in two and then go back to the original melody and find it.
Wenders: Basically, improvisation is based on this principle: when there is a strong foundation, the reality that you enjoy that strong foundation will empower you to go to extreme and always find a way to get back to the original foundation.
Salles: Exactly. For this reason I believe that road movies are not the realm of big cranes or even Steadicams. Handheld camera will be more useful. Although Kings of the Road was shot with a fixed camera, you don't see a lot of excessive shots because you should be able to shoot what is real. You must accept the possibility of continued lack of perfection. While we take whatever that is incomplete and raw out of the conventional films, there are such elements that elevate a road movie to perfection. They reach perfection when you take into account all those things that you did not expect, but have been added to you film later. Did you encounter such unexpected things when making Kings of the Road?
Wenders: Yes. Like you, we were not ready too. The actors had only brought their summer suits with them, but it started to rain out of a sudden accompanied with thunder and lightning. They were freezing! Of course, we had no snow. The two of them were supposed to ride a motorcycle with a sidecar. However, none of them had ever ridden on a motorcycle before. To encourage them, I said riding motorcycle was quite easy to do. I said, "Let me show you." I mounted the motorcycle and started to ride. I had never ridden on a motorcycle with a sidecar before. We were in a village and to prove to them that riding on motorcycle was easy, I headed out of the village, but in the first turn, which was leftward, I leaned to the left to keep balance, as I had done with ordinary motorcycles. However, since that motorcycle had a sidecar attached, it went off balance and got out of the road. I later learnt that I should have exactly done the opposite and maintained the motorcycle's balance by leaning to the right! Anyway, when I got up, I told them that I did it on purpose just to show them what they shouldn't do! What about your actors? Did they know how to ride on a motorcycle?
Salles: Not at first, but they learnt it in two months.
Wenders: You had two motorcycles or a single one?
Salles: Two motorcycles. One was the main motorcycle, which was a 1948 make and the other one was brand new. Of course, I must not give out that information!
Wenders: So excuse me for getting you disclose that information!
Salles: No problem. Another question that is bothering me is to what extent the harmony among actors is important to you when you are making a road movie? I ask that because road movie constitutes the essence of teamwork in cinema. To what extent you prepare your actors for that? We worked a lot on this in Motorcycle Diaries. We took the actors to Argentina and Buenos Aires three months before shooting and watched a lot of 1950s films together. They included experimental, documentary and narrative films that told the stories of those years. We also had long discussions about the history of Inca tribe and other issues and listened to music of that era. Not only the actors, but all people in our team did that even assistants to director of cinematography and electricians. In fact, everybody did it. I think that preparation was very helpful to the film because when we needed improvisation, all team members were aware of political and social systems to which our story belonged. Also, since both Che Guevara and his companion were physicians, our actors should have known something about medicine. On the other hand, the two characters were supposed to face the unknown during their journey. For this reason, I did not prepare them too much. They did not know the roads and I was the only person among the group who knew the way. When you are on a trip, even a team member who is not in harmony with the rest of the group may spoil everything. When you are traveling with a group to make a road movie, this becomes more important. You should be able to reckon on the whole group. If one person is slower or wakes up later in the morning or catches the car later than others, everything may be in disarray because his/her slow pace will affect the whole group. Therefore, harmony among a group is so important. In the meantime, making a road movie can bring team members closer together than films that are made at a house or a studio.
Wenders: Yes. Also, team members should accept that in a road movie, the main goal is the road itself. In fact, the journey per se, is more important than the destination. It is much more important. Another element of the road movie is combination of professional and amateur actors. I have done this in my road movies.
Salles: This is also true about combining narrative and documentary. We can see this, for example, in Flaherty's films. For instance, he considers Man of Aran, which is an extraordinary film, a documentary. In fact, he has cast an imaginary fishing family in the film and has owned up to having done that because he thought this would be a better way to show the reality about Aran. However, when you watch it there is not the slightest indication that all actors are pretending. In most genres, all those involved in making a film know from the very beginning that they are pretending. For example, in Indiana Jones and the Raiders of the Lost Ark, everybody is pretending and this is frequently seen in most films. However, in a road movie you really have to expose yourself and our team to reality. You cannot hide and pretend that you are living in that situation. You should really experience the adventure.
Wenders: I believe this is the main point that has made this genre so valuable. This extraordinary feature makes it a parallel for documentary cinema.
Salles: As put by Jean Luc Godard (Godard is always quoted at any film debate) all good narrative films get close to documentary cinema and all good documentary films incline toward road movies. I think that road movies, more than any other genre, have prepared the way for such a combination in a totally natural way.