Interview with Mohammad Reza Darvishi (Film Score Composer)
I Compose Scores for Directors, Not Viewers
by Somayyeh Qazizadeh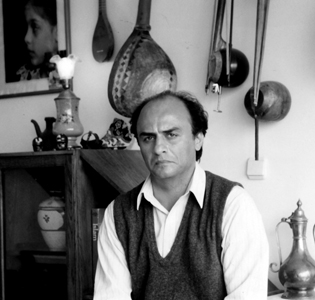 Mohammad Reza Darvishi has composed scores for more than 50 films. He has been frequently nominated for Crystal Simorgh of Fajr International Film Festival, but has only won it once. His career is not limited to film score. He has made score music for a lot of Bahram Baizai's stage plays, has recently conducted Kelidar concert, is studying the works of Abdolqader Maraghe'ei and is preparing a performance of his works in Europe. At the same time, his name is reminiscent of provincial and traditional Iranian music. His works in this field are so numerous that part of his activities has been collected in two volumes of Encyclopedia of Iranian Musical Instruments. You can converse with Darvishi about all aspects of music, composition, and film score. However, the following interview is more about score of When We Are all Sleeping (Bahram Baizai, 2008) and what has been said about composer-director relationship can be generalized as a model for the relationship that exists between other directors and score composers.
The score of When We Are all Sleeping was somehow adapted, wasn't it?
No. Some say that my score was similar to the main theme of Godfather. Even if that is true, I am satisfied because good or bad, I did not do it on purpose. Later, I realized that the score has been, willingly or unwillingly, influenced by the theme of Godfather. The film's motif is, one way or another, about godfathers and some think that since the film is about godfathers, I did it on purpose, but I did not. One of those days when I went to Baizai's office to see the rushes and become more familiar with the general air of the film, I was at another room and Mr. Baizai was whistling a tune at his office. I heard the tune just as I was trying to start composing the score. When I got home that night, I called Mr. Baizai and asked him what musical piece he had been whistling? He said that he didn't know because he used to whistle whenever he walked. Then I played the same melody on a piano and told him that he was whistling that. But he did not remember. I made it the main theme of the score. Mr. Baizai could not remember what the name of that musical piece was, nor did I. However, I guessed that it was similar to something. Before flying to Ukraine to record the music, I called a number of my composer friends and played the piece on piano for them. Like me, they also said that it was similar to something, but could not remember what. This is the reality. However, even if I had used Godfather theme on purpose, I would not have regretted it. Mr. Baizai once said that if there is somebody in Iran who can play music like Bernard Herrmann, we must not chide him, but should encourage him.
The score of When We Are all Sleeping is different from your other works and even is different from scores you have composed for Mr. Baizai's plays.
That is because the film called for that difference.
I mean that the name of Mohammad Reza Darvishi is associated with provincial music and strange old Iranian instruments, but this is not true about score of When We Are all Sleeping.
This is a mistake. There is no doubt that after 30 year of focusing on provincial music, it has left its mark on my unconscious, but even for Kelidar play, whose story goes on in North Khorasan, I did not use local music. If I work on provincial music, there is no reason why I should use it in my works. I sometimes do that, but it has not been so explicit as to be called a piece of provincial music. For example, I used a Baluch melody for the closing credits of Maziyar Miri's Gradually, which was performed by an orchestra using stringed instruments. Now, if somebody had heard the local music, they would see the similarity. I sometimes use provincial music intentionally or unintentionally. This is not on purpose. Before being a researcher, I have been a composer and I will remain so. Research has been a subsidiary activity for me and I have not studied it at the university and I don't hold a doctorate in the field. All I have learnt has come from villages, not from Sorbonne or the American universities. I have never claimed to be a musicologist, but I have always said that I am a composer. If I have pursued provincial music, it has been for my own sake not on anybody's order. Therefore, it does not overlap with my work as composer.

SUBSCRIBE

[Page: 90]
President & Publisher
Massoud Mehrabi

Editors:
Sohrab Soori
Translators:
Sohrab Soori
Behrouz Tourani
Zohreh Khatibi
Saeed Khamoush

Contributors
Saeed Ghotbizadeh
Mehrzad Danesh

Advertisements
Mohammad Mohammadian

Art Director
Babak Kassiri

Ad Designers
Amir Kheirandish
Hossein Kheirandish

Cover Design
Alireza Amakchi

Correspondents
E.Emrani & M. Behraznia (Germany)
Mohammad Haghighat (France)
A. Movahed & M. Amini (Italy)
Robert Richter (Switzerland)
F. Shafaghi (Canada)
B. Pakzad (UAE)
H. Rasti (Japan)

Print Supervisors
Shad-Rang
Noghreh-Abi
Gol-Naghsh

Subscription & Advertising Sales
Address: 10, Sam St., Hafez Ave., TEHRAN, IRAN
Phone: +98 21 66722444
Fax: +98 21 66718871
info@film-magazine.com

Copyright: Film International
© All rights reserved,
2023, Film International
Quarterly Magazine (ISSN 1021-6510)
Editorial Office: 5th Floor, No. 12
Sam St., Hafez Ave., Tehran 11389, Iran

*

All articles represent views of their
authors and not necessarily
those of the editors